Trump Announces Unprecedented Support for Legalizing Marijuana
Drug war is over (if you want it).
On the first great-weather day of Spring 2018, President Donald Trump has committed to withdrawing federal objections to the legalization of marijuana, reports Tom Angell of Marijuana Moment.
President Trump is preparing to support far-reaching legislation to reform federal marijuana prohibition so that states can enact their own cannabis laws without interference.

"Since the campaign, President Trump has consistently supported states' rights to decide for themselves how best to approach marijuana," U.S. Sen. Cory Gardner (D-CO) said in a statement. "Late Wednesday, I received a commitment from the President that the Department of Justice's rescission of the Cole memo will not impact Colorado's legal marijuana industry. Furthermore, President Trump has assured me that he will support a federalism-based legislative solution to fix this states' rights issue once and for all."

In a briefing with reporters on Friday afternoon, White House Press Secretary Sarah Huckabee Sanders confirmed the development, calling Gardner's statement "accurate."

"We're always consulting Congress about issues including states' rights, of which the president is a firm believer," she said.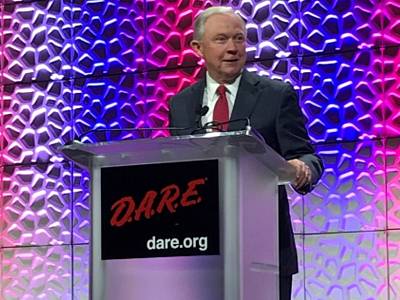 This is huge, as it would unambiguously allow states to pursue legalization without worrying about a federal crackdown such as the one proposed by Attorney General Jeff Sessions at the start of this year. An unambiguous ally in the White House would also go a long way to ending skittishness on the part of banks and other firms to engage with pot-related industry in states where such business is legal. At Marijuana Moment, Angell writes that the details of the "legislative solution" Sen. Gardner mentions are not known yet, but the Colorado Republican said it will amount to a "universal fix" to all questions regarding pot legalization.
Gardner had been using senatorial privilege to place holds on various administration nominees until he received assurances that the Trump administration would work to allow the untroubled legalization of pot in states that decide to do so. Today, he announced:
"Because of these commitments, I have informed the Administration that I will be lifting my remaining holds on Department of Justice nominees. My colleagues and I are continuing to work diligently on a bipartisan legislative solution that can pass Congress and head to the President's desk to deliver on his campaign position."
So here we have Donald Trump, who is so terrible on so many issues and pretty damn good on others, moving forward on negotiating peace on the War on Pot. Nothing is over until the last non-violent offender is freed, but this is very good news.
Related: From 2010, "3 Reasons To Legalize Pot Now!"