A Bunch of Senators Just Showed They Have No Idea How Facebook Works. They Want to Regulate It Anyway.
"If Facebook and other online companies will not or cannot fix their privacy invasions, then we are going to have to. We, the Congress."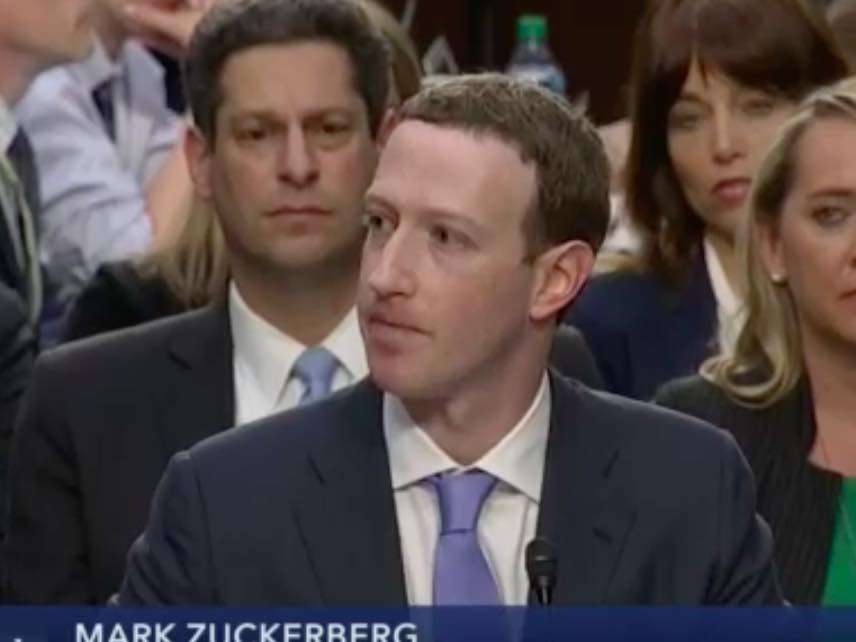 On Tuesday, the Senate Judiciary and Commerce, Science, and Transportation committees grilled Facebook CEO Mark Zuckerberg about the company's insufficient efforts to protect users' personal data.
In doing so, many of the senators betrayed a general lack of knowledge about how Facebook operates. Imagine trying to explain social media to your grandparents—this was essentially Zuckerberg's task.
Sen. Roy Blunt, (R–Mo.), for instance, didn't seem to understand that Facebook lacks a means of accessing information from other apps unless users specifically opt in. The same was true of Sen. Roger Wicker (R–Miss.), who needed a lot of clarification on how Facebook Messenger interacts with cellular service. Zuckerberg had to carefully explain to Sen. Brian Schatz (D–Hawaii) that WhatsApp is encrypted, and Facebook can't read, let alone monetize, the information people exchange using that service. Zuckerberg had to explain to multiple senators, including Dean Heller (R–Nev.), that Facebook doesn't technically sell its data: The ad companies don't get to see the raw information.
Sen. Patrick Leahy (D–Vt.) brought along a poster on which his office had printed out images of various Facebook pages. Leahy asked whether these were Russian propaganda groups. "Senator, are you asking about those specifically?" Zuckerberg asked. He of course had no way of knowing what was going on with those specific pages, just from looking at pictures of them. "I'm not familiar with those pieces of content," Zuckerberg finally conceded.
Sen. Amy Klobuchar (D–Minn.) offered this metaphor to explain Facebook's recent troubles: "the way I explain it to my constituents is that if someone breaks into my apartment with a crowbar and takes my stuff, it's just like if the manager gave them the keys." But that metaphor doesn't quite work—Facebook didn't willfully assist in a crime. Meanwhile, Sen. Debbie Fischer (R–Neb.) didn't understand, at a fundamental level, that if you're using Facebook, you have agreed to let Facebook know a lot of information about you.
Sen. Lindsey Graham (R–S.C.) asked whether Facebook had any major competitors. Zuckerberg tried to explain that the company competes across different categories related to Facebook's several main functions—as a tech giant, against Google, as a social media site, against Twitter, and so on—which led Graham to fret about Facebook being a monopoly and thus incapable of self-regulation. Nevertheless, Graham asked Zuckerberg whether the CEO would be willing to propose regulations that Facebook might like the government to impose on it.
Some senators, including Sen. John Cornyn (R–Texas) and Richard Blumenthal (D–Conn.), asked perceptive questions about Facebook's data collection practices. Even so, Blumenthal also asked whether users should be able to access all the information Facebook has on them—prompting Zuckerberg to point out that Facebook already lets users download their data.
Throughout the hearing, Zuckerberg maintained that he wasn't against regulation, "if it's the right regulation." However, he expressed concern that regulations aimed at preventing Facebook from functioning as a monopoly might backfire and simply make it more difficult for smaller firms to compete.
But senators on both sides of the political aisle were clear about their concerns—and more than willing to step in.
"If Facebook and other online companies will not or cannot fix their privacy invasions, then we are going to have to," said Sen. Bill Nelson (D–Fla.). "We, the Congress."
What Nelson and his colleagues largely failed to do was demonstrate that "we, the Congress" possess the requisite knowledge to regulate Facebook, or that those regulations would improve upon the policies Facebook would like to implement on its own. Ignorance breeds bad policy: consider the terrible Fight Online Sex Trafficking Act (FOSTA), passed by "we the Congress" recently, which has already dealt serious blows to free expression on the internet.