Affordable Housing Proponents Critical of Permit Streamlining Law Use Permit Streamlining Law to Build Critical Affordable Housing
A flawed law has nonetheless improved San Francisco's absurd building approval process.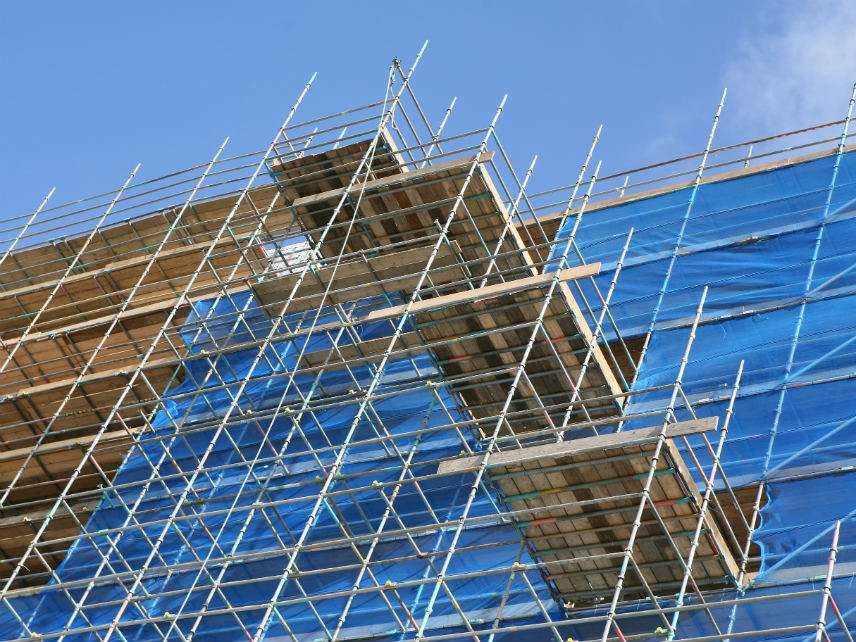 Critics of California's SB 35, a 2017 law that created a streamlined, state-level building approval process for housing developments, are begrudgingly starting to see the benefits of the bill.
Earlier this month, the Mission Economic Development Agency (MEDA)—a San Francisco nonprofit—submitted an application to use the streamlined SB 35 process to build a 100 percent affordable, 130-unit apartment building.
If that application is approved, MEDA will be spared the onerous reviews required by the California Environmental Quality Act. It will also avoid the need to get approval from the San Francisco Planning Commission, which has the power to alter, shrink, and otherwise condition the approval of projects.
Instead, the San Francisco Planning Department would have to issue permits for the project within 60 days, which MEDA Development Director Karoleen Feng tells The San Francisco Chronicle will cut six months to a year off the approval process.
When SB 35 was first proposed, MEDA opposed it. Last July Luis Grandos, the agency's executive director, co-wrote an op-ed claiming that SB 35 would spur too much market-rate housing, in turn acting as "a short-term catalyst for displacement of low-income communities of color."
Though it is now using SB 35 to build more below market-rate housing—which MEDA thinks is the key tool to limit ever-higher housing costs—the agency remains opposed to SB 35, with Feng telling the Chronicle that it's "a one-size-fits-all policy of streamlining." At the risk of sounding cynical, this criticism boils down to MEDA, which can obviously see the benefits of streamlining when it comes to its own projects, wanting to retain the power to delay and suspend projects it doesn't like.
For instance, MEDA has a been a major opponent of Mission District business owner Robert Tillman's plan to turn a laundromat into a mostly market-rate 75-unit housing development.
Feng herself called this development "unjust," "unconscionable," and "unfair" while demanding that Tillman make his property into 100 percent affordable housing. Members of the activist group Calle 24, despite their professed support for affordable housing, have argued that even if Tillman's project were 100 percent affordable, it would still be unacceptably large and bulky.
Calle 24 and Mission anti-development activists have, through the many appeals and reviews afforded them by the San Francisco permitting process, forced Tillman to spend four years and $1 million trying to get approval for his development.
Elsewhere in the city, residents have demanded that affordable housing projects be modified to accommodate "neighborhood character."
In January, the Haight-Ashbury Neighborhood Council wrote a letter demanding that a 100 percent affordable housing project be shrunk by some two floors to preserve "neighborhood character." (The project would replace a reportedly crime-ridden McDonald's.) San Francisco's Discretionary Review process, which SB 35 allows developers to skip, would allow the council to demand just that through a laborious process of Planning Commission hearings and departmental reviews that can add months (and sometimes years) to a project's completion time.
San Francisco needs more housing to accommodate new residents as well as the natives who wish to stay there. From 2005 to 2015, the city added three jobs for each new unit of housing. Since 2010, rents have risen 43 percent; they are now the highest of any major U.S. city. A huge impediment for building more housing is a restrictive permitting process that bogs down projects in endless quests for building approval. This is true of both below-market and market-rate housing.
SB 35 is by no means a perfect solution to this problem. In September of last year, I argued against it, saying that the bill's requirement that projects pay a prevailing (union) wage would increase costs considerably, undermining the bill's goal of cutting down on housing costs. While that's still a valid critique, I now think my opposition was misplaced, given how the bill in practice is forcing through previously hamstrung projects.
In March, a 260-unit, 50 percent below-market-rate development in Berkeley—one that had been in the works for five years—became the first to apply for SB 35's streamlined review process. That was followed later in the month by a Cupertino developer hoping to convert a vacant mall into 2,400 units of housing, half of which would be rented out at below-market rates.
These are baby steps compared to the scale of California's housing shortage. But they are steps nonetheless.