ACLU Sues Texas County over Pay-or-Stay Bail System
Magistrates don't consider risk or ability to pay, leaving a system where people are stuck if they're poor.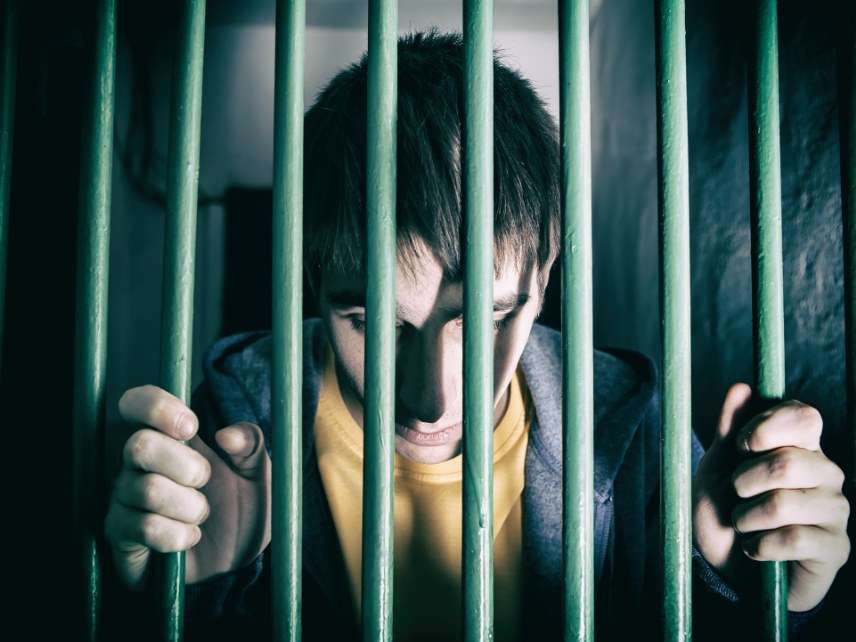 Aaron Booth, 36, is in jail in Galveston County, Texas, for felony drug possession. He would be free if he could afford the $20,000 bail. But he can't, and so in jail he remains.
The American Civil Liberties Union (ACLU) and the law firm Arnold and Porter filed a class-action suit Monday on behalf of Booth and people like him. They argue that because Galveston County courts determine bail from a schedule and do nothing to determine whether defendants can afford it or whether defendants are flight risks or dangers to the community, a person's pre-trial detention status is based entirely on income. According to the complaint, magistrates and deputies at these initial hearings will even threaten to raise a defendant's bail if they upset the magistrate. (We've seen claims like this before in Texas.)
This is not how bail is supposed to work. As a result, people who are poor—like Booth—end up stuck in jail. According to the lawsuit, they can end up waiting there for more than a week before getting any meaningful hearing. And the ACLU says that the next hearing they'll be offered, days later, is only for the purpose of soliciting guilty pleas. Judges won't consider bail changes, and someone who pleads innocent can end up behind bars for another week before a status conference.
The consequences are obvious. From the lawsuit: "Rather than face an extended delay before a bail hearing, many people charged with low-level crimes plead guilty rather than spending weeks sitting in jail in order to assert their innocence."
It takes only a few days for imprisonment to affect people's livelihoods. People can lose their jobs and be unable to pay various debts. Entire families can suffer. As a result, they plead guilty and often get harsher penalties than they would had they been free to fight. They have much less negotiating leverage for plea agreements when they're stuck behind bars.
The lawsuit notes the dramatic difference in outcomes between those who are stuck in pretrial detention versus those who are freed:
An audit by the Texas Indigent Defense Commission showed that, in Galveston County, misdemeanor arrestees who can afford to pay bail and fight their cases from the outside are six times likelier to have their charges fully dismissed. Felony cases show similar patterns in case outcomes: for example, a felony arrestee who cannot afford to pay bail is four times likelier to be sentenced to more than a year in prison, and is half as likely to be sentenced to probation or deferred adjudication.
The suit argues that the lack of any meaningful hearings about bail amounts or pretrial detention constitutes a violation of defendants' due process and right to equal protection under the 14th Amendment. Defendants are not provided access to lawyers until after their bail has already been set, which the ACLU argues is a violation of the Sixth Amendment.
Booth's lawyers are requesting an injunction to require the county to change its practices so that defendants can be represented at initial bail hearings, where they should be able to make a case that they aren't a flight risk or a danger to the community and that they shouldn't have to front such large amounts of money if they cannot pay.
The suit is part of a push in recent years to force changes—either via lawsuits or through legislative action—to reform the way bail operates. The federal courts have ordered Harris County, also in Texas, to stop doing exactly what Galveston County is doing here: relying on bail schedules rather than risk assessments and pretrial monitoring. The ACLU has filed a similar suit in Dallas County too.
According to the Houston Chronicle, Galveston County officials are not entirely opposed to reforming the system, and they've committed $2 million to make changes. But the ACLU apparently would like to see more urgency. The county's jail population has been increasing, in large part because of people' inability to pay for bail. Pretrial detainees now comprise 71 percent of the county jail's population.
Read the complaint here.