Sacramento Sheriff's Dept. SUV Knocks Down Police Abuse Protester, Then Drives Off
This is not how you rebuild those community ties.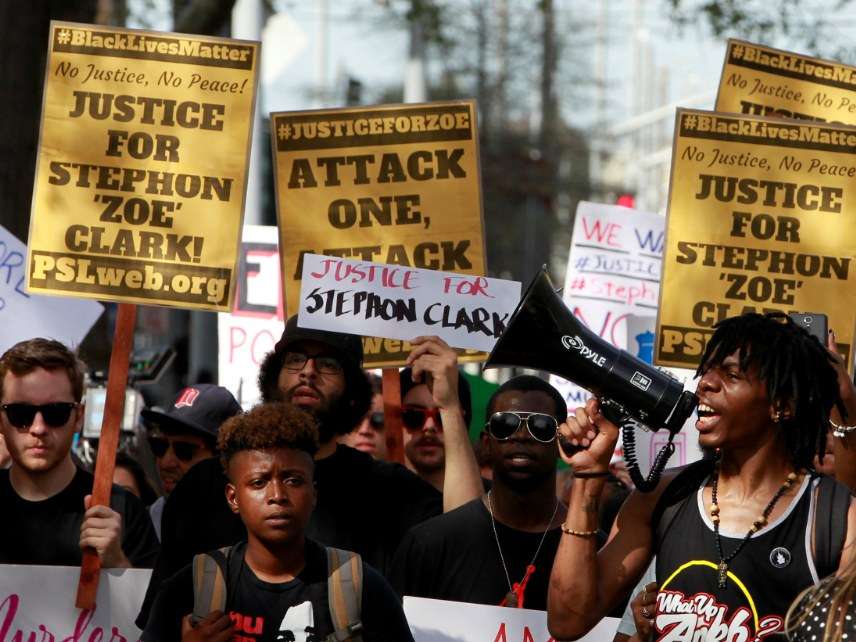 The Sacramento Sheriff's Department poured gasoline on a fire when one of its cruisers struck a 61-year-old protestor Saturday night and then drove off.
The woman, identified as Wanda Cleveland, was among the protestors rallying in response to the Sacramento Police's fatal shooting of Stephon Clark, 22, while police were investigating a 911 call about some car break-ins.
The hit-and-run was captured on video from several angles (watch here and here). Cleveland was taken to a local hospital, treated for injuries, and released.
Cleveland is apparently a regular at Sacramento City Council meetings, according to the Los Angeles Times, and she claims she was previously arrested for "allegedly touching a police officer" three years ago. So she's understandably not thrilled to have a cop hit her with an SUV and then drive off.
The California Highway Patrol is investigating what happened. The response from the sheriff's department emphasizes that the protestors were "yelling and pounding and kicking the vehicles' exterior" and notes that they had caused damage to the SUV. That sort of knee-jerk defense is intended to make it sound as though the deputies were in danger or thought they were in danger to justify their reaction. The videos do not show Cleveland engaging in any sort of vandalism. She's standing several feet in front of the SUV when it accelerates toward her.
Of course, civilians do not get to use the same defense if they panic while feeling threatened by police. Clark was shot by cops after fleeing from them into his own backyard and hiding on a patio. Police originally claimed that he approached them holding what they thought was a gun. It turned out to be a phone. He wasn't armed, and a private autopsy ordered by the family shows he was struck in the back and the side.
The Washington Post notes that California state law requires drivers to stop at the scene of an accident and to help arrange for medical attention if needed. Another person on the scene told the Post he attempted to flag down a California Highway Patrol officer to tell him what happened; he claims the officer threatened to arrest him.
Cleveland shouldn't hold her breath waiting to find out the results of the CHP's investigation of whoever struck her. She might not even learn the driver's name. California has very strong laws that protect police from disclosure of discipline for any sort of misconduct, the public bedamned.
In the meantime, activism against police abuse in Sacramento is getting tied up with a bunch of other grievances from citizens in minority neighborhoods who are not happy about how the city spends its money—on police and subsidized sports arenas. A Sacramento Bee editorial complains about the city's budget as a "bastion of inequity." Voters in Sacramento approved a tax hike in 2012 that's now being spent mostly on public safety personnel costs, with only a small amount going to community services. That's what happens with these tax hikes. The money largely goes to the most powerful, entrenched parts of city government (and to try to stop city pension bombs from exploding).
Nothing in this Sacramento Bee editorial addresses the actual problem—police accountability. Instead, the editorial literally demands that the city spend even more money. That has absolutely nothing to do with the problem at hand, and it dilutes efforts to rein in police misconduct. We've seen this before, with people attempting to attach their own progressive pet projects to the Black Lives Matter movement.
If Sacramento citizens are unable to hold police responsible for killing an unarmed man, it's absurd to think they have enough power to keep the cops from siphoning off the lion's share of any tax increase or spending proposal. Instead there will be a round of pet projects to keep certain loud interests within these communities satisfied—and very little will change when it comes to police accountability.