This American Metalworking Company Is Already Paying Up to 30 Percent More for Steel Thanks to Trump's Tariffs
"Those are traumatic increases. They are shocks to our system," says Mike Schmitt, CEO of The Metalworking Group, an Ohio-based manufacturer.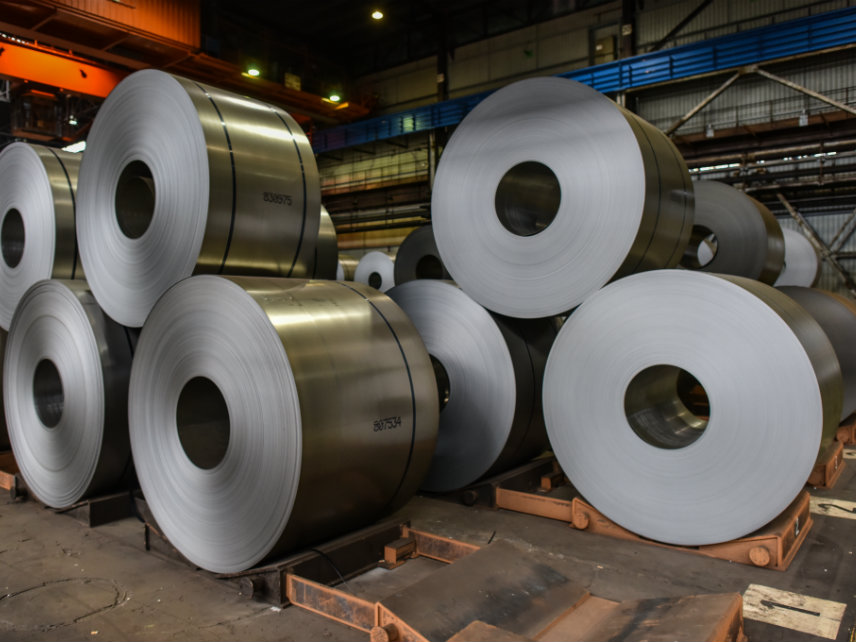 Less than a month after President Donald Trump announced new tariffs on imported steel and aluminum, the CEO of an Ohio-based manufacturing company says his business is already paying significantly higher prices for rolls of steel—and that he will have little choice but to pass those costs on to his customers.
Mike Schmitt, CEO of The Metalworking Group, tells Reason that prices for cold-rolled steel have jumped by 18 percent since January, while hot-rolled steel (a less-well-finished and less expensive product) has increased in price by 30 percent.
"The reality is that those are traumatic increases. They are shocks to our system," Schmitt says. "This isn't a level of price increase where you can say 'oh, I'll negotiate a little bit of it.' You have to pass it on."
The Metalworking Group operates in the middle of the supply chain, buying raw steel from suppliers and cutting, stamping, or machining it into components for a wide range of industrial uses. Schmitt says he has several different contracts with steel suppliers, with prices usually updated every three months to avoid the difficulty of adjusting every time the price of steel fluctuates. Major contracts signed in January are expiring at the end of the month, and his business will have to start paying the higher prices in April.
Steel prices fluctuate as supply and demand rise and fall, but Schmitt says the increases he's facing this spring are well outside of the ordinary. In contracts his businesses signs, they usually agree to ignore increases or decreases of less than 5 percent, as a way of smoothing typical volatility in the commodities market.
Trump has pitched his tariffs as being in the best interest of national security. "If you don't have steel, you don't have a country," he famously tweeted shortly before announcing the 25 percent import tax. He has downplayed the potential threat of starting a trade war (those are "good, and easy to win," he announced on Twitter) with America's top trading partners, and others in his administration, like Commerce Secretary Wilbur Ross, have downplayed the potential consequences tariffs have on American businesses that use steel.
But from Schmitt's perspective, the tariffs are "punitive." And while higher prices might help prop up American steelmakers, there are far more businesses like The Metalworking Group that consume steel, rather than make it. According to 2015 Census data, steel mills employed about 140,000 Americans and added about $36 billion to the economy that year, but steel-consuming industries employed more than 6.5 million Americans and added $1 trillion to the economy. In other words, for every steel-producing employee in the country who might benefit from Trump's proposed tariffs, there are 46 employees whose companies may suffer serious economic distress.

Schmitt, 55, says The Metalworking Group has no immediate plans to lay off any of his 180 workers in response to the higher production costs, but the tariffs will create plenty of other headaches. Contracts have to be rewritten to account for higher prices, which might cause some of his company's customers to look elsewhere for the parts they need. Already thin margins will get narrower. Investment and expansion will be put off.
The consequences will be felt across almost every sector of the economy, from agriculture to manufacturing, and could raise the price of everything from electricity to beer. According to a policy brief released by the Trade Partnership, a Washington-based pro-trade think tank, tariffs are projected to cause 146,000 net job losses—five jobs lost for every job gained. Even protectionist think tanks like the Coalition for a Prosperous America project a net decline in American jobs as a result of tariffs. The only point of disagreement seems to be how bad things will get.
"The uncertainty is whats troubling," says Schmitt, who has served as CEO of the company since 2000. "In a typical year, I'd be looking at maybe buying more equipment or investing in the business. And now I don't know what things are going to look like six months from now. It puts a chilling effect on the investment level."
Investors on Wall Street seem similarly shook. Global stock market have responded negatively to each new tariff announcement—most recently, the Trump administration's outlining of plans to put $60 billion of additional tariffs on Chinese-made electronics, furniture, and other goods. Those tariffs are a serious policy blunder motivated by Trump's protectionist politics, says Stephen Roach, an economist and professor at Yale. "There's not really a great appreciation of economic policy analysis in the Trump administration," Roach said during an appearance on Bloomberg this week.
If he could talk to the president or the White House's top economic advisors, Schmitt says he would tell them that tariffs have the potential to undo the gains created by tax reform. While changes to the corporate tax system have encouraged investment and hiring, the steel and aluminum tariffs "flies in the face" of those positive developments.
He'd also ask the president why he's determined to repeat history. After all, the consequences of tariffs are not unknown. When George W. Bush imposed tariffs ranging from eight percent to 30 percent on imported steel, the higher costs dealt a $4 billion hit to the economy and led to 200,000 job losses, according to an analysis by the U.S. International Trade Commission. Bush's former chief of staff has warned the Trump administration against pursuing the same course.
Schmitt says his business, like plenty of others, is still factoring in the price increases. It will take months for all the consequences to be seen.
"No matter what happens, it's going to be a downward pressure on the amount of product that you sell," Schmitt says. "When you raise prices, people buy less. You can't get around that."