Trump Says Syria Withdrawal Coming 'Soon,' Weed 'Beer' Promises Buzz With No Alcohol, California May Slap Cancer Warning on Coffee: Reason Roundup
Plus: Billy Corgan says he's a "free-market libertarian capitalist" and Westworld's robots are on a rampage.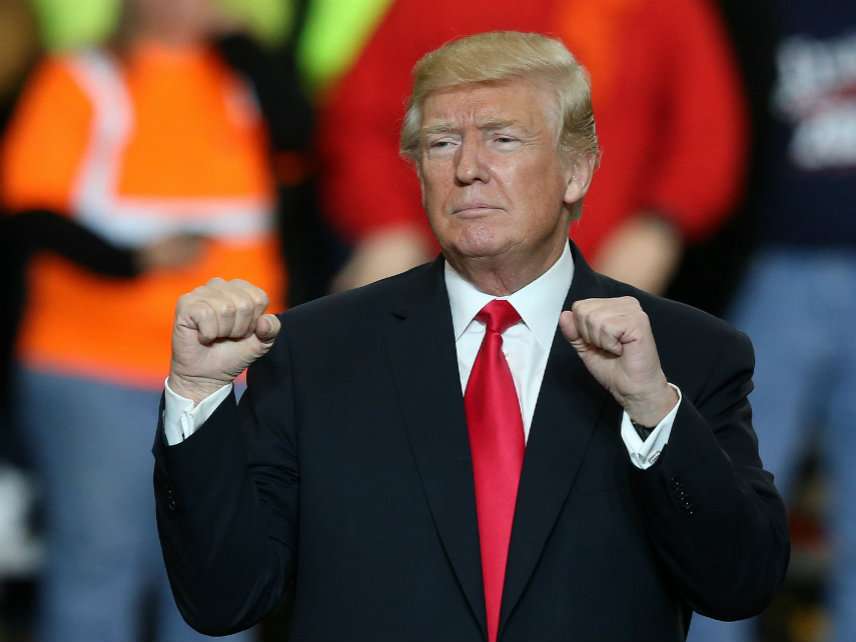 "We'll be coming out of Syria very soon." President Trump delivered a speech yesterday that was supposedly about infrastructure. But it was also rife with interludes about things ranging from trade policy to Roseanne to—"in what seemed like an impromptu aside," notes Vox's Jen Kirby—a seemingly major announcement about U.S. foreign policy.
"We'll be coming out of Syria very soon," said Trump to a crowd gathered outside Cleveland, Ohio.
Let the other people take care of it now. Very soon. Very soon, we're coming out. We are going to have 100 percent of the caliphate as they call it, sometimes referred to as land—we are taking it all back quickly [and]…we're going to get back to our country.
In February, the Pentagon said we could have some troops present in Syria "indefinitely" as this was a necessity to hold off ISIS.
Trump: "We'll be coming out of Syria very soon."
State Dept: "We're not aware of any decision to pull out of Syria"
Pentagon: "Refer you to White House."

This is the picture of quagmire in Washington.

— Kas?m ?leri (@kasimileri_) March 29, 2018
During his Ohio speech yesterday, Trump also…
stuck up for his steel and aluminum tariffs ("We are not letting other countries take advantage of us").
suggested he would stall a trade agreement with South Korea until after meeting with Kim Jong Un (because this would be "a very strong card, and I want to make sure everyone is treated fairly, and we are moving along nicely with North Korea").
suggested Democrats might like drug smugglers (they want "people to come in from the border. They want, I guess, want—I can't imagine they want—but certainly drugs are flowing across borders").
took some credit for the Roseanne reboot's massive ratings ("they were unbelievable, over 18 million people, and it was about us").
said he didn't understand the term community college: "Call it vocational and technical. People know what that means. They don't know what 'a community college' means."
Eventually, the president did get to the stated topic of his speech, infrastructure. "We will transform our roads and bridges from a source of endless frustration into a source of incredible pride," Trump told the crowd. He said he plans to propose $200 billion in federal funds to go to a a $1.5 trillion infrastructure plan co-funded by states.
FREE MINDS
California could compel dubious warning from coffee companies. There's a large body of recent research suggesting coffee consumption has health benefits, including protection against many cancers. California, naturally, could start requiring coffee sellers to warn that their products may cause cancer—thereby compelling at best misleading or unproven speech and possibly requiring these businesses to actively misinform customers.
This comes via a new ruling in a case filed against Starbucks, Peets, and other coffee chains operating in California. The suit claimed—and Superior Court Judge Elihu Berle preliminarily agreed—that these companies are breaking California's law requiring places with at least 10 employees to disclose carcinogens, since coffee contains acrylamide as a result of the roasting process.
"Berle's ruling is tentative, but is unlikely to be reversed," reports The Washington Post. "The third phase of the trial will determine the civil penalties that coffee companies are liable for." In another recent article, the Post pointed out that acrylamide can "also can be found in french fries, potato chips, bread and other grain products," but:
The scientific evidence linking acrylamide to cancer in humans is scant. According to the American Cancer Society, studies have found that acrylamide increases the risk of cancer in rats and mice when the chemical is placed in the animals' drinking water at doses "1,000 to 10,000 times higher than the levels people might be exposed to in foods."
FREE MARKETS
Marijuana "beer" coming soon to Colorado. The person behind Blue Moon is launching a line of marijuana-infused nonalcoholic drinks designed to mimic the effect of beer. "The drinks, served chilled and initially only available in Colorado this fall…will 'hit' the user at the same pace as if they were drinking a beer," reports USA Today.
"This is really about brewing great beers that beer drinkers love," said Keith Villa, who developed Blue Moon Belgian Wheat and worked for MillerCoors for 32 years. "You'd just swap out an alcoholic beer for one of our beers."

Several other companies offer cannabis beer, but they all lack the psychoactive compound, THC. Instead, they're infused with hemp extract to give them a marijuana taste—and helps them grab headlines.
Since these products contain alcohol, they're prohibited under federal law from being brewed with marijuana. But Villa's "beer" gets around this since it's nonalcoholic.
QUICK HITS