FOSTA Passes Senate, Making Prostitution Ads a Federal Crime Against Objections from DOJ and Trafficking Victims
The measure will "make it harder, not easier, to root out and prosecute sex traffickers," said Sen. Ron Wyden, one of only two senators to vote no on FOSTA.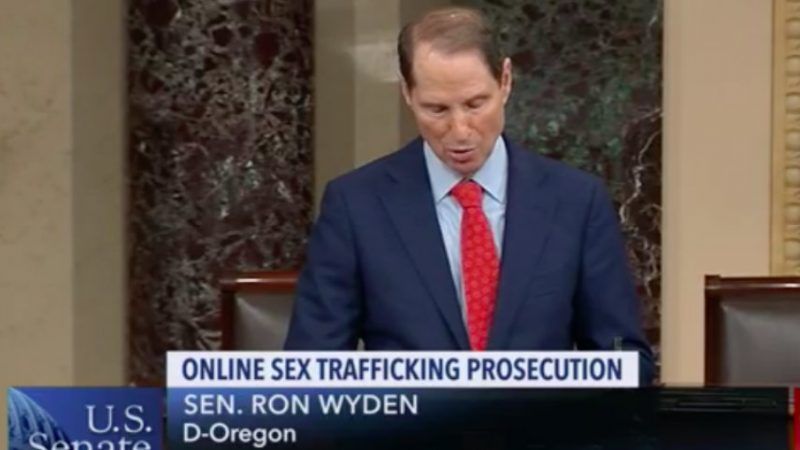 The U.S. Senate just passed one of the worst bills in recent memory, the so-called "Allow States and Victims to Fight Online Sex Trafficking Act" (FOSTA) that cleared the House of Representatives in late February.
This is the measure that would make online prostitution ads a federal crime and decimate Section 230, the federal provision shielding web publishers and platforms from certain legal liabilities for the things that users post. It's largely portrayed as a response to Backpage, but its reach goes far far beyond that.
"In the absence of Section 230, the internet as we know it would shrivel," warned Sen. Ron Wyden (D-Oregon) from the Senate floor Wednesday. "Civic organizations protecting their right to free speech could be [ruined] by their more powerful political opponents" and "there would be an enormous chilling effect on speech in America." That's why big companies like Facebook like efforts like this to weaken it, Wyden added—"because it would pull up the ladder in the tech world" so new companies couldn't afford to get in.
Wyden stressed that he's been highly proactive on measures that could actually helps victims of sexual exploitation. But FOSTA "is not going to prevent sex trafficking [and] it's not going to stop young people from becoming victims," he noted. In fact, "the legislation before the Senate is going to make it harder, not easier, to root out and prosecute sex traffickers."
This isn't just Wyden's opinion. The Department of Justice has not only called FOSTA unconstitutional; it says the legislation will "create additional elements that prosecutors must prove at trial," thereby making it harder to get guilty parties convicted.
"You're heading in the wrong direction if you [pass a bill] that would raise the burden of proof in cases against sex traffickers," Wyden chastised his colleagues. He was one of two senators today—along with Rand Paul (R-Kentucky)—to vote against the measure.
Another downside: Under FOSTA, any attempts by a website or app to filter out bad content could lead to more legal liability. The only way for companies to stay safe will be to completely give up on content moderation and trying to stop illegal ads from getting through. An amendment to FOSTA, offered by Sen. Wyden, would have closed this loophole, but it was shot down by a large majority.
And we haven't even touched on the damage FOSTA will do for sex workers, who could lose their ability to find and screen clients electronically, forcing them back onto the streets or into other situations where they'll be more vulnerable to violence and exploitation. They could also lose the ability to warn each other about dangerous customers on sex-work message boards.
As Alana Massey noted recently at Allure, "these bills target websites that are widely and inaccurately believed to be hubs of trafficking activity when it is precisely those websites that enable people in the sex trades to do their work safely and independently, at the same time as they make it easier for authorities to find and investigate possible trafficking cases."
In a lengthy Senate floor speech on Monday, bill sponsor Sen. Rob Portman (R-Ohio) told a series of whoppers about U.S. sex trafficking, starting with an assertion that "there is a federal law that now permits trafficking online."
There isn't. And when it comes to federal law enforcement, Section 230 doesn't even apply. Without any changes to existing law, those who commit federal crimes such as sex trafficking of children, sex trafficking via force/fraud/coercion, knowingly advertising a victim of trafficking, paying for sex with someone under age 18, forced labor, debt bondage, and all sorts of related activities are fully prosecutable, and Section 230 has nothing to say about it.
In defense of his bill, Portman also cited an increase in the number of "sex trafficking cases" reported to a national hotline run by Polaris Project—an entity that counts any call, text, or email as a "case" of sex trafficking (even though the vast majority are simply requests for information or unsubstantiated "tips") and that has spent the past decade lobbying for state laws requiring all sorts of businesses to post the number.
But the worst part of Portman's defense was this attempt at an argument:
Unbelievably, for years, these websites have gotten away with [sex trafficking] because when parents…file a lawsuit for damages to try to stop what is going on, they are told: We are immune. When the prosecutors in these local communities step up and ask: "How could this illegal activity be going on? This is illegal to do on the street corners, certainly it is illegal to do online," the judges say: We are immune.
And yet, Portman isn't introducing legislation to hold the street corners—or the government entities who own them—accountable as sex traffickers when prostitution takes place there.
The bright side is that there's a strong chance this bill will run into trouble in the courts. "Unlike the SAVE Act, which prohibits the knowing advertisement of trafficked sexual services, this statute implicates constitutionally protected speech," points out Notre Dame law instructor Alex F. Levy. (Read Levy's guest post at Eric Goldman's blog for all the legal nitty gritty on why.)