In Oklahoma, Inmates Could Be Gassed to Death by a Substance Unfit to Kill Pets
The American Veterinary Medical Association states that nitrogen may be "distressing" for any animal other than birds.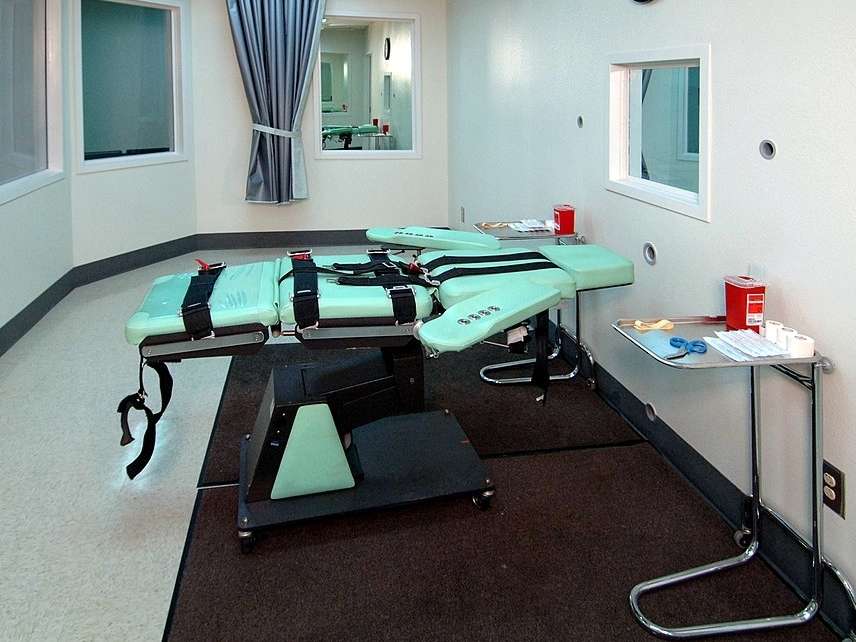 Nitrogen gas has never been used for state-sanctioned executions anywhere in the U.S., but that hasn't stopped Oklahoma officials from embracing it.
As the state struggled to find a solution to the nationwide shortage of phenobarbital, the poison used in lethal injections, officials came to see nitrogen gas an answer to this problem. Nitrogen is cheap and widely available, though few studies have been done to verify its effects.
In 2015, the state passed a law which made nitrogen hypoxia the state's primary execution method, should lethal injection be ruled unconstitutional or should the state run out of the necessary supplies. Last week, Attorney General Mike Hunter and Corrections Director Joe M. Allbaugh announced that Oklahoma will begin using nitrogen gas on its inmates once a formal execution procedure is finalized. While six states allow the use of gas as a secondary means of execution, Oklahoma is the first to make it the primary method.
"We can no longer sit on the sidelines and wait on the drugs," Hunter tells KOCO. Nitrogen "will be effective, simple to administer, easy to obtain, and requires no complex medical procedures."
Oklahoma has had a number of high-profile botched executions in the last decades.
In 2014, prisoner Clayton Lockett was injected with an untested cocktail of drugs after authorities were unable to locate his veins for 51 minutes. Lockett struggled to die for nearly an hour before his execution was complete. When the state executed Charles Warner in 2015, only after his death did the authorities announce that they had used the wrong combination drugs. (Warner's last words were "my body is on fire.") Shortly afterward, the state halted another execution because it also had the incorrect combination of drugs.
Michael Copeland, a criminal justice professor at East Central University whose research led to Oklahoma's 2015 bill, suggests the nitrogen offers a more peaceful alternative to the traditional injection.
"While lethal injections used to be an effective and humane way to execute someone, it's really not anymore," Copeland told Time in 2015. "The facts on the ground have changed. Now it's like an experiment every time. Here's some drugs and maybe we'll have a paramedic administer it and let's see what happens. Maybe this will kill 'em. It's kind of haphazard, and I think it's only going to get worse."
Supporters of the nitrogen method believe it's painless. As the subject breathes the gas, he dies of oxygen deprivation in a matter of minutes as nitrogen displaces the oxygen in his bloodstream. Unlike carbon monoxide* poisoning, in which the toxic build up of gas causes subjects to feel like they are suffocating, the subject would be unconscious before dying of oxygen deprivation. This process is called "nitrogen hypoxia."
Supporters who argue hypoxia is painless mostly cite accidental deaths as proof of their claim, pointing to passed out pilots, scuba divers, and others who have experienced levels of oxygen deprivation as evidence of its safety. When Copeland presented his case for nitrogen gas to the Oklahoma House Judiciary committee, his presentation included YouTube videos of people passing out from inhaling too much helium—an inert gas that may behave like nitrogen in the bloodstream.
But the American Veterinary Medical Association suggests nitrogen should not be used on animals other than birds, stating that it has "distressing" effects on mammals. Nitrogen hypoxia has caused "seizure like behavior" in rats, mice, and mink; they breath rapidly before dying, suggesting stress. Similarly, the World Society for the Protection of Animals states that nitrogen should not be used on animals if other alternatives are available; it argues that death may occur before loss of consciousness even when high concentrations of nitrogen are administered.
"This method has never been used before and is experimental," Dale Baich, a federal public defender who is challenging the state's lethal injection protocol, tells KOCO. "How can we trust Oklahoma to get this right when the state's recent history reveals a culture of carelessness and mistakes in executions?"
Getting executed is substantially different than inhaling too much helium. Prisoners could hold their breath or resist the process if they aren't sedated. And as Nitrogen has never been used to execute people before, there is no way of knowing how it will affect the inmates. If this substance has been shown to cause rats and mice stress when they died, why experiment on human lives? Nitrogen may make things easier for the prisons, but that doesn't mean it will make dying less horrible for prisoners.
CORRECTION: This sentence initially identified the wrong gas.