Will and Grace Botches the Gay Wedding Cake Fight
Nobody has the right to force bakers to print speech they hate. The debate is over what counts as speech.
Granted, we shouldn't expect complex legal analysis from television comedies, even ones that have lawyers in them. But I thought that Will & Grace, of all shows, would at least grasp the basics of the conflict around conservative bakers and gay wedding cakes.
Alas: Thursday's Will & Grace, in its comic pursuit of laughs connected to current gay issues, gets the entire wedding cake debate absurdly wrong in its attempt to flip the script.
In "The Beefcake and the Cake Beef," over-the-top wealthy gadfly Karen, a vocal supporter of Donald Trump, is rejected by a bakery when she tries to get a cake made with "MAGA" on it for a birthday party for the president.
Here's the set-up:
Refusing Karen is well within the bakery's rights, and it will be regardless of how the Masterpiece Cakeshop case before the Supreme Court comes out. A pro-Trump message on a cake is speech. A cake baker, a T-shirt printer, or a book publisher cannot be forced to print speech that he or she disagrees with. That's called compelled speech.
The show ends up taking this role reversal to a weird and terrible conclusion. Grace, who hates Trump and all he stands for, pushes the bakery to make Karen's MAGA cake, going so far as to raise the specter of the American Civil Liberties Union (ACLU) coming after them. To its credit, the show takes the argument to its natural, terrible conclusion: The episode ends with the baker reluctantly baking a customer a cake with a swastika on it.
But in doing so, the show pretty much gets everything backwards. It mentions that the ACLU has represented the free speech rights of Nazis, and this is true, but the show doesn't even grasp the basic idea that the bakery has speech rights too. When it comes to compelled speech, the ACLU would likely be defending the bakery here.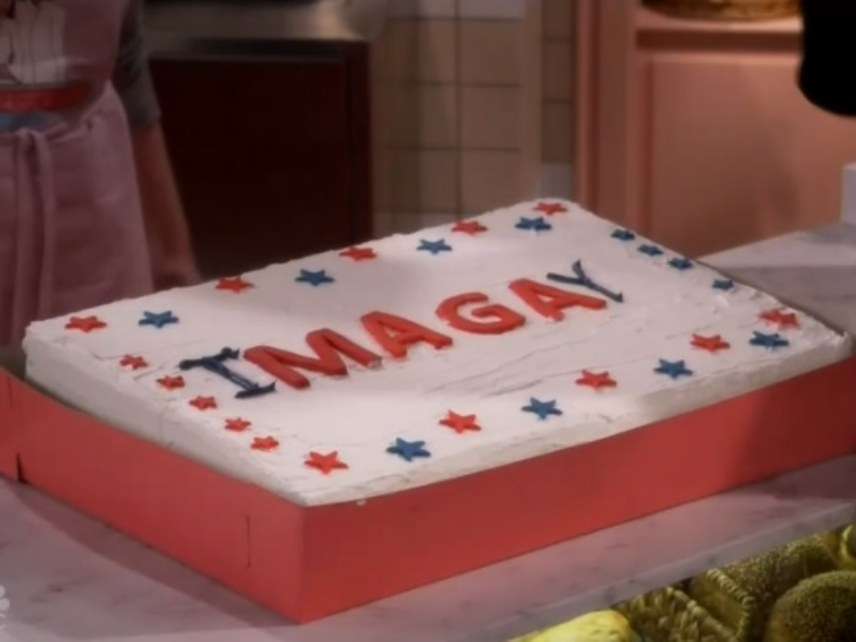 The argument about gay wedding cakes is fundamentally about what counts as speech and expression. The ACLU is representing gay couples in these wedding cases, including Masterpiece Cakeshop. Their argument is not that bakers have to cook whatever cake their customers demand. They're arguing that this isn't a speech or religious freedom issue and that it's foundationally about denying service to gay people in violation of public accommodation laws. They don't see wedding cakes and other wedding products as a form of expressive speech. The writing on the cake, yes. The cake itself, no.
I think the ACLU is wrong here. So does the Reason Foundation, which publishes this site: We've submitted an amicus brief supporting the bakery and arguing that custom-made wedding goods like cakes and floral arrangements count as expressive speech and therefore that the government cannot force businesses to provide them. But even some libertarians disagree. Eugene Volokh of The Volokh Conspiracy (hosted here at Reason) submitted an amicus brief supporting the opposite side.
Within this dispute, though, neither side argues that a baker should be required to make any cake that any customer wants. People do not give up their rights to free speech (and more important, the right to refuse to communicate some speech) just because they've opened a business and serve the public. Everything about this debate is where those boundaries of speech sit.
So Grace was completely in the wrong when she browbeat the bakery into making Karen's MAGA cake. By doing so, she treated those bakers as though they're nothing but servants with no say in what they may do—which, ironically, makes her just like Karen.