Food Trucks Still Under Attack from Regulators
Some cities have warmed to them, but protectionist policies still oppress.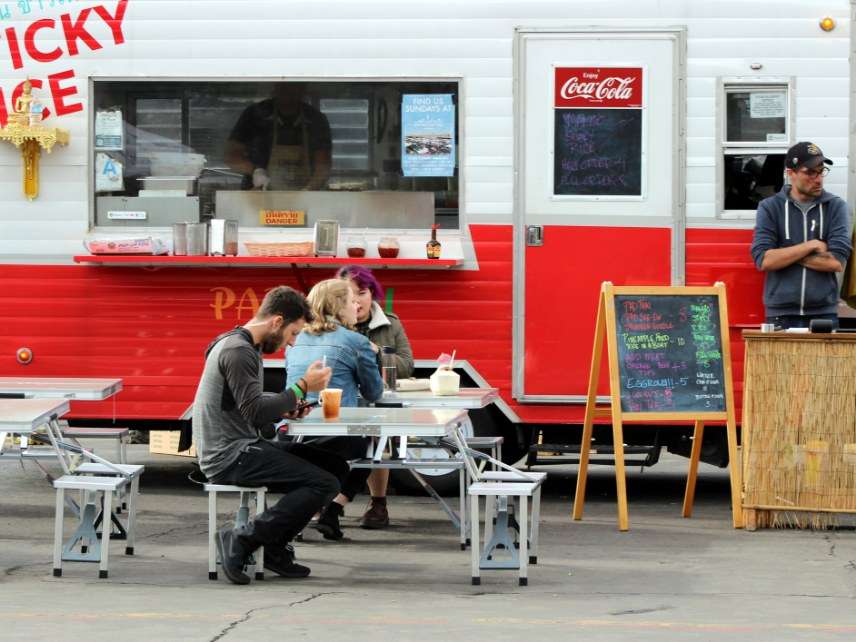 Chicago's food truck operators, hopelessly besieged by oppressive and inane city regulations that I've characterized as "some of the worst, if not the worst, in the entire country," are now hoping the state's highest court will take up their case.
A lawsuit, filed in 2012 by the Institute for Justice on behalf of client Laura Pekarik, owner of a cupcake truck, seeks the repeal of Chicago's idiotic proximity restrictions (which bar food trucks from selling food within 200 feet of brick-and-mortar restaurants and, hence, prohibit them from operating throughout the city's downtown area), and requiring trucks to be fitted with city-monitored GPS equipment. An Illinois appellate court upheld the rules last year.
"The Illinois Supreme Court should accept review of Laura's challenge to Chicago's anti-competitive 200-foot rule," says Robert Frommer, the IJ attorney representing Pekarik, in an email to me this week. "Competition is the American Way, which is why for decades Illinois courts have struck down laws meant to enrich deep-pocketed incumbents by throttling upstart newcomers. We hope that the Court will honor that long history by striking down the rule and making it clear that a business's success should turn on how good its food is, not on who it knows at City Hall."
I first wrote about battles over food truck regulations for Reason back in 2011. At the time, the key issue—repeated in cities across the country—was a combination of local brick-and-mortar restaurant owners wrongfully seeking local-government protection against competition from food trucks and local regulators obliging.
Much has changed for the better in the years since. For example, Washington, D.C., regulations, a key focus of my article, have improved dramatically.
Unfortunately, it's also true that much hasn't changed, and that regulations around the country are still a mixed bag.
While Chicago dropped its unconscionable ban on allowing food trucks to cook their food onboard—which meant food trucks had to store, cook, slice, and dice all their food off the truck, sometimes hours in advance of serving the food—a similar ban is somehow still in effect throughout Washington State. (Momentum was building just this week in Olympia to repeal that state ban.)
Elsewhere, the struggle continues. Tupelo, Mississippi, for example, is dragging its heels before it will even establish food truck regulations. While Tupelo lawmakers are taking their sweet time, the city also appears willing to allow brick-and-mortar restaurant owners to dictate terms. At least that's how the latest city council meeting on the issue makes it seem.
"The main thing that I'm interested in, and I think the food trucks want it, too, is to have some regulations about where they can be, things like that," said Leslie Nabors of Buffalo Wild Wings, in remarks reported by Tupelo's Daily Journal. "We don't want just any trucks coming into town and setting up shop."
Some of Nabors' brick-and-mortar neighbors agree.
"Whether it's a minimum distance food trucks can be from a restaurant, noise regulations over generators or if food trucks can park on city property—I don't know if this is what we want to do, but I've looked into several cities' food truck ordinances," said John Robbins, owner of Mugshots. "I just hope the city looks into that. I'm not against food trucks, but I don't want them to park on the same piece of property without any property tax or ordinances in place. We just want to make sure they jump through the same hoops we do."
They may as well say they're going to build a wall around downtown Tupelo and force food truck owners to pay for it.
Back in my 2011 piece, I urged exactly the opposite of this rent seeking chicanery. Wishing food trucks the pain of jumping through the same idiotic hoops restaurant owners must navigate is a needlessly crappy and adversarial argument. A better one?
"Instead of cracking down on the successful food trucks," I wrote all these years ago, regulators "should look to those businesses' success as a reason to cut the red tape that engulfs entrepreneurs who want to launch brick-and-mortar restaurants."
In other words, brick-and-mortar restaurants and food trucks should compete against each other (just like food trucks compete against each other and brick-and-mortar spaces compete against each other) and work together to reduce the regulatory burdens they each face, rather than trying to bury each other in red tape. And lawmakers should make and enforce laws and regulations that reflect this (and only this) fair approach. Sadly, for food trucks and their customers, these lessons are still being learned in places like Illinois, Mississippi, and Washington State.