Broward County Sheriff Scott Israel Won't Resign, Says His Leadership Has Been 'Amazing'
Israel: "If ifs and buts were candy and nuts, O.J. Simpson would still be in the record books."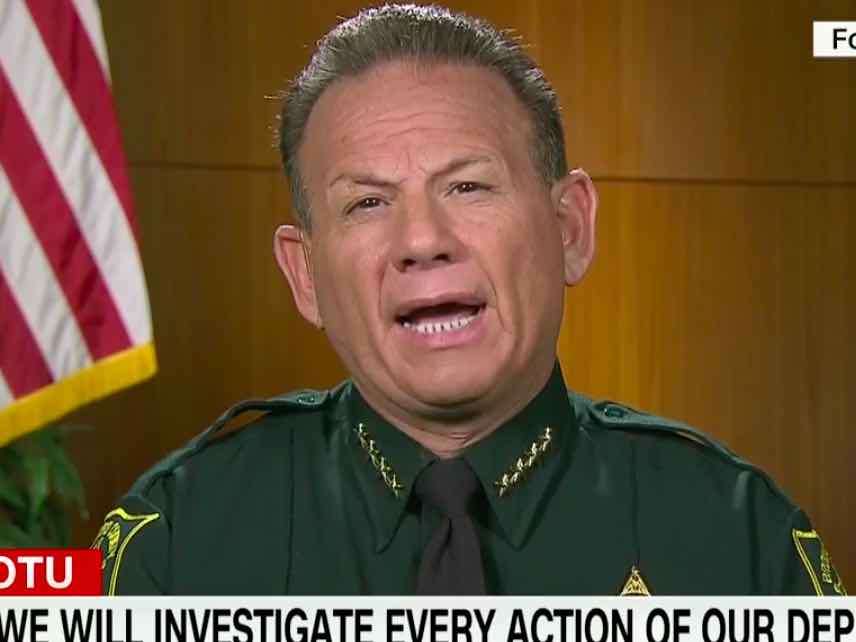 In an interview with CNN's Jake Tapper on Sunday, Broward County Sheriff Scott Israel described his own leadership as "amazing," refused to resign from office, and attempted to pin the blame for law enforcement's myriad failures before and after the Parkland mass shooting on just one person: Marjory Stoneman Douglas's school resource officer, Scot Peterson.
When asked whether a more competent sheriff's office could have prevented the horrific tragedy that claimed the lives of 17 people, Israel said, "If ifs and buts were candy and nuts, O.J. Simpson would still be in the record books."
Tapper countered with, "I don't know what that means."
Throughout the interview, Israel declined to take personal responsibility for what happened. He also refused to confirm or deny reports that several of his own deputies waited outside as the shooting was underway. When told that a first-responder was stopped by his deputies and prevented from entering the school to provide medical attention to victims, the sheriff said he didn't know whether that was true or not.
"At this point we have no reason to believe anyone acted incorrectly or correctly," said Israel.
Israel made one notable exception: Scot Peterson, the school resource officer who was caught on security camera declining to enter the building to confront Cruz. Peterson was placed on unpaid leave and has since resigned.
In the interview, Israel seemed prepared to blame everything on Peterson. The sheriff even implied that if it's true his own deputies did not enter the building, perhaps that was because the SRO said something over the radio that caused them to hesitate.
"We don't know if what they did… they heard something from Peterson," said Israel.
Israel even invoked Peterson's name when Tapper asked him about the 18 calls his office received about presumed shooter Nikolas Cruz's behavior over the years. The sheriff noted that his office had shared some of that information with Peterson. Israel also said he believed 16 of the 18 calls were handled correctly by his office, and he was investigating the other two. Recall that on November 30, 2017, the sheriff's office received a tip that described Cruz as a "school shooter in the making." Broward County referred the matter to the Palm Beach Sheriff's Office—Cruz was living in Palm Beach at the time—but took no further action, despite having been warned by a relative of Cruz that the teenager possessed weapons.
Israel maintained that his office wasn't aware of any information that would have suggested Cruz was capable of carrying out his threat against the school. In the future, to prevent tragedies, law enforcement officers need expand powers to detain dangerous people, he said.
"The whole crux of this is giving law enforcement, giving deputies, giving police officers, not only in Broward County but around the nation, expanded power to be able to do something more than just write a report," said Israel. "That's the only reason I went on CNN's townhall."
But it's not clear why law enforcement should be trusted with more power, given that various agencies had all the information they should have needed to do something about Cruz. As Tapper put it, "Are you really not taking any responsibility for the multiple red flags that were brought to the attention of the Broward sheriff's office about this shooter before the incident, whether it was people near him, close to him?"
Israel responded, "I can only take responsibility for what I knew about, I exercised my due diligence, I've given amazing leadership to this agency."
WATCH: @jaketapper's full interview with @browardsheriff. #CNNSOTU https://t.co/RVImLpejwS

— State of the Union (@CNNSotu) February 25, 2018