People Will Eat What They Want, Not What Government Prefers
Nanny efforts in the U.S. and Chile to shape eating habits continue to accomplish little.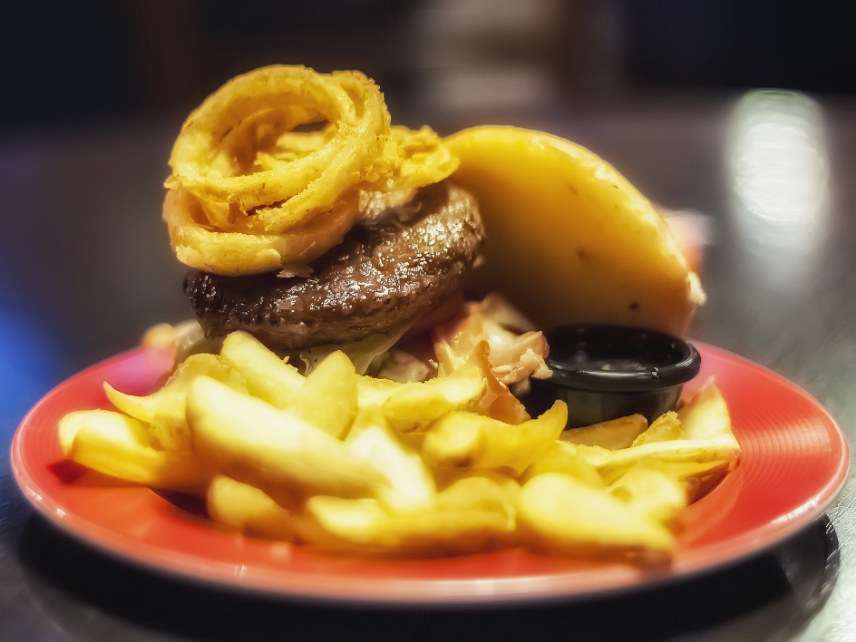 This month, a pair of seemingly unrelated stories—a story about Chile's crackdown on subjectively unhealthy foods and a bill now before the U.S. Congress—make clear that the legions of do-gooders who want to compel you and others to eat just what they think you should eat are—despite their persistence—failing miserably at their jobs.
In Congress, the bill in question seeks to modify and delay the FDA's menu-labeling mandate, which is part of the Affordable Care Act, also known as Obamacare. The bill is nothing new. It's been kicking around since at least 2012, shortly after Obamacare became law.
Currently, the menu-labeling portion of that law, set to take effect later this year, would require many chain restaurants, vending-machine owners, grocers, theater owners, and others to post total average calorie information for most menu items.
The bill to amend the Obamacare menu-labeling law, dubbed the Common Sense Nutrition Disclosure Act, which passed the House last week, would allow chain restaurants to list calories per serving for menu items intended to be consumed by more than one person, and allow pizza chains and other carry-out restaurants to post calorie information online instead of in stores. It would also delay implementation of Obamacare's menu-labeling provisions for at least two years.
Supporters claim the existing law would help people make better and more-informed choices, and oppose the listing of calories per-serving (rather than total calories), along with the other elements of the bill.
"[W]e see from the research that actually, when consumers are given this information, they actually can make lower-calorie choices, and restaurants can also come out with lower-calorie options," Colin Schwartz, deputy director of legislative affairs at the Center for Science in the Public Interest, told CNN.
Certainly people can actually "make lower-calorie choices." It's just that, with mandatory menu labeling, research shows they most often don't actually make those lower-calorie choices.
"Overall, when you are looking at average consumer response to labeling, there doesn't appear to be much difference in calories purchased before and after labeling," said Dr. Jason Block, an assistant professor at Harvard Medical School, coauthor of a recent study on menu labeling, also in remarks to CNN.
But even that's an optimistic take on the impact of mandatory menu labeling.
"Research has shown that posting mandatory calorie counts on restaurant menus doesn't help people make better choices," I wrote last year.
Why don't people just do what the law wants them to do? Well, maybe one reason is that dietary preferences and choices are deeply personal, and laws like this one that seek to change those habits ignore that fact.
A 2016 study sheds more light on that idea. In the study, researcher Olga Kozlova looked at food choices made by people in months when they had comparatively more money available (due to lower heating costs). The study found that when low-income consumers have more disposable income, they tend to buy more of the foods they already purchase, rather than spending the additional money on healthier foods.
"[I]f you were thinking—or hoping—that low-income consumers look on healthy food as a luxury that they could buy if only they could afford it, the evidence in this study doesn't seem to be in your favor," reads a New Food Economy piece on the study.
That has serious implications, writes the New Food Economy's Patrick Clinton, for many people's thinking (though not my own) around policy strategies to deal with the (now mainly debunked) problem of food deserts.
So what can be done if both nudgy policies and better economic situations don't lead individuals to make the choices that food policymakers and activists want them to make? Restrict choice!
Two years ago, as a lengthy New York Times piece last week detailed, Chile did just that, enacting pervasive and intrusive anti-obesity regulations, including bans on marketing foods to children, removing junk food from schools, adopting mandatory packaged-food nutrition warnings, and sugar taxes.
How's that working? As the Times piece notes, "Obesity rates in Chile have yet to fall."
This mimics what's happened in the United States, where despite eight years of sweeping policy changes designed to cut obesity, many enacted with the support of then-First Lady Michelle Obama, obesity rates continued to rise.
Several years ago, I wrote a column here in which I blasted the negative results produced by efforts to socially engineer our food choices. For these failed efforts, it appears there's no end in sight.