Movie Review: Black Panther
Marvel blockbuster might not change the world, but it could definitely change the movie business.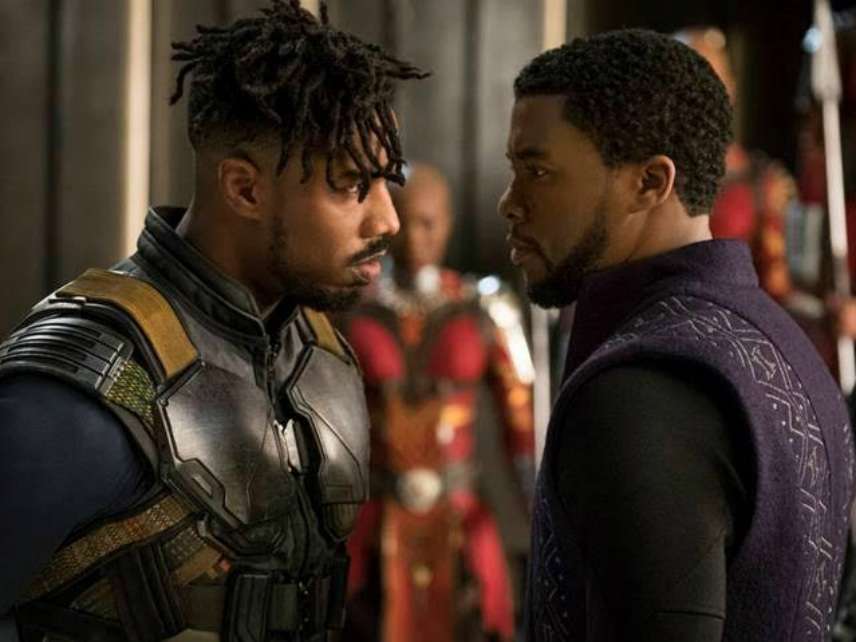 It's too bad, in a way, that we have to focus on the racial breakthrough that this movie represents—although of course we do. Here, for the first time ever, is a $200-million Marvel blockbuster that's been entrusted to a black director (Ryan Coogler), two black writers (Coogler and Joe Robert Cole), and a pair of top-shelf black production and costume designers (Hannah Beachler and Ruth E. Carter). And of course the cast—at least two of whom will emerge from this picture as bigger stars than when they went into it—is almost entirely black.
Of more immediate interest, though, I'd say, is the fact that Black Panther is a ripping action flick on which a great deal of care has been expended. Kugler, best known till now for Fruitvale Station and Creed, has a gift for clarifying narrative complexities, for moving things along in a snappy manner without spinning our heads, and for balancing the story's elements of physical exhilaration and deep-seated emotion. In these regards alone, the picture is a notable achievement.
The movie has pretty much everything you could want from a pulp adventure. It's largely set in a mysterious African nation called Wakanda, a place that pretends to be an impoverished Third World basket case, but is in fact a highly advanced jungle society with a very big secret. There's a commanding hero – the newly crowned King T'Challa (Chadwick Boseman), who shifts into combat mode as the super-suited Black Panther. There's also a stalwart lieutenant, the bald-headed warrior woman Okoye (Danai Gurira); a more comical associate named Shuri (T'Challa's genius sister, actually, played with maximum appeal by Letitia Wright); and a fetching but not-to-be-messed-with love interest named Nakia (Lupita Nyong'o).
There's also a bumbling interloper from the outside world named Ross (Martin Freeman); an interestingly conflicted antagonist called Killmonger (Michael B. Jordan, a master of smoldering charisma); and a homicidal lunatic named Klaue (a non-mocapped Andy Serkis), who seeks to destroy the world, or at least degrade it in a major way. Unless, of course, somebody can stop him.
Coogler sets up the story with admirable economy. We see a meteor made of vibranium crashing into Africa long ago. We eventually learn that vibranium's wondrous properties enabled the rise of Wakanda and powered its highly advanced technology. Then we flash forward to 1992, to a gun deal in Oakland that goes violently wrong, and will eventually trigger even more violent repercussions in the here-and-now.
The movie's production never touched down in Africa itself (it was largely shot in Atlanta and in South Korea), but the simulation presented here has an exotic fantasy glow, with the skyscrapers and elevated trains of the cleverly obscured Wakanda recalling the studio-born wonders of the 1936 futurist classic Things to Come. Director Coogler is especially adept at sidestepping the clichés of the superhero-action genre: he mounts a grippingly inventive fight at a waterfall between T'Challa and Killmonger, and an auto chase featuring the demented Klaue for which the term "hair-raising" might be honorably resurrected. And goosing all of this action along throughout is the film's terrific soundtrack, which blends a composed score by Ludwig Göransson with a raft of tailor-made tracks, overseen by Kendrick Lamar, that feature American stars like SZA and Vince Staples and stirred-in South African performers Babes Wodumo and Zacari.
The movie is not without flaws, one of them unsurprising: Boseman's lordly T'Challa is so burdened with virtue (he literally wants to save the world) that he's sometimes outshone by the characters around him, especially Killmonger and Klaue, who have the dark glamour of evil intentions. You might also wonder about the wisdom of having two waterfall fights. And it's a shame that Shuri, the film's designated comic relief, is given a couple of its deadest lines. (Startled by Freeman's Agent Ross, she says, "Don't scare me like that, colonizer.")
But it would be difficult to work up many complaints about this movie. It's fun pretty much from start to finish. It constitutes a corrective to one of Hollywood's most myopic miscalculations. (Who knew there were so many talented black movie pros, eh?) And it's about to demonstrate something equally heartening. Last year, Vice predicted that Black Panther was going to be an important movie "because black people have never seen anything like it before."
Which is also to say, neither have white people.