In Civilian Court, Terrorist Sentenced After 17 Months; At Guantanamo Tribunal, Still No Trials After 17 Years
And yet we supposedly need Gitmo because civilian courts aren't up to the task.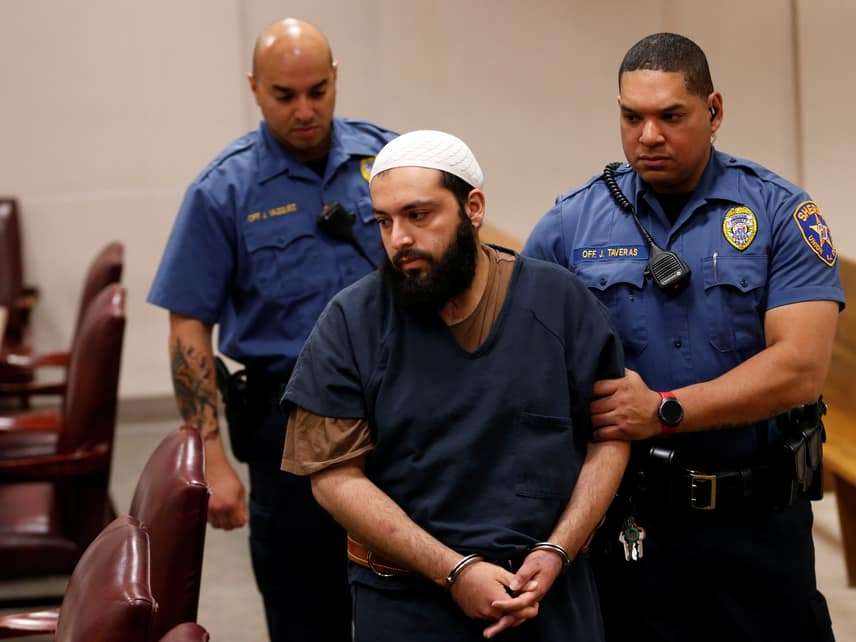 Tuesday saw two major developments in America's efforts to prosecute accused terrorists. Between them, they undermine an argument about the alleged need to try terror suspects in military courts.
The first development was the sentencing of Ahmad Khan Rahimi, the so called "Chelsea Bomber," who detonated three homemade bombs in New York and New Jersey in September 2016. A judge in the Federal District Court in Manhattan sentenced Rahimi to two life terms yesterday, just 17 months after Rahimi's arrest. It's hardly the first time our civilian courts have taken care of a terror case with such efficiency. "Shoe bomber" Richard Reid was sentenced in January 2003, just over two years after he was arrested. Sayfullo Habibullaevich Saipov, the ISIS-inspired Uzbek who allegedly drove a truck through a crowd of pedestrians in downtown Manhattan last Halloween, was in federal court within 24 hours, and he has already offered to plead guilty on the weight of the evidence against him. A jury found Ahmed Abu Khatallah, a Libyan national involved in planning the 2012 attacks on the U.S. embassy in Benghazi, guilty of terrorism charges last November.
These cases have at times required some deviations from standard federal criminal procedures, largely to protect U.S. foreign intelligence sources. But they have been conducted, for the most part, in the same manner as the many other criminal prosecutions heard in federal courts every year, and they aren't taking dramatically longer to resolve than other criminal cases.
Yesterday's second development, however, is rather less impressive.
The military commission at Guantanamo Bay is currently attempting to try Abd al-Rahim al-Nashiri for the 2000 bombing of the USS Cole. Yesterday an Air Force judge, Col. Vance Spath, ordered U.S. marshals to arrest two civilian attorneys who had resigned in protest from the team of lawyers attempting to represent Nashiri. More than 17 years after the Cole bombing, a trial date has still not been set.
A complete description of the events which have led to this latest showdown could probably fill several volumes, but the short version is that the two civilian attorneys, employed by the Department of Defense, said they could no longer ethically represent al-Nashiri after Spath ruled that their communications with him were not entitled to confidentiality. They received permission to withdraw from the case from their military supervisor, Marine Brig. Gen. John Baker. This upset the judge, who declared Baker guilty of contempt and sentenced him to 21 days of confinement when Baker refused to order the lawyers back to the tribunal. After higher-ups at the Pentagon overturned Baker's sentence, Spath ordered the two back himself. They also refused. Thus the arrest warrants.
This ongoing tragedy of errors will not be altogether unfamiliar to those who have followed the ad hoc military courts that hawks insist are essential to bringing terrorists to justice. Similar drama has swirled around the other high-profile trial attempt at Guantanamo Bay—that of the six detainees accused of helping plan the 9/11 attacks. That case has been bogged down in years of pre-trial bickering between defense, prosecutors, judges, and the Pentagon.
The Obama administration tried to transfer the case to federal court in 2009, but was blocked when Congress outlawed the transfer of Gitmo detainees onto U.S. soil. The case was sent back to Guantanamo, but efforts to take it to trial there were derailed when it turned out the CIA had hijacked the court's audio censorship system, meant to prevent the inadvertent broadcast of classified material to the court's spectator area, and was blocking audio without the judge's approval.
We supposedly needed those military tribunals because ordinary criminal legal procedures were insufficient to address terrorism. But boring old federal courts keep running up the score against military justice.