What's Hot in Porn Tech: Blockchain, Cam Girls, and Snapchat
New technologies are helping the adult industry adjust to government regulations and give more power to performers.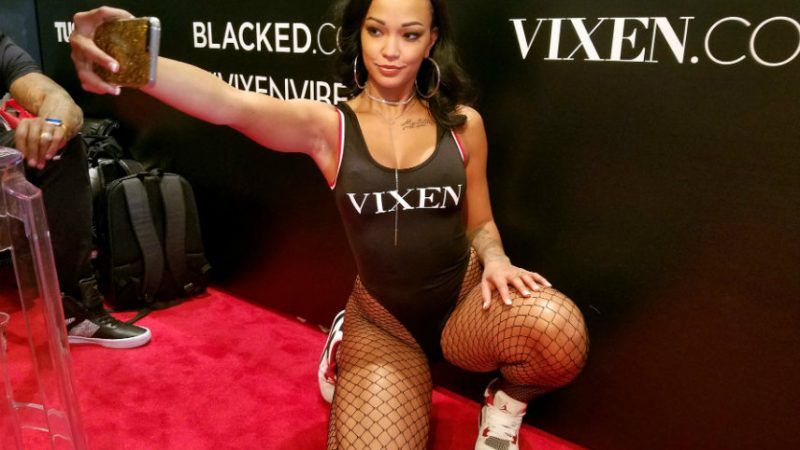 (Lumeimages, PacificCoastNews/Newscom)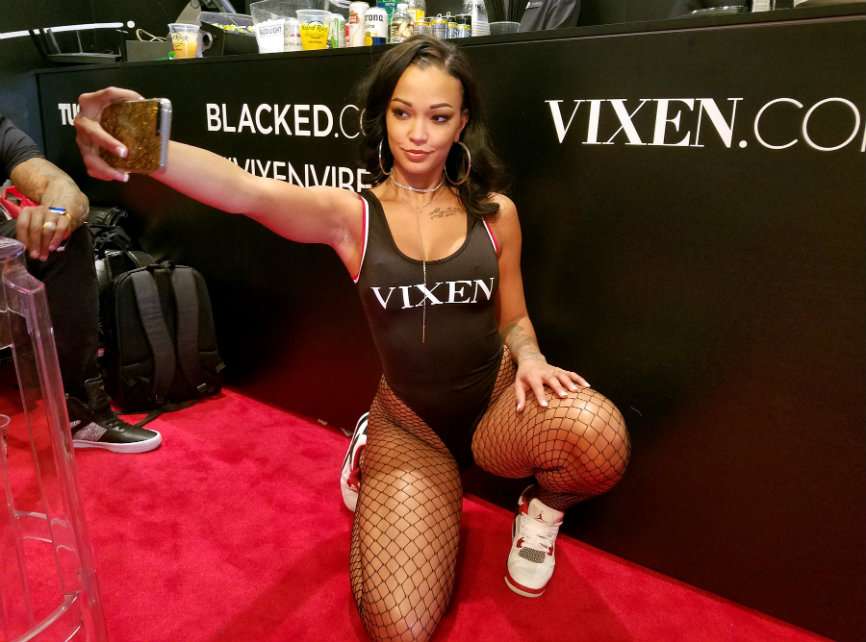 Virtual reality is a dud so far, the Trump administration has been better than expected, and new technologies from the blockchain to Snapchat are helping the porn industry adjust to government regulations and give more power to adult performers. That's the gist of reports from a wide-ranging roster of industry professionals who spoke last week in Las Vegas at the AVN Adult Entertainment Expo and the Internext conference for adult webmasters.
I attended the annual AVN event in 2016. At the time, virtual-reality porn was all over the Expo floor and porn-industry veterans were scared about the possibility of a Donald Trump presidency and a California rule mandating condoms. This year, I wasn't able to get out to Vegas. But the plethora of detailed dispatches put out by AVN make sure that at least the business side of these events doesn't just stay at these events.
At both the AVN Expo and Internext, cryptocurrency, webcamming, social media, and age-verification were big topics, as panelists discussed the political, technological, and social trends shaping adult entertainment in 2018. Here's a look at how these trends are changing the way people produce, consume, and make money from porn.
Power to Performers
Since streaming online video got so simple, "tube sites" offering thousands of free porn clips have been frustrating porn-industry professionals, who expect—not unreasonably—to get paid for people watching their work. Performers and producers regularly complain that these sites are depressing their earnings (by offering free pirated versions of their paywalled videos) and their market potential (by flooding the web with amateur porn). But recent years have seen rising ?interplay? between porn professionals and the tube sites as they attempt to find business models that will benefit both.
AVN CEO Tony Rios told the Las Vegas Sun that the past year saw "a lot of cooperation with performers and the tube sites."
Pornhub, for instance, just announced that Asa Akira would be joining Aria—former host of The Sex Factor and AVN's 2013 Female Performer of the Year—an one of the site's ambassadors.
Social media has also been a big boon for adult-video stars and for webcammers, by providing a means for self-promotion and fan outreach as well as ways to make money directly. "Snapchat has become massive and performers are using it like crazy," Rios told the Sun. "And they're even doing premium Snapchats now, and finding a way to charge for Snapchat."
Rios also noted that performers were effectively mobilizing their social presence for advocacy purposes. "We saw that with Prop 60 [the failed California condoms-in-porn ballot proposal] in 2016," said Rios. "The performers went to social media and they were able to affect legislation."
For webcammers—most of whom work through a webcam platform like MyFreeCams.com or Chaturbate—social media has made it possible to be more proactive in finding viewers, rather than relying solely on the platforms to bring eyes in.
"Before cam models used to sit in the room and wait for the cam site to send traffic, but it's completely turning around as they take control of their brands on social media and with clip stores," said Jim Austin, head of business development for cam-site Stripchat, during one Internext panel. "They're like mini entrepreneurs with multiple revenue streams." The whole thing has shifted "the power…toward the models now" and "away from cam sites," he said.
Camming from the @MyFreeCams booth at @AEexpo with @MxPraxisPhanes and @MissAvaPark !! pic.twitter.com/SjSBOOPvvB

— Momoka-Hime (@Momoka_Koizumi) January 25, 2018
Overall, the proliferation of marketing venues and opportunities to reach fans directly has shifted more burden to performers than before but also given them more potential too. Savvy adult video stars and webcammers are launching sites offering custom clips and photos for a one-time fee or on a subscription basis.
"Last year was the breakthrough year for clip sites," said Yuval Kijel of CamBuilder during a panel on live-camming. "They are helping the models and helping us to get a wider crowd….But we are only scratching the surface." (Kijel also noted that CamBuilder's parent site, Streammate, gets a lot of its traffic via Instagram and Twitter referrals.)
Part of the reason these models succeed in an online market saturated with nudes and all sorts of sex is their ability to create a feeling of connection and authenticity between performers and fans. It's the girlfriend (or boyfriend) experience come to porn.
"Nowadays the consumer is more intelligent, they want more," said Gregory Dumas, director of Netplay Media and former head of Hustler.com, on an panel about the LGBT porn industry. "They don't want just what they can find for free on pay-sites. That pay-site model has evolved. I don't believe it's dead, it's evolved."
"Any artist that is filming content you definitely need to have a clip store," said iWantEmpire CEO said iWantEmpire CEO Jay Phillips. "Owning content is owning your future."
Blockchain ID Checks
This year's adult-entertainment expo had "a strong representation of age-verification companies because of the new age restriction laws in the United Kingdom," according to AVN's CEO.
With the passage of the U.K.'s Digital Economy Act, all British porn platforms must verify visitors' ages before allowing them to access content. Complying with this request—which must be done by April 2018—has proven a challenge, as most efforts to meaningfully check someone's age run up against prohibitively invasive privacy issues.
But blockchain technology may provide a solution.
"People generally are fearful of entering in any personal data to access adult content," Steve Winyard, of the blockchain payment platform AVSecure, told a "State of the Industry" panel. That's why platforms like his are built on a blockchain, so individual data is kept private.

"AVSecure's blockchain solution acts as a repository of encrypted tokens that represent age-verified consumers," explains AVN.
In any event, platforms would not be wise to ignore it, suggested Harmik Gharapetian, vice president of sales and marketing at payment-solutions company Epoch. "You are going to lose your traffic from the UK if you don't have a solution."
Cryptocurrencies Catching On?
Federal efforts to control who banks and payment providers do business with has often left adult businesses and performers in the lurch. Cryptocurrencies have been heralded for a while now as one potential solution. The market seems to be growing but still struggling to catch on in a widespread way.
"The industry has a long history of issues with banking and getting good banking relationships," AVN CEO Tony Rios told the Sun. "With cryptocurrency, it's anonymous and you can get your currency through various exchanges and it's not so direct." But while "it works in theory," the industry hasn't really "seen it embraced yet," Rios added. "It's still very new."
At the pre-AVN Internext conference, a panel of adult webmasters all agreed that porn sites and other adult businesses should accept cryptocurrency.
Jimmy "Wizzo" Foreman said his company, JuicyAds, just closed a deal to start payouts in cryptocurrency if desired. "In the tech space a lot of people want to be paid in crypto," he told an Internext panel audience. "I think it's going to be an exciting part of 2018."
There could theoretically be perks for performers, businesses, and consumers that go beyond privacy, like avoiding fees and the ability to accept micropayments. But the biggest emphasis by far has been on how this will help adult industries avoid the whims of federal regulators and law-enforcement agents.
During a panel on legal issues facing the industry, lawyer Greg Piccionelli urged the industry to "move as quickly possible to cryptocurrency because of what's going to happen" with Jeff Sessions and a conservative U.S. Justice Department in charge. "One of the ways to get a lot of bang for the buck delivered to the religious right is if all of a sudden a whole lot of adult websites find themselves without payment processing," he pointed out. "I see cryptocurrencies as kind of an insurance policy for the business."
Smoking and Sex Dolls In, Virtual Reality Out
Asked what previous trends wouldn't be so popular at this year's AVN Expo, Rios told the Sun:
Virtual reality. We actually don't have a very big showing of virtual reality this year. In the last couple of years we've had a ton of VR exhibitors. But this year we really don't have much
?This was echoed at various points during the AVN and Internext panels. Anna Lee, president and director for HoloGirlsVR, said the industry was at something of a standstill.
"Everyone is waiting for the next thing that's going to catapult VR to the next level," said Lee. We've learned a lot, figured out what works, how to shoot and how to affect scaling… Especially for people entering the space now you don't have to spend all the money we did in the beginning."
@iamdollusa booth, thnx guys ! pic.twitter.com/G0eTGukQf0

— AriellaFerrera (@AriellaFerrera) January 28, 2018
But despite improvements, neither technology nor consumer interest is quite there yet.
At a panel on live cam sites, participants agreed that VR wasn't really a factor in that world. "It still has a long way to go," said Cambuilder's Kijel.
But sex dolls—not robots, mind you—still had a large presence this year. The company 1 AM USA unveiled a new line of dolls based on porn stars Misty Stone, Katty Morgan, and Lunar Star, and Instagram is littered with their photographs.
Foreman, a two-decade adult industry veteran, said that "not-safe-for-work video games" are also on the rise, as well as "anything marijuana-related."
Trump a Wild Card
Asked whether he had seen any changes under the Trump administration, Rios told the Las Vegas Sun:
Surprisingly, no. We know that Trump is a fan of our industry, there has been some recent news that even further attests to that. But we know not everyone in his cabinet is a fan, at least publicly. So we're continuing to hope for the best. I don't think he will have time for porn in the near future, he has other priorities. But no telling at what point porn will become part of the agenda.
But Trump's presence was felt by the industry in…different ways. For instance, Alana Evans "spiced up her expo act by bringing in a male performer who specializes in spanking to impersonate the president," noted SF Gate.
Live from the 2018 #AVNAwards Red Carpet @thejessicadrake pic.twitter.com/EfSz72fbjP

— AVN Awards (@avnawards) January 28, 2018
And then there was Stormy Daniels, making one of her first public appearances since The Wall Street Journal reported that she had been paid by Trump's campaign to keep quiet about an old affair (an allegation she denies). Some folks couldn't resist asking Daniels and actress/sex educator Jessica Drake about the president.
During a panel on women's sex toys which Drake was moderating, someone slipped in a question about her allegations against Trump. Drake said last year that he had kissed her without consent at a charity golf tournament—the same one at which Daniels claimed in a 2011 interview with In Touch Weekly to have met and had sex with Trump.
"I'll talk when I'm ready to talk or when I'm subpoenaed," was Drake's reply.
"A year ago, many in the industry were bracing for a crackdown from the Trump administration and Attorney General Jeff Sessions, who had promised to "vigorously" uphold adult obscenity laws and said he would consider reviving a special unit to prosecute such cases," pointed out SF Gate. "Instead, Trump's biggest impact at the annual porn convention … was to put a brighter spotlight on Daniels and Drake, who had both been nominated for honors" in Saturday night's AVN Awards ceremony.