Science Group Calls for a National Crackdown on Booze to Achieve 'Zero' DUI Deaths
A new report calls for a coordinated federal, state, and local crackdown on all drinkers.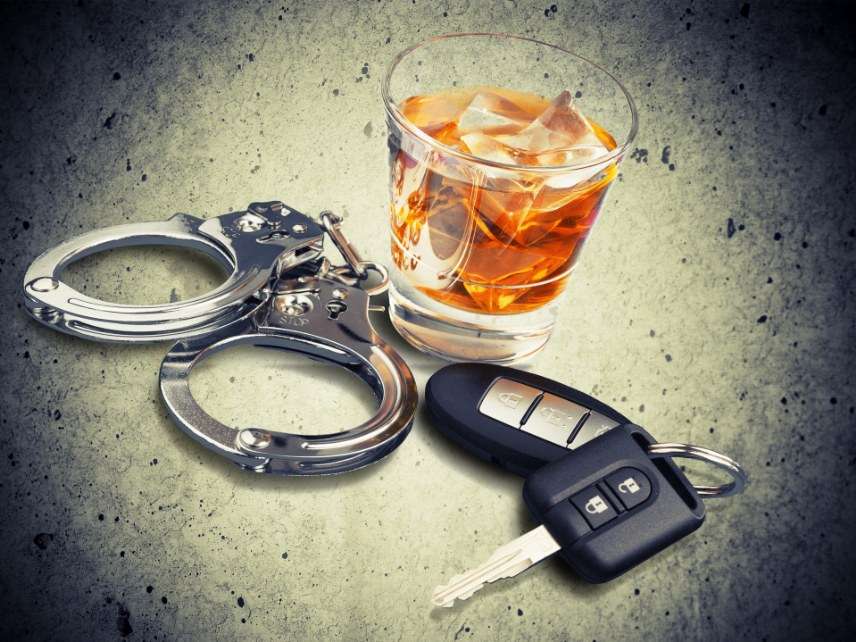 A new report issued last week by the National Academies of Sciences, Getting to Zero Alcohol-Impaired Driving Fatalities: A Comprehensive Approach to a Persistent Problem, urges a host of draconian measures in an effort to eliminate every alcohol-related driving death in the United States.
The NAS report suggests that policy approaches expand dramatically from their present focus, preventing drunk driving, "to also encompass reducing drinking to the point of impairment"—the latter, in other words, targeting all drunkenness.
Getting to zero, in the report's estimation, means a host of nefarious, neo-Prohibitionist approaches to alcohol regulation, including "lowering state per se laws for alcohol-impaired driving to 0.05% blood alcohol concentration (BAC) [from 0.08%, the law today in most states], preventing illegal alcohol sales to… already-intoxicated adults, strengthening regulation of alcohol marketing, and implementing policies to reduce the physical availability of alcohol." It also calls for stepped-up sobriety checkpoints, which can be constitutionally questionable.
The means the report recommends to achieve its unrealistic goals are both obnoxious and intrusive. In the case of reducing the physical availability of alcohol, for example, the report recommends specifically that state and local governments restrict the number of establishments allowed to sell alcohol and reduce "the days and hours of alcohol sales[.]" Among its key recommendations, the report also calls for the federal government and state governments to "increase alcohol taxes significantly."
Dr. Steven Teutsch, chair of the NAS committee that authored the report, admits that eliminating every one of America's more than 10,000 annual alcohol-related driving deaths "sounds like an overly ambitious goal."
It doesn't just sound overly ambitious. The study's title, along with its stated "goal of zero alcohol-impaired driving fatalities" and most of its contents, smacks of bluster, much like previous White House efforts to end poverty or to rid America of childhood obesity—each purportedly capable of being accomplished, at the time of their announcement, "within a generation."
Some members of law enforcement have voiced support for the NAS report's recommendations, particularly for reducing the blood-alcohol threshold to 0.05%.
"I would agree with it," an Ohio sheriff, Larry Mincks, told the local Marietta Times, speaking of the report. "Any amount of alcohol can affect you. I'm a believer in no drinking and driving whatsoever."
Bar owners disagree.
"I think it's going back to the days of the prohibition," said Mary Eddy, a Marietta tavern owner.
Even some law-enforcement officials are skeptical.
"I'm not sure lowering the limit is an effective way to lower deaths from alcohol-related accidents," said Marietta Police Chief Rodney Hupp.
"If our ultimate goals are to reduce driver impairment and maximize highway safety, we should be punishing reckless driving more consistently," wrote former Reason editor Radley Balko in an excellent 2011 article. "It shouldn't matter if it's caused by alcohol, sleep deprivation, prescription medication, text messaging, or road rage."
Drunken driving is a serious problem. I support stiff penalties for those found guilty of driving drunk. But if drunk people shouldn't drive, then sober lawmakers also should not dumb down the term "drunk" so much that it loses meaning and puts anyone who's had a sip of alcohol before getting behind the wheel of a vehicle in the crosshairs of law enforcement.
Despite the fact that most of the NAS committee report's recommendations are both unrealistic and potentially harmful, it's not entirely devoid of reasonable recommendations. For example, it recommends that cities expand transportation alternatives, including allowing smartphone-enabled ride sharing services like Uber.
As I detailed in a 2015 column, "restricting adult access to alcohol is a farcical and failed policy." The disastrous period of alcohol Prohibition in this country led to violence, law-breaking and disrespect for the law among previously law-abiding citizens, and widespread production and consumption of stronger alcohol beverages. Reports like the one issued by NAS last week, which seek to inch us back toward the awful era of Prohibition, are nonstarters.