Poll Commissioned by Pot Prohibitionists Shows How Unpopular Pot Prohibition Is
A survey by an anti-marijuana group finds that only 16 percent of Americans support the current federal policy.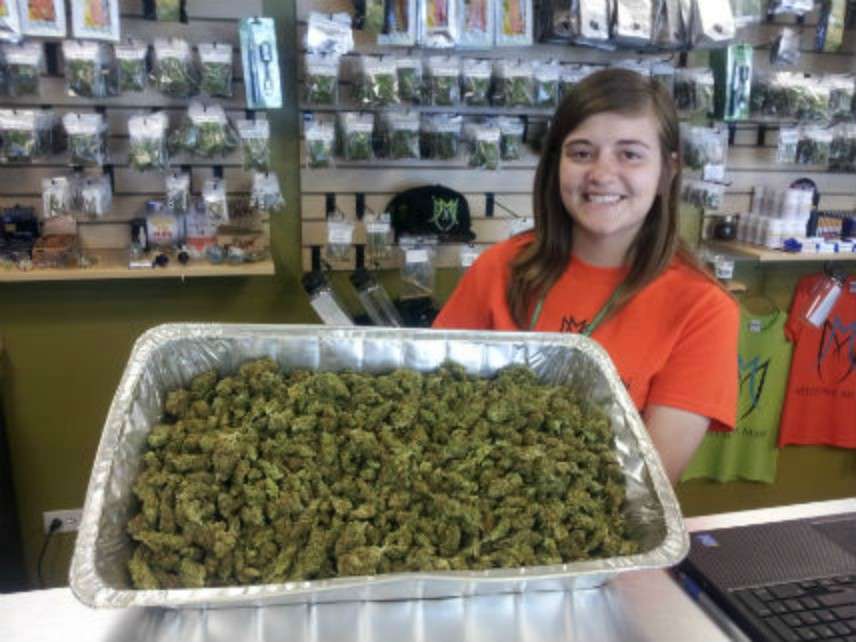 "Half of Americans now support alternatives to full legalization of recreational marijuana use," the anti-pot group Smart Approaches to Marijuana (SAM) says in a press release about a poll it commissioned. That spin, which casts "full legalization" as the default option, speaks volumes about the evolution of public opinion on this issue. What SAM's poll actually found is that federal marijuana prohibition is extremely unpopular.
For years SAM has argued that polls finding majority support for legalizing cannabis are misleading because it's not clear exactly what policy respondents have in mind. Surveys generally ask, "Do you think that the use of marijuana should be legal, or not?" That is the wording used by Gallup, the Pew Research Center, Quinnipiac University, the General Social Survey, and CBS News. But a yes answer to that question could signify support for a range of policies, from eliminating penalties for possessing small amounts of marijuana to allowing commercial production and distribution.
The options in SAM's survey are more specific. The results are interesting, although probably not quite what an organization dedicated to scaring people about Big Marijuana wanted to see.
Mason Dixon Polling & Strategy, the firm hired by SAM, asked 1,000 respondents which of four policies "best describes your preference on national marijuana policy." Sixteen percent chose "keep the current policy," while 29 percent preferred to "legalize the use of marijuana for physician-supervised medical use." Only 5 percent wanted to "decriminalize marijuana use by removing the possibility of jail time for possession and also allowing for medical marijuana, but keep the sale of marijuana illegal." Forty-nine percent were ready for full legalization, saying the federal government should "legalize the commercial production, use and sale of marijuana for recreational use, as they have done recently in several states."
As Vox's German Lopez notes, the SAM poll indicates that more than four-fifths of Americans are unhappy with the current federal policy, which classifies marijuana as a Schedule I drug with no legitimate use. Furthermore, full legalization was by far the most popular option, supported by nearly half of the respondents. But that is still lower than the percentages saying "the use of marijuana should be legal" in recent polls by Gallup (64 percent), Pew (61 percent), and Quinnipiac (58 percent). The SAM results are consistent with the premise that some of the people who agree with that statement support a more restrictive policy than the one adopted by the eight states that license and regulate marijuana growers, distributors, and retailers.
Then again, polls that framed the question a bit differently have found majority support for tolerating cannabis capitalism. In a 2014 CNN poll, for instance, 54 percent of respondents said "the sale of marijuana should be made legal." That same year, a survey commissioned by NBC News and The Wall Street Journal indicated that 55 percent of Americans would support a law that "allowed adults to purchase small quantities of marijuana for their own personal use from regulated, state-licensed businesses." A 2013 Reason-Rupe survey found that 53 percent of Americans thought "the government should treat marijuana the same as alcohol."
Even if we ignore these other surveys, SAM's poll indicates that the group opposing criminal penalties for possession but supporting them for cultivation and distribution is pretty small—one-third as big as the group that favors the current federal policy, which was the second least popular option. If SAM was hoping to find support for a policy that lets people use marijuana but not buy it, this poll has to be disappointing. The fact that only 5 percent of respondents supported such halfway decriminalization—a policy that had wide support until pretty recently, despite its moral and practical illogic—may be this poll's most striking finding.