Texas Justice Don Willett Is One Step Closer to Being Confirmed to the Federal Bench
Senate Judiciary Committee votes 11-9 to advance Willett's nomination to the Senate floor.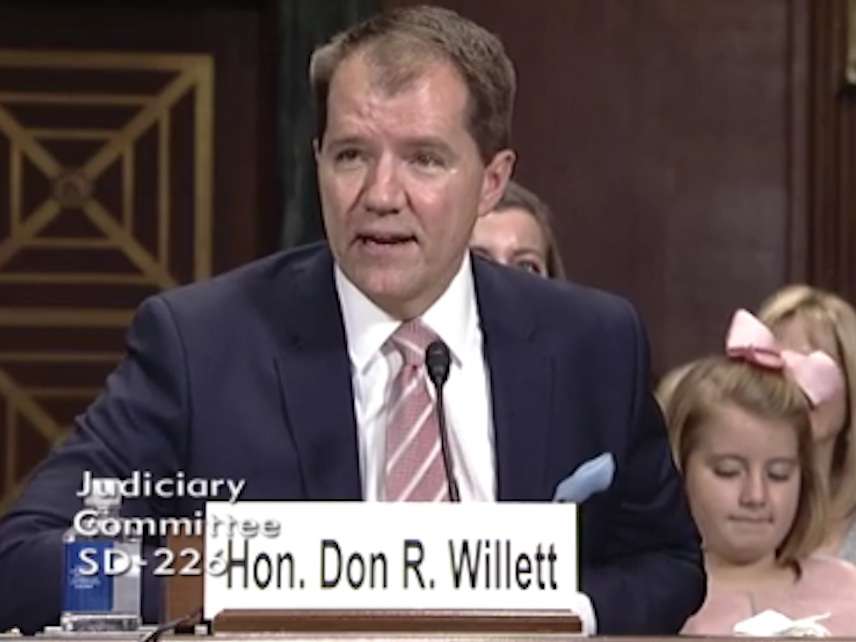 Texas Supreme Court Justice Don Willett is now one step closer to being confirmed to a seat on the U.S. Court of Appeals for the 5th Circuit.
Earlier today, the Senate Judiciary Committee voted 11-9, along party lines, in favor of reporting Willett's nomination to the Senate floor. A final up-or-down vote by the full Senate on Willett's 5th Circuit nomination has not yet been scheduled.
Willett has served on the Texas Supreme Court since 2005 and has written a number of notable opinions dealing with highly contentious topics, such as the proper scope of state regulatory power and whether or not civil asset forfeiture is constitutional.
Yet during his confirmation hearings before the Senate Judiciary Committee last month, Willett faced almost no substantive questioning about either his legal views or his judicial philosophy. Instead, as I reported at the time, the Senate Democrats "beclowned themselves, wasting valuable Q&A time on a series of weak and frankly embarrassing questions about some jokes that Willett told on Twitter."
Today's hearing was equally devoid of substantive criticism of the nominee. Sen. Patrick Leahy (D-Vt.) once again brought up Willett's tweets. (Sen. Al Franken (D-Minn.), who had previously attacked Willett for the same tweets, failed to make an appearance today, though he did vote no by proxy.) And Sen. Sheldon Whitehouse (D-R.I.) delivered a lengthy rant that lumped Willett together with his fellow 5th Circuit nominee James Ho, as well as 8th Circuit nominee Steven Grasz, all of whom Whitehouse denounced as "terrible judges" that were specifically picked to do the bidding of a "dark money" cabal. If Whitehouse had any particular evidence to support his conspiracy theory, he kept it to himself.
Given the surprisingly feeble criticism that Willett has faced so far from the Democratic side of the aisle, it seems safe to predict that he will be readily confirmed to the federal bench.
Related: From Bork to Willett: Is the Conservative Legal Movement Going Libertarian?