The Harder It Is to Believe Roy Moore, the Cozier He Gets With the GOP
Trump's endorsement and the RNC's renewed support coincide with a crescendo of self-contradiction.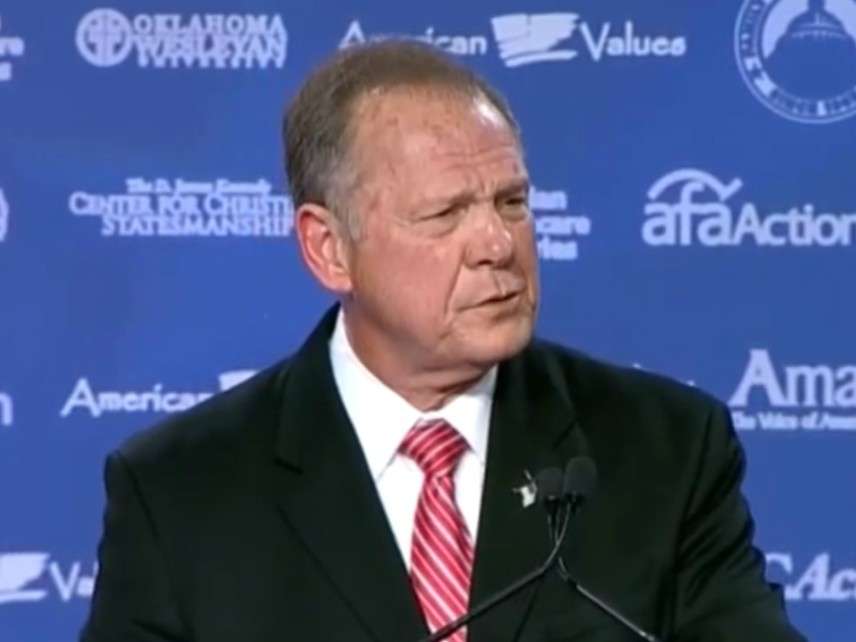 This week Donald Trump's implicit endorsement of Roy Moore became explicit, the Republican National Committee resumed its financial support of Moore's campaign, and Senate Majority Leader Mitch McConnell switched from saying Moore should drop out of the race to saying Alabama's voters should decide whether they want him to represent them in the Senate. Meanwhile, Moore's responses to the women who accuse him of behavior ranging from creepy to criminal have never been harder to believe. The denials that Trump cites to justify his support of Moore cannot possibly all be true, because they contradict each other.
In his November 10 interview with Sean Hannity, Moore said he remembered Gloria Deason and Debbie Gibson, who told The Washington Post he had dated them when they were teenagers and he was a local prosecutor in his 30s. Although he did not recall dating them, Moore said, "I'm not going to dispute anything." He described Deason, who said she dated him when she was 18, as "a good girl." He said he knew "her parents, her mother in particular." He denied her account that he gave her wine in restaurants before she turned 19, then the minimum drinking age in Alabama, claiming (falsely) that it was not possible because Etowah County was dry at the time. Regarding Gibson, who told the Post she dated Moore when she was 17, he said, "I know her, but don't remember going out on dates. I knew her as a friend. If we did go out on dates, then we did."
Last week, in two separate campaign appearances, Moore changed his story. "The allegations are completely false," he said on November 27 in Henagar. "They are malicious. Specifically, I do not know any of these women." He repeated that blanket denial on November 29 in Theodore: "I do not know any of these women, did not date any of these women, and have not engaged in any sexual misconduct with anyone."
Deason's lawyer, Paula Cobia, responded on Monday with a statement that noted the inconsistency between what Moore told Hannity and what he said last week. "No matter what lies Roy Moore may choose to tell now," Cobia said, "the truth was the first thing out of his mouth when it came time to remembering Gloria." In contrast with Moore's shiftiness, the details of Deason's story—in particular, that he flirted with her at the Gadsden Mall, that she was proud of her relationship with him, and that the physical aspect of it "did not extend beyond kissing and hugging"—ring true. "Deason has nothing to gain by telling anything but the truth," Cobia said, "and certainly no motivation to lie."
Gibson responded to Moore's recent denials by sharing with the Post memorabilia that she says corroborate her relationship with Moore, including a graduation card he signed and a scrapbook in which she had noted one of their dates. "He called me a liar," she told the Post. "Roy Moore made an egregious mistake to attack that one thing—my integrity." Gibson, a Republican, said that until recently she held Moore in high regard and remembered their relationship fondly. But his new insistence that he does not know her "changed my perspective," she said, because "I knew he was a liar."
This is the problem for Moore. He could have admitted dating Deason and Gibson (as he more or less did in his interview with Hannity) without admitting that he did anything criminal. Both girls were above Alabama's age of consent, and neither woman alleges any sort of assault. It may seem weird that he would have dated girls that much younger than he was, but it is morally and legally distinct from assaulting Beverly Nelson when she was 16 or groping Leigh Corfman when she was 14, the two most serious charges against him. By gratuitously lying about Deason and Gibson, he invites the inference that he is also lying about Nelson and Corfman.