Malthusians Wrong Again: World Cereal Production Hits All-Time High
World grain production grew by 3 percent this year, while world population rose just 1.2 percent.
Record cereal production this year will lead to record end-season grain inventories, according to the Food and Agriculture Organization's latest World Food Situation update. Overall, grain production rose from 2,533 million metric tons last year to 2,613 million metric tons this year—an increase of about 3 percent. The group projects a slight decline in global wheat production, and it expects rice production "to remain broadly stable."
Food and Agriculture Organization
That 3 percent increase in grain production handily outstrips the rate of global population increase, which decelerated to 1.2 percent last year. Despite the neo-Malthusians' claims to the contrary, more food for people does not necessarily mean more progeny. Generally speaking, more food security means a lower fertility rate: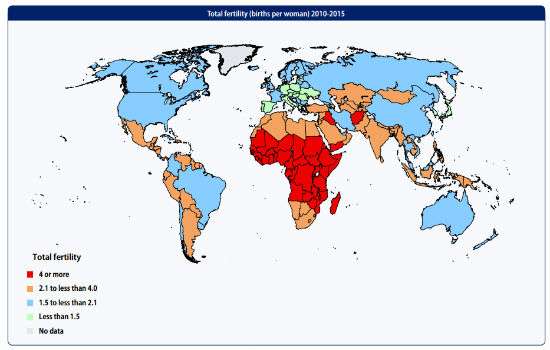 For more background, see my article "The Invisible Hand of Population Control."