Yale Held Transcript of Former Basketball Star in Title IX Lawsuit Hostage
Former student alleges the school screwed up its investigation.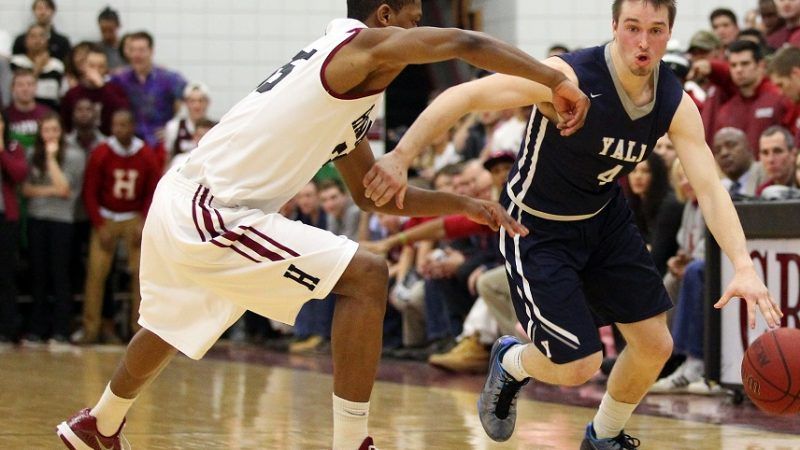 Yale University refused to release the transcript of the former captain of the men's basketball team suing the school for allegedly botching a Title IX sexual assault case he claims was brought to make an example of him.
The school demanded Jack Montague pay $3,000 dollars for the transcript—tuition for the remaining semester after he was expelled. Without the transcript, Montague couldn't transfer to a new school, he claimed.*
According to the suit, filed in June 2016, the university strove to make an example of a star athlete to prove they are "indeed tough on men who 'victimize' female students."
Yale accused Montague in October 2015 of having non-consensual intercourse with a female student in the fall of 2014. He and the woman known in the court documents as Jane Roe had consensual sex three times before.
Monatugue claims the sex on the fourth encounter was consensual, but Roe claims it was not. Both had been drinking. After the sex, Roe left, but contacted him later, returned to his room and spent the night in Montague's bed with him. Roe claims she told Montague that she wanted to "hook up but not have sex" and that she pushed back, placing her hands on his shoulders in a presumed attempt to communicate that she wanted to get away.
Montague alleges deputy Title IX coordinator Angela Gleason told a hesitant Roe she was not the first victim to come forward with a sexual misconduct complaint against Montague. Technically, this was true.
A Title IX panel found Montague guilty of sexual harassment in 2013 after a drunken incident outside of a pizza parlor. As a conversation grew heated with Sally Smith (a pseudonym used in the lawsuit), Montague "rolled up a paper plate from the pizza parlor and put it down the front of Smith's tank top."
Montague "accept[ed] full responsibility for the incident."
Gleason told Roe Montague had "already been referred for SHARE training after a previous complaint against him," which "either directly told Roe or clearly implied to Roe that the previous complaint against Montague was also a complaint of sexual assault."
It's likely this knowledge compelled Roe to come forward. As Roe explained in one of the proceedings, the situation had been "reframed" by Gleason, and that her "perspective broadened after [her] conversation with Angie [Gleason], as [she] began to think about the other people on this campus and how [her] choosing to remain silent on this matter could harm them."
However believable the facts, victims should not be pressured by school administrators to file cases if they don't want to. Nor should administrators attempt to manipulate unsuspecting students, or mislead them into thinking their alleged perpetrator or sexual partner is a serial rapist.
Adding insult to injury, Yale is attempting to force Montague to pay for education he did not receive to get a transcript he must have to transfer to another school. "As a result [of these accusations], his academic and employment prospects—indeed, his entire future prospects— have been materially and drastically limited," the lawsuit says.
Maybe Montague is innocent, maybe he is guilty. But money grabs by Yale won't vindicate the school if it erred in these proceedings. Sexual assault adjudication is too important for Title IX administrators to be clumsily manipulating and misleading students in need—and due process is crucial to uphold.
*CORRECTION: After publication, Yale reached out say it was not currently witholding Montague's transcript. The first two paragraphs and the headline have been updated to the past tense. A spokesperson for Montague's lawyer confirmed that he is currently enrolled at another school: "Jack enrolled at Belmont University this fall. Because not all of his Yale credits transferred, it will take him two semesters to earn his undergraduate degree. Although Jack is still seeking—through the litigation—to be reinstated to Yale and to be awarded the Yale degree he had nearly earned at the time of his wrongful expulsion, he is at the same time trying to move on with his life, and completing his college education is a big part of that."