Chicano Yaktivists Be Damned; Regular Mexicans Are Wild for Coco, Disney
Coco is legit, which is why people are seeing it in droves.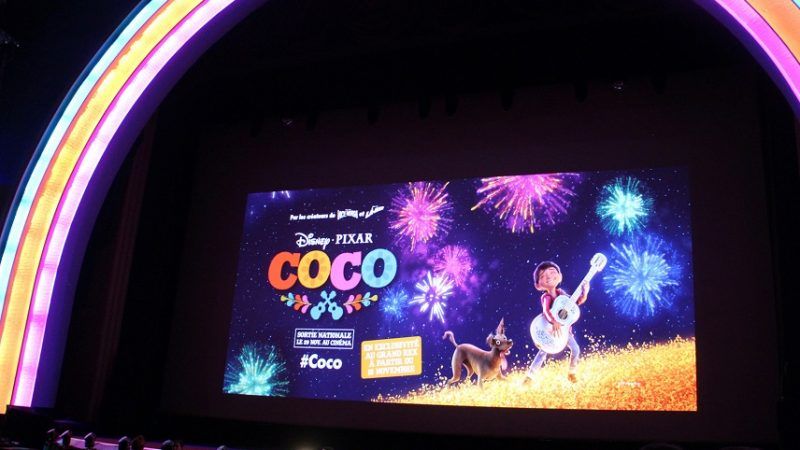 (CORTESÍA/NOTIMEX/Newscom)
Pixar's Day of the Dead-themed Coco was the biggest movie in the United States over the Thanksgiving holiday. The CGI flick gets Mexican culture right yet crosses over to the mainstream with muy Disney messages about the importance of family and finding your own way—¡AJUA!
It's already the top-grossing film ever in Mexico, beating that other paragon of mexicanidad, The Avengers. But it also unwittingly reveals two inconvenient truths about "regular" Mexicans that the Chicano Left will never admit.
Regular Mexicans—that is to say, the vast majority of Mexican Americans, like my cousins who live and breathe Raiders and Dodgers and are too busy working to give a shit about cultural appropriation and other issues that obsess the political left—will gladly support corporations they feel do right by them. And the corollary to that is even when a complaint is legit, the masses won't get up in arms just because aggrieved activists tell them to.
For decades, the Mouse has been a cucuy (the Latin American version of the bogeyman) for Chicano intelligentia. Famous artworks have imagined Mickey as an Aztec sacrifice, as smiling witness to the genocide of Native Americans or as what the New York Times described as an "imperialist icon." Chicano Studies types have long griped over the 1944 live-action cartoon The Three Caballeros for its supposed "commodification of the Latina body" and its simplification of a Mexican rooster character as a "bandito" (never mind that Panchito Pistoles is Donald Duck's pal in the film). I remember a class at UCLA I took in the early 2000s that taught us that the following scene in Pixar's A Bug's Life was a dog whistle for Americans to freak out about the Reconquista. Why? Because it happened in a mosquito cantina!
Disney in the Chicano Left imagination stands for everything evil about the United States: corporate, capitalistic, ignorant of Mexican traditions at best and blatantly racist at worst. The company has deserved such criticisms: In 1994, when Disney donated money to then-California Gov. Pete Wilson, legendary Chicano cartoonist Lalo Alcaraz imaged Mickey as "Migra Mouse" because Wilson had campaigned on the xenophobic Proposition 187, which sought to do all sorts of bad things to illegal immigrants.
More recently—which brings us to Coco—Disney tried to trademark Dia de los Muertos in 2013, in anticipation of their then-untitled film on the subject. A furious online backlash (one that I helped to promote along with Alcaraz, who did a great parody of Mickey as "Muerto Mouse" coming to "trademark your cultura" ) rightfully forced Disney to back off, because their move was tone-deaf and just plain pendejo.
But then Disney did what any smart corporation would do: They hired someone to teach them how to do things right. Better yet, they hired Alcaraz as a cultural consultant for Coco. That led armchair Aztecs to accuse Alcaraz of being a vendido—a sellout. Even allies of Alcaraz engaged in a lot of Facebook hand-wringing and asked Alcaraz why he decided to help his Moby Dick try and tackle a Mexican holiday.
But regular Mexicans gave Disney the benefit of the doubt with Alcaraz on board—or, most likely, never even heard about the controversy. His help proved crucial to ensure Coco's success. And because it's a legit product, Mexicans have supported the film in droves, armchair Aztecs be damned.
This isn't the first time the Chicano Left have swung and missed on Disney with regular Mexicans. For most of this decade, UNITE HERE Local 11 (which represents hotel workers at the Disneyland Resort, the collective name for the Happiest Place on Earth and its low-rent cousin, Disney California Adventure) have aired their complaints to the public, sometimes even dressing up as Disney characters for the camera-friendly spectacle of having Mickey getting taken away in handcuffs after a protest. It's a cause célèbre with progressives in Southern California…and hasn't landed one bit with regular Mexicans, who have openly wondered how bad can a job really be if it has union representation.
Those same activists and fellow travelers have tried to rally the public around the issue of Disney's dealings with Anaheim, the city where Disneyland and California Adventure stand and my hometown. They're right on this subject: For decades, various Anaheim city councils have made el Ratón Mickey happy with subsidies, redevelopment schemes and other favors, few more egregious than a gigantic city-owned parking lot that Disney rents for a dollar a year yet keeps all the revenue.
Alas, that real outrage hasn't impacted Disneyland's standing with regular Mexicans at all. Although the 2016 election ushered in a council majority that's more skeptical of Disneyland, Alcaraz recently revealed that the company's numbers show half of the theme park's attendees are Latino. Hell, I beg and plead with family and friends to boycott Disney over its City Hall shenanigans…yet they all own season passes and tell me if I want to meet up for drinks at Trader Sam's Enchanted Tiki Bar for one of their stiff, union-made cocktails.
Fact is, they—like the masses in general—know a good product when they see it and resent yaktivists who tell them they should give up real pleasures to score nebulous political points. Disney knows who butters its tortillas, too: All the ride instructions at its Anaheim parks are in English and español. They still air Handy Manny on Disney cable channels for the little ones. The recent DuckTales reboot reimagined Gizmoduck as a Latino (voiced by Puerto Rican Lin-Manuel Miranda, but Mexicans will take him). Coco came out to be a great movie.
And it'll continue to dominate the box office until December 14, when another Disney product pops up: Star Wars: The Last Jedi. Chicano activists won't dare protest that film, even though it's even more commercialized than Coco can ever hope to be. Why? Because they'd have to deal with Mexicans who have long remade Star Wars in our image, with everything from a Day of the Dead-esque Darth Vader to the Star Wars theme played by a mariachi to this cholo-fied family. You might even say they appropriated it.