Alabama Senate Election Shouldn't Be a Binary Choice
The two-party system isn't responsive to consumer (voter) needs.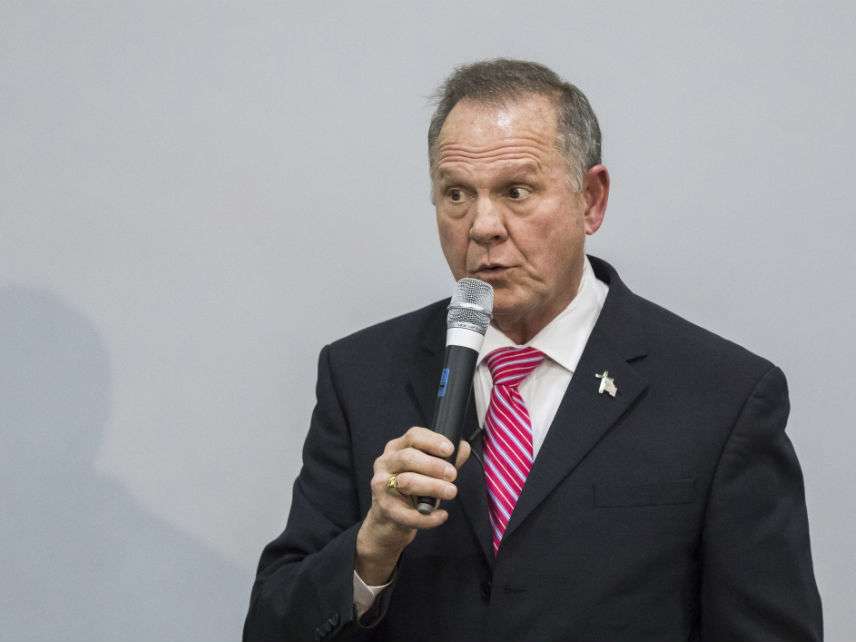 The Alabama Senate special election is less than two weeks away, and voters will have just two names on the ballot, Democrat Doug Jones and Republican Roy Moore.
And although there's just one race on the ballot, Alabamans will still have the option to fill in a vote for "straight party."
That option, used in general elections by voters who decide based purely on party affiliation, illustrates the structural problem with democratic politics in the U.S.
Revelations about Roy Moore over the last month concerning accusations of inappropriate sexual contact with minors in the 1970s, which led many high-profile Republicans to rescind their endorsements, have left many Republican voters unenthusiastic about their choices.
Although the state Republican party could withdraw Moore's name (meaning if he won, the election would not be valid), election law prohibits the replacement of a name less than 76 days before the election.
Even worse, independent and third party candidates had to file by August 15, nearly four months before the election.
There are at least four write-in candidates vying to provide voters another option in the special election, the most prominent of them being Lee Busby, a Marine colonel who was an aide to John Kelly when he served in Iraq.
"I have no idea if the allegations against him true or not, but I don't see anything within his experience as a judge that qualifies him for the job," Busby said of Moore to The Daily Beast. "Alabama is not happy with the two choices we have down here. They are not appealing."
None of these is more than an afterthought, leaving the democratic process in Alabama woefully unresponsive to voter demand. American consumers don't accept binary choices in almost any other sphere. Even with rivalries like McDonald's vs. Burger King or Coke vs. Pepsi consumers spend billions of dollars on many other fast food and soft drink companies.
As Moore's problems pile up—two weeks ago Senate Majority Leader Mitch McConnell said Moore wasn't fit to serve in the Senate and said he wouldn't rule out expelling him—his support remains relatively steady.
While Jones led by five points in one poll earlier this months, and Moore's Real Clear Politics polling average lead is just one point, the latest polling suggests that even as Moore's unfavorability rating ticks upward, he maintains a five to 10 point lead.
Conservatives concerned about the crass turn the Republican party has taken, like those at the National Review, say Moore never should have received the nomination.
The Democrats' reticence to make an example of either Sen. Al Franken or Rep. John Conyers could be helping Moore hold on to support. Both have been accused of sexual harassment by multiple women, and their resignations or expulsions would not put their party's control of their seats at immediate risk.
Many of Moore's supporters, particularly evangelicals, may be sticking with him over concerns about abortion. At National Review, Alexandra Desanctis describes Jones as an abortion "zealot."
In the end, the vast majority of Alabamans who bother to vote (and it won't be a lot of them—fewer than 600,000 of the more than 3 million registered voters in the state came out for the primary, and the general is less than two weeks before Christmas), will go with Moore or Jones.
It's not hard to imagine partisan politics eventually resembling the 1996 Halloween Simpsons scene where, faced with the prospect of choosing between two space aliens in control of Bill Clinton and Bob Dole, voters still refused to consider a real human, Ross Perot.
While some progressives argue for compulsory voting, were "none of the above" available, many political offices might remain vacant.
How little voting matters, as Katherine Mangu-Ward explains, makes the predicament all the more disheartening. Moore is a deeply flawed candidate many conservatives will say they feel compelled to vote for because the other option is a Democrat. It represents a huge moral compromise for the smallest pay-off.
If government didn't have so much control over us, the clowns we send to Washington wouldn't matter. So long as it does voting, especially for a choice outside two such badly flawed major parties, remains vital.