Nebraska Regulators Approve Keystone XL Pipeline
A big defeat for anti-pipeline activists.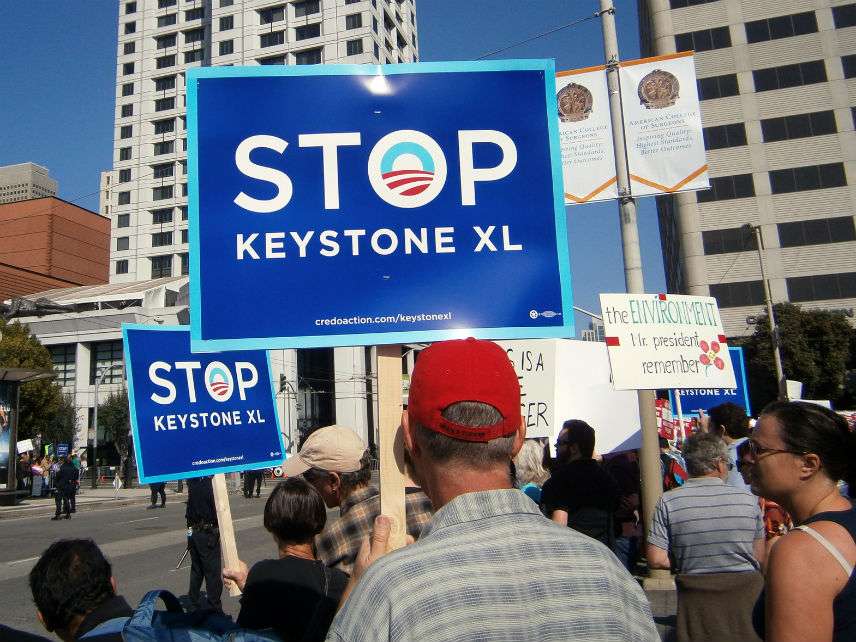 The Nebraska Public Service Commission has voted 3–2 to allow TransCanada to route the Keystone XL pipeline through the Cornhusker State. The 1,200-mile pipeline will transport more than 800,000 barrels of crude daily from Canada's oilsands in Alberta to refineries on the U.S. Gulf Coast. The pipeline was approved by the NPSC despite the fact that 5,000 barrels of oil leaked just last week from the older Keystone pipeline in South Dakota. The commissioners did revise the pipeline's path, moving it further east from the Ogallala aquifer that underlies the Sand Hills region of the state.
The pipeline has long been opposed by environmentalists worried about climate change, landowners who don't want the pipeline to cross their property, and Native American tribes concerned that spills could contaminate their water supplies.
After the U.S. State Department kept sending draft environmental assessments of the project back to reviewers until they came up with the right answer, President Barack Obama denied TransCanada a border-crossing permit in 2015 by ruling that the construction the pipeline was not in the national interest. In March, President Donald Trump reversed Obama's decision.
In 2012, climatologist Chip Knappenberger, who works with the libertarian Cato Institute, calculated that keeping crude from Canada's oilsands would reduce the annual increase in global temperatures due to carbon emissions by "one ten thousandths of a degree Celsius of temperature rise from the Canadian tar sands oil delivered by the Keystone XL pipeline each year."
Considering that TransCanada first proposed the pipeline in 2008, when the price of oil was about double what it is today, is the project still an economically viable proposition? In statement released earlier this month, the company claimed that "commercial support for the project" will "be substantially similar to that which existed when we first applied for a Keystone XL pipeline permit."
Despite the commission's approval, construction is not a done deal. Some 90 Nebraska landowners are expected to fight construction of the pipeline through their property in the courts, according to The New York Times. But the legal precedents for preventing the use of eminent domain to obtain rights-of-way for "public use" projects like pipelines is not promising.
Disclosure: Back in 2011, I took a junket to the Canadian oilsands that was sponsored by the American Petroleum Institute. The institute neither asked for nor had any editorial control over my reporting of that trip. For more background, see my articles "The Man-Made Miracle of Oil from Sand" and "Conflict Oil or Canadian Oil?"