First Whole Body Transplant Is 'Imminent'
In the case of "head transplants" - it's better to be the "donor" than the recipient.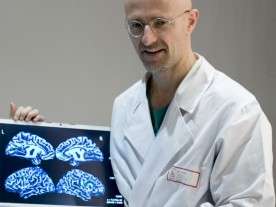 The first operation in which the head of a person will be transplanted onto another body is "imminent," according to Italian neuro-surgeon Sergio Canavero. At a press conference in China, Canavero detailed a recent operation in which a team of surgeons practiced by attaching the head of cadaver to the body of another cadaver. The goal was to develop a suite of techniques that enable surgeons to connect blood vessels, nerves, the esophagus and so forth between the head and the body.
In fact, some researchers in China have just published a study in which they detail how they successfully grafted the head of one rat onto the body and head of another rat.
Naturally, some folks are opposed to the procedure. For example, Dr. Hunt Batjer, president elect of the American Association for Neurological Surgeons told The Independent, "I would not allow anyone to do it to me as there are a lot of things worse than death."
Some bioethicists are also worried about Canavero conducting this surgery in China. In USA Today, Assya Pascalev, a bioethicist at Howard University in Washington, D.C. observed, "There are also regulatory concerns. China does not have the same medical standards and requirements that the United States and Europe have." In fact, it is precisely because the medical communities in the United States and Europe would not permit the controversial procedure that Canavero has chosen China as the country in which he will attempt the first human head transplant. "The Americans did not understand," Sergio Canavero told a news conference in Vienna. He added, "Western bioethicists needed to stop patronizing the world."
If successful, surgery would raise fascinating questions about how a different body would affect a person's consciousness along with the possible future reproductive issues.
Although most medical experts believe that the head transplant surgery will fail, there is nothing wrong with trying to do it so long as all parties fully consent to the procedure.