University of California President Janet Napolitano Offers Weak Apology for Major Misconduct
The former Homeland Security secretary interfered with a state audit of the university's finances.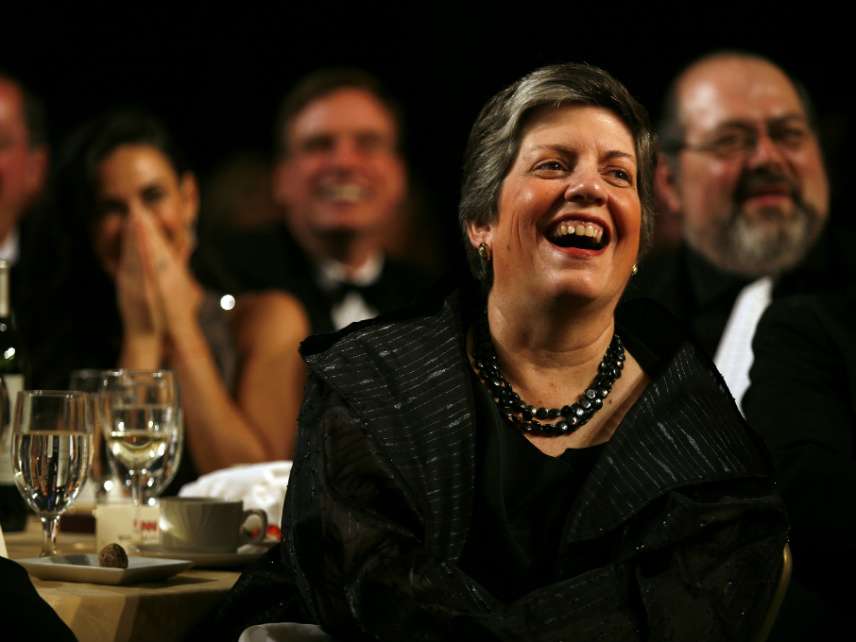 Another day, another scandal for University of California president Janet Napolitano.
A damning investigation of Napolitano's interference with a state audit of the university's finances, released Thursday, found that members of her staff told individual campuses to "not air dirty laundry" to state auditors, and even edited negative survey responses from those campuses to auditors.
"I regret deeply that I did not show better judgment. I made this decision. I made a serious error in judgment. I apologize," Napolitano said in a public apology the University's Board of Regents directed her to give.
The forced mea culpa is a welcome, if insufficient, first step for Napolitano, who presides over a $28 billion public university system, and whose past ethical lapses have been rewarded with a mix of wrist slapping and budget increases for her office.
A state audit in April found that Napolitano kept $175 million in a secret fund used to pay out bonuses and retirement benefits to a small number of university administrators, far in excess to what other similarly ranked state employees received.
Napolitano's office gave out lavish and inappropriate employment perks, including publicly funded limousine rides, theater tickets, and $350 per-night hotel room stays.
These audit revelations surfaced a few months after the University of California voted to raise tuition by 2.5 percent.
This same audit found that Napolitano's office was "screening" the responses from individual campuses to the state auditor. At the time, Napolitano claimed that this was to assist campuses that were confused about how to fill out the surveys.
Thursday's investigation shows that this is not true.
In October of last year, the state auditor, in the course of its investigation of UC's finances, emailed surveys to staff at the university system's ten campuses asking questions about the performance of Napolitano's office. Campus staff were instructed to compete the surveys, and then send them directly back to the state auditor.
Before any of these campuses had the chance to be confused, Napolitano had her chief of staff, Seth Grossman, and the deputy chief, Bernie Jones, instruct them to submit these surveys to her office for review before sending them to the state auditor. The surveys were not a time to "air dirty laundry."
The clear intention was to prevent negative reviews of the Office of the President's performance from getting back to the state auditor, with one campus employee telling investigators that "the pressure couldn't be any more obvious."
Three of UC's ten campuses proactively edited out negative comments in their surveys before sending them to Napolitano's office for review. Another five had their surveys returned with suggestions that they removed negative comments and avoid ranking any service provided by Napolitano's office as "poor."
In one instance, a campus was told to change one of its survey ratings from "dissatisfied" to "satisfied."
When UC Santa Cruz submitted their survey responses directly to the state auditor, Napolitano made a reportedly "furious" call to the Santa Cruz chancellor, demanding that he retract the survey and have it reviewed by Napolitano's office. The chancellor complied, and submitted a second survey to the state auditor with several ratings changed from "poor" and "fair" to "good".
Grossman and Jones resigned several weeks ago over their role in the scandal.
Napolitano, former governor of Arizona and Homeland Security secretary under President Barak Obama, is, for the moment, staying put.
Spokeswoman Dianne Klein said Napolitano has made it clear she takes "full responsibility" for the survey debacle, responsibility that so far consists of saying she's taking full responsibility.
Despite having engaged in some incredibly sleazy uses of public funds and actively interfering with a state audit looking to uncover those sleazy practices, Napolitano has given no indication she will resign. The university's Board of Regents notably declined to remove her from office.
To punctuate it, Napolitano's office got a $127.5 million budget bump this year.
That is a disservice to the students and taxpayers who have been asked to paying increasingly more for a University of California system run without either transparency or competence.