Cop Who Called Asset Forfeiture 'A Tax-Liberating Goldmine' Sued for Illegal Traffic Stop and Seizure
And he's running for sheriff of an Illinois county.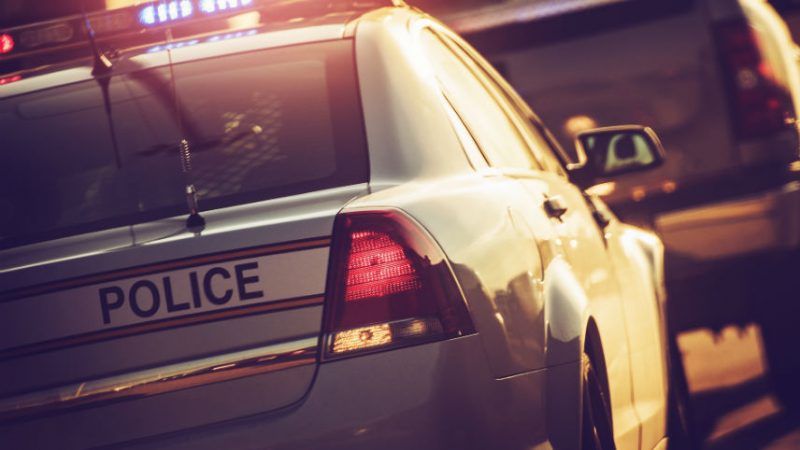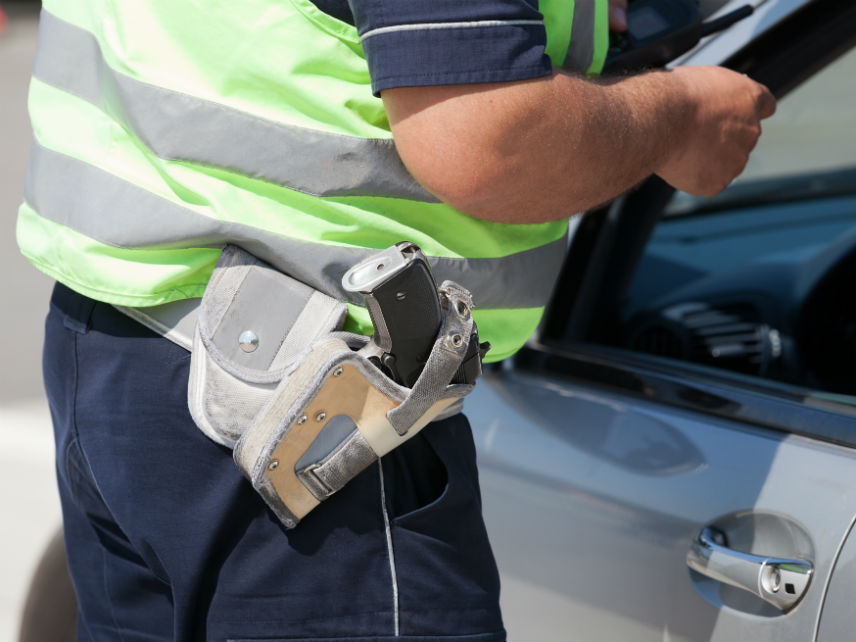 Three people are suing a Kane County, Illinois sheriff's deputy who has championed asset forefeiture as 'a tax-liberating gold mine' for seizing their property during a traffic stop the suit contends was extended illegally.
Jessica Johnson, Derek Paddy, and Leo Cook accuse the Kane County Sheriff's Department and one of its sergeants, Ron Hain, of violating their Fourth Amendment rights during a November 2015 traffic stop, according to a federal civil rights lawsuit filed in October and first reported by the Chicago Tribune.
Hain, a veteran law enforcement officer running for Kane County Sheriff as a Democrat, is also an marketing specialist for Desert Snow, a company that trains police departments across the U.S. on highway drug interdiction and asset forfeiture.
The case is not unusual in its broad details, but it offers a window into the business of asset forfeiture and how police use routine traffic stops to trawl for drugs and cash. Under civil asset forfeiture laws, police can seize property—cash, cars, even houses—suspected of being connected to criminal activity, even if the owner is not charged with a crime.
Hain's campaign website says he has, over the course of his career, seized more than "4,000 lbs of cannabis, over 100 kilograms of cocaine and heroin, over 7 lbs of methamphetamine, more than 30 vehicles containing aftermarket hidden compartments used to transport contraband, and over $3,000,000 in illicit US currency."
According to the lawsuit, Hain has stated that using asset forfeiture governments can 'pull in expendable cash hand over fist.'"
The lawsuit is not the first time Hain's unusually blunt statements about the revenue potential of asset forfeiture have made the news. In a comprehensive 2014 investigation into how police use highway traffic stops to seize hundreds of millions of dollars from motorists without charging them with crimes, the Washington Post reported on both Desert Snow and Hains:
"All of our home towns are sitting on a tax-liberating gold mine," Deputy Ron Hain of Kane County, Ill., wrote in a self-published book under a pseudonym. Hain is a marketing specialist for Desert Snow, a leading interdiction training firm based in Guthrie, Okla., whose founders also created Black Asphalt.

Hain's book calls for "turning our police forces into present-day Robin Hoods."
The Post also reported that Hain created videos for Black Asphalt, Desert Snow's online information-sharing and messaging network that is used by tens of thousands of police officers across the country:
Computer-generated animations made by a Desert Snow marketing official featuring a cartoon cop called Larry the Interdictor have drawn especially ribald commentary. One is set in a courtroom where Larry insinuates that the defense lawyer questioning him is gay. He testifies that he disdains "Rastafarian douchebags who do nothing all day but smoke weed, live with their mom, and beat off to kiddie porn."
The federal lawsuit is the result of a November 2015 traffic stop, where Hains pulled over a black Chevrolet Impala with Minnesota plates for following too close to another vehicle and having heavily tinted windows. (This is a textbook example of finding a pretextual reason to perform a traffic stop, in hopes of establishing probable cause for a search.)
Hains briefly detained the Johnson in his police cruiser and wrote her a warning for not carrying proof of insurance.
The traffic stop should have ended there. Instead, Hains detained Johnson in the police cruiser while he asked the other passengers more questions. He noted they were extremely nervous, and one appeared to have marijuana flakes on his shirt. Hain called in a K-9 unit to search the car. After the dog failed to clearly signal the presence of any drugs, Haines searched the car himself.
That search turned up two guns, a large stash of heroin, and $8,000 in cash. However, the Illinois appeals court affirmed a lower court's ruling that all of the evidence should be suppressed, because it was found after Hain should have ended the traffic stop.
While the defendants in this case might not be the most sympathetic, the Kane County Sheriff's Department crossed the line from lawful police activity into a violation of Johnson's Fourth Amendment rights, according to the lawsuit and an October opinion by the Appellate Court of Illinois.
Hain's campaign did not immediately return a request for comment. The Kane County Sheriff's Department did not immediately return a request for comment. Desert Snow declined to comment.
The larger issue is how many innocent motorists are subjected to pretextual stops, illegal searches, and asset seizures.
In another Illinois asset forfeiture case this year, a Minnesota man is challenging the Illinois State Police's seizure of $340,000 from him during what he contends was an illegal traffic stop and search. See if the details sound familiar:
[Attorney] Mitchell Kreiter argues his client was unfairly and illegally targeted by state police when pulled over at 11:03 a.m. April 25 for going 61 mph in a 55 mph zone.

In a motion, Kreiter contends the area of the traffic stop actually had a 70 mph limit and the trooper immediately ordered the driver to sit in the back of the trooper's vehicle despite having a valid license and insurance.

Kreiter argues the trooper illegally prolonged the stop by issuing the driver a warning and later having a drug dog sniff around the vehicle where cash was found in the trunk.

Kreiter's client told police the money was for a used car auction and to sign a music deal. The man was held up to six hours by police before being released.
In an interview, Kreiter says no drugs were found, but the cash was seized anyway under Illinois money laundering statutes. They are currently in settlement negotiations with the Illinois State Police.
These stops happen every day, all over the country, and while the large drug and money busts make the evening news, the ones where police come up empty handed almost never do.
Earlier this year, an Illinois county prosecutor was indicted on 17 counts of official misconduct, including misappropriating forfeiture funds. The Illinois Supreme Court ruled in June that LaSalle County State's Attorney Brian Towne had created an illegal unit of special investigators within his office to carry out drug interdictions and asset seizures, exceeding his authority as a prosecutor.
"The unit seized vehicles, cash and other assets that amounted to hundreds of thousands of dollars," the Chicago Tribune reported. "The indictment alleges that Towne used money from those forfeitures to pay for a GMC Yukon and Internet service for his personal use, as well as for private business expenses."
Last year, the Justice Department Inspector General released a report finding that an Illinois police department spent more than $20,000 in federal asset forfeiture funds on accessories for two of its motorcycles, including after-market exhaust pipes, decorative chrome, and heated handgrips.
Civil liberties groups have long maintained that because forfeiture revenues directly fund police departments and prosecutor offices, it creates a perverse profit incentive that leads police to fish for seizures.
Law enforcement groups deny this, arguing asset forfeiture is a necessary tool to dismantle drug trafficking operations by cutting off the flow of illicit proceeds. "It's not about the money, it's about public safety and doing the job," Terrence Cunningham, former president of the International Association of Chiefs of Police, told the Washington Post last year.
Someone should tell Illinois law enforcement.