Hate Crimes in 2016: New FBI Numbers Show Little Change
The data should help dispel fears of a Trump-induced surge in American hate crimes.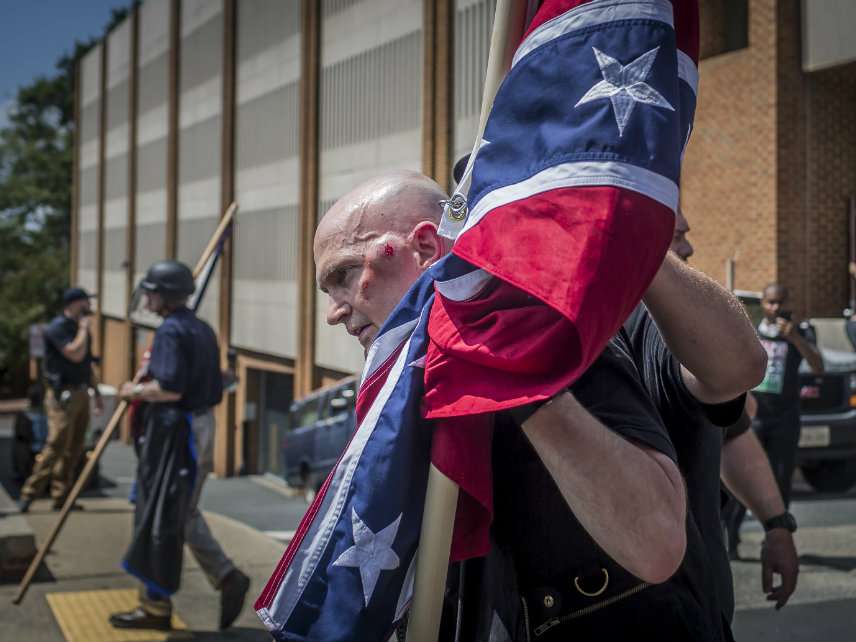 After widespread worry over a supposed spike in election-adjacent hate crimes last year, many of the alleged incidents turned out to be hoaxes or misunderstandings. Now new data from the FBI further undermines the idea that 2016 saw a sort of crime wave spurred by prejudice.
There were 271 more incidents deemed hate crimes in 2016 than the previous year, according to the latest Uniform Crime Reporting (UCR) data. There were also 257 more law enforcement agencies reporting last year, so that increase could largely or even entirely be a matter of getting more complete statistics. The higher numbers mostly represent small increases in incidents classified as anti-Hispanic, anti-Jewish, anti-Muslim, or anti-white.
The most common motive animating hate crimes in 2016—and throughout the past decade—was anti-black bias. That accounted for 2,114 incidents last year. Another 888 incidents were deemed to be based on anti-white bias, 448 incidents on anti-Hispanic bias, and 381 incidents on anti-Islamic bias.
Crimes motivated by animosity toward Jewish people and gay men were also high in the 2016 crime data (again, a longstanding trend). About 830 incidents were categorized as anti-Jewish hate crimes and 765 as incidents motivated by bias against gay men.
The most common type of crime reported was vandalism or property destruction (31 percent), followed by intimidation (26 percent) and simple assault (24 percent). Aggravated assault accounted for 11 percent of all incidents, and rape and murder for less than one percent combined. Nine people overall were victims of murder or manslaughter.
"No human trafficking offenses with a bias motivation were reported during 2016," the FBI notes.
A Decade of Hate Crime Reporting
White Americans were the most likely to commit offenses categorized as hate crimes in 2016, accounting for 46.3 percent of all known offenders. This is actually down quite a bit from previous years. In 2015, 48 percent of known offenders were white and in 2011 it was 59 percent. In 2007, nearly 63 percent of all known offenders were white.
Looking at data over the past 10 years provides some other interesting comparisons, too. While the number of hate crime classifications was higher in 2016 than in any of the four preceding years, it was lower than in 2011 and significantly down from 2006-08.
We're also seeing significantly fewer victims (a designation that can encompass individuals, businesses, government entities, religious groups, etc.). Last year, the data show 7,615 individual victims. In comparison, there were 7,713 hate-crime victims in 2011 and 9,652 victims in 2006.
These things are important to keep in mind when trying to analyze this year's data. Obviously, small upticks can turn into big ones over time and are worth keeping an eye on. But looking at a decade's worth of FBI hate crime data shows the folly in making too much of year-over-year fluctuations.
For instance, this year's data show a slight increase in anti-Hispanic incidents, about 69 more overall—a nearly 20 percent rise over 2015. But last year's number (448) is down from 488 in 2012, 681 in 2010, 735 in 2008, and 769 in 2006. That's a 42 percent decrease in anti-Hispanic hate crimes over the past decade.
Anti-Jewish incidents were also at their highest level last year since 2012 (834 in 2016, compared to 696 back then), but down from 921 incidents in 2010 and more than 1,000 per year in 2006–2008.
There's even some good news on anti-black bias: The number of such incidents in 2016 was almost identical to the number the year before, and was down significantly from 2006 (when we saw over 1,000 more anti-black incidents).
Hate crimes categorized as anti-white, meanwhile, were at their highest level last year since 2006 (though still less than half the number of anti-black incidents). Incidents based on anti-Muslim bias were also up last year.
Drilling Down on 2016 Data
That last point presents the most troubling potential trend. There were about 381 anti-Muslim incidents in 2016 and about 300 the year prior. From 2006 through 2014, the number of incidents hovered in the 100s. What could have changed two years ago to present such a substantial spike?
Some will surely blame the beginning of Donald Trump's political ascendancy, and that can't be ruled out. But another explanation is as likely, if not more likely: The FBI changed how it classified certain hate-crime incidents in 2015.
Before this period, crimes based on someone's ethnicity or national origin were simply sorted into Hispanic or non-Hispanic bias incidents, leaving us with a cache of uncountable incidents that could've been based on someone's perceived Middle Eastern or Arabic status. But in 2015, ethnicity was lumped in with the racial-bias category. This means that some of the incidents previously attributed to a general sort of anti–Middle Eastern bias could either be categorized as anti-Arab racial/ethnic bias or anti-Muslim religious bias, possibly spiking the anti-Islamic incident stats.
For crimes classified as being motivated by racial bias, blacks were the biggest target of action or animosity, with a little more than 50 percent of incidents stemming from anti-black bias. Just over a fifth of the incidents were deemed to be based on anti-white bias, with anti-Hispanic/Latino crimes accounting for 10.6 percent of the incidents, anti-Asian bias for 3.1 percent, and anti-Arab bias for 1.3 percent. About 4 percent of incidents classified as the result of bias against multiple races or groups.
Of the 1,538 incidents categorized as religious bias, anti-Semitic offenses dominated (about 54 percent), followed by anti-Islamic incidents (25 percent), anti-Catholic incidents (4 percent), and offenses against multiple religious groups (3 percent).
And of the 1,218 sexual-orientation-based incidents, gay men were the overwhelming target (62.8 percent). Just 11 percent of these crimes classified as anti-lesbian, 2.2 percent as anti-bisexual, and 1.9 percent as anti-heterosexual, with about a fifth classified as anti-LGBTQ more generally.
In addition, 111 incidents last year were classified as anti-transgender crimes and 19 as crimes motivated by bias against gender nonconformity. Twenty-six incidents were categorized as being motivated by anti-woman bias and 10 by bias against men.