Roy Moore Concedes Fondling a 14-Year-Old Would Disqualify a Senate Candidate
That is farther than some of his defenders are willing to go.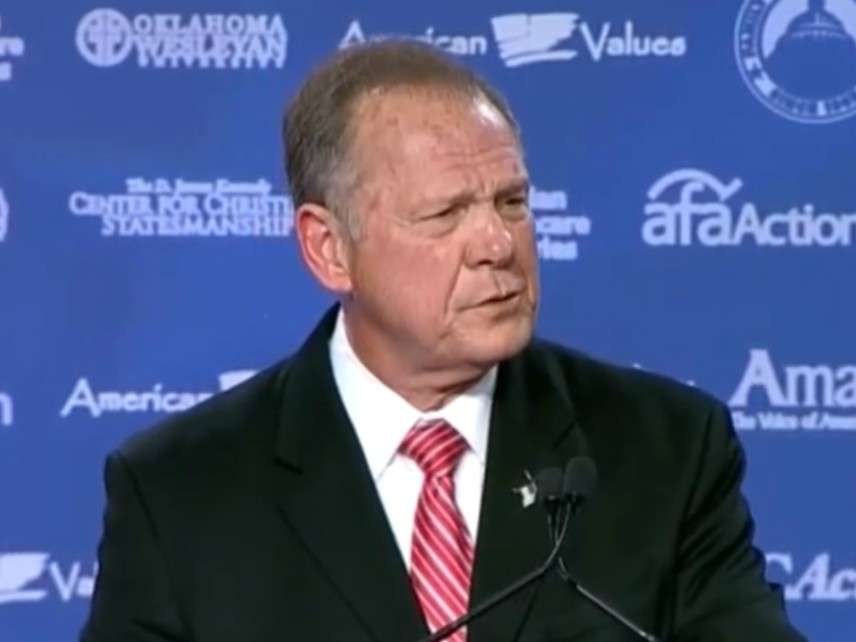 In a radio interview with Sean Hannity on Friday, Republican Senate candidate Roy Moore conceded that he may have dated teenagers when he was a local prosecutor in his early 30s but denied that any were younger than 16, Alabama's age of consent. "If you abuse a 14-year-old girl, you shouldn't be a Senate candidate," the conservative populist told Hannity.
As Peter Suderman noted last week, that is more than some of Moore's defenders in Alabama are willing to admit. Regarding the allegations in The Washington Post's November 9 story about Moore's relationships with teenagers, Alabama State Auditor Jim Zeigler told The Washington Examiner, "There is nothing to see here. The allegations are that a man in his early 30s dated teenaged girls. Even the Washington Post report says that he never had sexual intercourse with any of the girls and never attempted sexual intercourse." Zeigler cited biblical precedents for men dating teenagers and insisted "there's just nothing immoral or illegal here…maybe just a little bit unusual."
In an interview with The New York Times, Zeigler conceded that Leigh Corfman's account of Moore's relationship with her when she was 14 is "concerning." But if she is telling the truth, he said, it would simply mean that Moore "went a little too far and he stopped."
As I noted on Friday, the actions described by Corfman, who said Moore took her to his house, where he stripped to his underwear, took off her shirt and pants, and touched her bra and panties, amount to at least two crimes under Alabama law, one a misdemeanor punishable by up to a year in jail and one a felony punishable by up to 10 years in prison. Moore, who was a deputy district attorney for five years, a circuit judge for eight years, and chief justice of the Alabama Supreme Court for a total of six years, presumably understands the legal implications of Corfman's story, which is why his only choice is to deny it, as he did in his interview with Hannity.
"The allegations are completely false," Moore said. "I don't know Miss Corfman from anybody. I've never talked to her. I've never had any contact with her. The allegation of sexual misconduct with her [is] completely false."
By saying he never met Corfman, Moore is contradicting not just her but also her mother, Nancy Wells, who told the Post he approached the two of them in 1979 at the Etowah County Courthouse, where Wells had a child custody hearing. "He said, 'Oh, you don't want her to go in there and hear all that. I'll stay out here with her,' " Wells said. "I thought, how nice for him to want to take care of my little girl." The Post confirmed that Wells attended a hearing at the courthouse that day.
One of Corfman's childhood friends, Betsy Davis, confirmed that Corfman had told her at the time that she was dating an older man named Roy Moore and had described the incident in which he took off all of his clothes except his briefs. Another friend also remembered Corfman talking about seeing an older man, although she did not not recall her naming him. Wells said her daughter finally told her about her relationship with Moore during a visit in the mid-1990s.
Moore made much of the fact that Corfman waited nearly four decades before publicly telling her story. But it is certainly understandable that a teenager might have been reluctant to file a complaint against a local prosecutor, even if she understood that the way he treated her was illegal. As an adult, Corfman said, she periodically thought about going public with her account but held back because she was concerned about how it might affect her children, who were still in school, and because she worried that her personal history, which includes three divorces and multiple bankruptcies, would be used against her.
Moore undermined his own credibility by waffling when Hannity asked whether he dated teenagers when he was in his early 30s. "Not generally, no," Moore said. "If I did, I'm not going to dispute anything, but I don't remember anything like that." Regarding Debbie Wesson Gibson, who told the Post she dated Moore when she was 17, he said, "I know her, but don't remember going out on dates. I knew her as a friend. If we did go out on dates, then we did."
Yesterday Theresa Jones, who worked with Moore in the Etowah County District Attorney's Office, told CNN, "It was common knowledge that Roy dated high school girls. Everyone we knew thought it was weird….We wondered why someone his age would hang out at high school football games and the mall."