Barrett Brown Is Writing a Book Critical of the Justice Department. They are Making it Hard by Trying to Prevent Him Being Paid His Advance.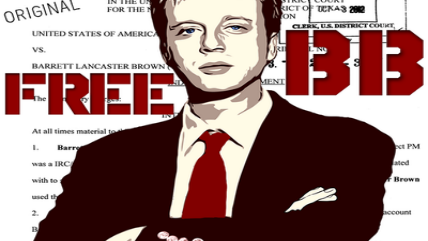 Barrett Brown is currently out of prison and on probation after getting an over five year sentence for essentially linking online to hacked documents (and a supposed threat to an FBI agent that resulted during the investigation for the linking).
Brown tweeted today that the Department of Justice (DOJ), who are seeking to collect the nearly $900,000 in restitution he was found to owe Stratfor (the company whose hacked docs Brown linked to) is preventing him from getting any future money for a book he is working on for Farrar Straus & Giroux.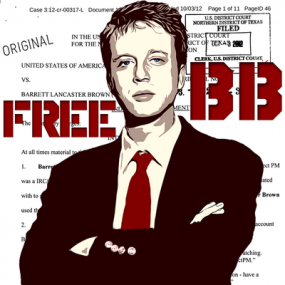 In an email from Brown's literary agency I've seen, publisher Farrar Straus & Giroux is reported to have said that they have been told by the DOJ to disburse no further money from the book to Brown without the government's permission.
The next installment on Brown's advance is due soon, though this demand has not yet technically prevented money from reaching Brown's hands. Brown says his own lawyers have not been able to tell him whether the DOJ has the power to hold such moneys owed him in limbo as long as they want with such a demand.
According to Brown, his restitution order mentions he should pay "not less than 10 percent" of his gross monthly income toward that restitution. It simultaneously says that stating such a limit that apparently satisfies his obligation "shall not affect the ability of the United States to immediately collect payment in full through garnishment" and a list of other legal means.
At this link, an infuriating phone conversation can be heard between Brown and Emily Shutt with the DOJ out of the Dallas U.S. Attorney's office. She upholds the general principle that they can do whatever they want when it comes to trying to squeeze money out of Brown.
That link also contains a copy of an "application for a writ of garnishment" sent to Barrett's literary agency, Writer's House, demanding money from them. That document says, for what it's worth, that the amount Brown has to pay "is limited to the lesser of (i) 25 percent of disposable income for a week; or (ii) the amount by which disposable earnings for a week exceed 30 times the federal minimum hourly wage." (How they calculate how book advance earnings should be measured against "a week" is unclear. Books are written over many months.)
Brown thinks it is not at all coincidental that his book is highly critical of the DOJ's actions in prosecuting him. (I reported back in April on how Brown was temporarily taken back into custody for talking to the press without explicit Bureau of Prisons permissions; that post contains a brief assessment with links of his entire tortured legal saga.)
Brown figures what makes his case perhaps unique to the DOJ is that in most other cases, the agency "isn't…trying to complicate publication of a major book that will provide new information on criminality from its office," said Brown in an email today.
As far as Brown knows, a similar insistence on garnishment or holds on his income has not gone to one of his other sources of income, D Magazine. "If this was really about getting restitution for Stratfor, they would have been put through this same process," Brown suggests. "But D Magazine is run by Wick Allison, the former National Review [publisher] who was the one to pay $10,000 to that NYC firm to get me out when I was arrested in April, so they're probably reluctant to expose themselves to that."
This move of the DOJ's indeed might have a chilling effect on his ability to express his criticism of them, he says.
"The great majority of my income comes from these staggered advances, and any other income I try to make would result in further subpoenas and writes of garnishment for whatever outlet I write for," he says. "Even if I got a job at a burger joint, that money would likewise be denied to me indefinitely via this same process. I'll be out of money in a month. It's difficult to write a book under those circumstances, and it's difficult to get further work when the DOJ can force any employer to spend a great deal of time responding to subpoenas and ignoring further requests for direction."
He's unhappy but not surprised: "But given that they had me arrested without charges for giving an interview to Vice back in April, and only let me out when one of my other publishers hired a major law firm to threaten to take it to a judge and demand cause, these people know that they can get away with these things without prompting the degree of press coverage necessary to force them to stop their harassment campaign. This is the price we pay when we aggressively pursue corruption in law enforcement and intelligence; these people know they're immune to consequences."
Detailed background on Brown's legal travails can be found at the Free Barrett Brown website. The founder of that website is involved in an ongoing lawsuit against a U.S. Attorney for seeking via subpoena private information on everyone donating to his legal defense fund, claiming that demand violated both the First Amendment and Stored Communications Act.