ACLU Accuses Poultry Processing Prison Camp of Human Trafficking
Court-ordered program provides slave labor to private companies says new ACLU of Oklahoma lawsuit.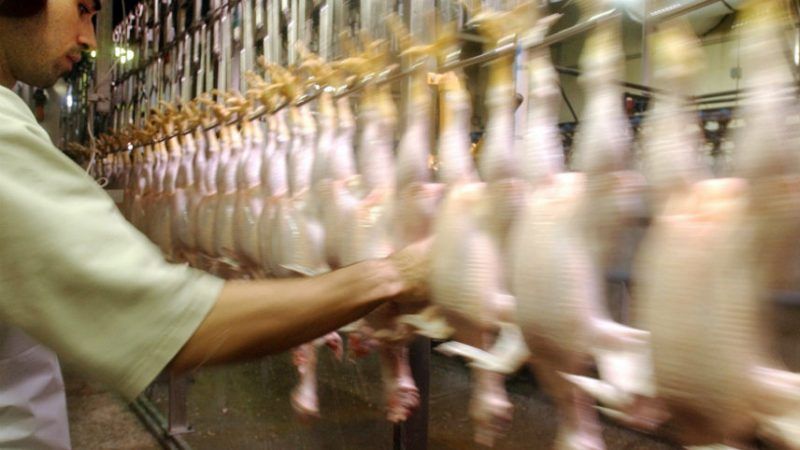 (SCOTT S. HAMRICK/KRT/Newscom)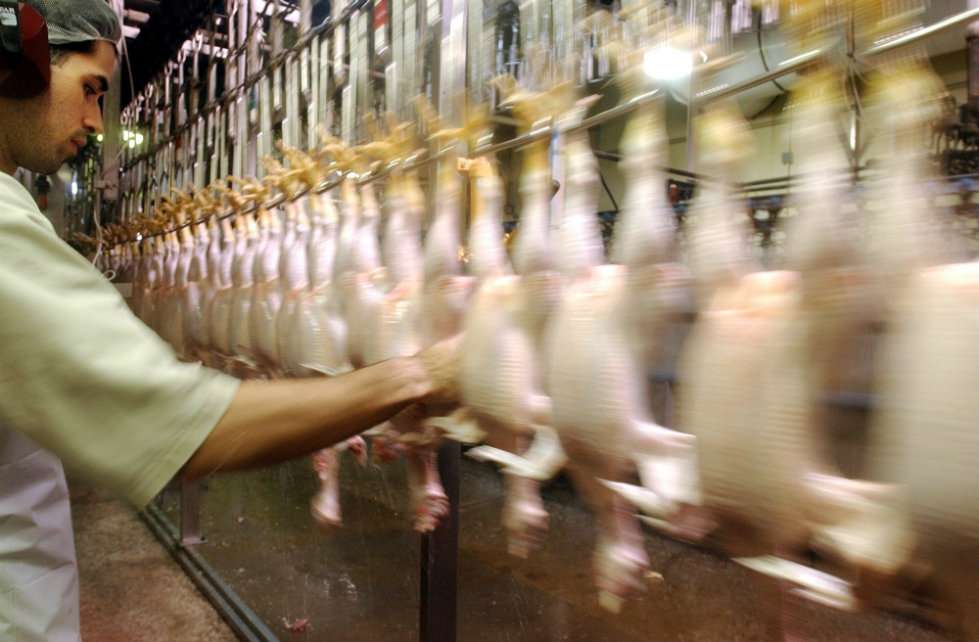 The American Civil Liberties Union (ACLU) of Oklahoma is suing to stop the state's courts from sending people to "an unpaid labor camp disguised as a rehabilitation center." The suit accuses the Drug and Alcohol Recovery Program (DARP) of federal labor violations and human trafficking.
The class-action complaint, filed in federal court in Oklahoma, comes on behalf of seven people sent to DARP, which has facilities in both Oklahoma and Arkansas.
Participants say they were told the program would be focused on counseling and addiction recovery. "Instead," the ACLU says, "these plaintiffs were forced into a human trafficking scheme and remained under threat of prison sentences if they did not complete the program by providing hundreds or thousands of hours of unpaid labor to the Drug Alcohol Recovery Program and private corporations, doing such work as welding, plastic product manufacturing, and chicken processing."
Along with DARP, the suit names as defendants several businesses that benefited from program participatns' labor: Hendren Plastics, R&R Engineering Company, Simmons Foods, and Western Alliance. Other defendants include DARP head Raymond Jones and contractor Glenn E. Whitman.
"This is an action brought by survivors of human trafficking and forced labor," says the ACLU's complaint. "This forced labor scheme was developed by Defendant Raymond Jones in conjunction with others in the poultry processing industry, who together created a pipeline for forced labor performed under threats of imprisonment and judicial punishment."
Former DARP participants say that any pay they earned from the companies went to DARP and Jones; that they were fed one bologna sandwich and a Little Debbie cake for lunch and were often expected to make do on that for their entire 12-hour shift of manual labor; and that they were forced to sleep in bedbug-invested barracks and fed chicken from the plant that was unfit to sell.
Programs like DARP's have become popular as a supposedly humane and productive alternative to incarceration for people arrested on drug charges. But a slew of allegations suggest they benefit hucksters and corporate interests on the backs of addicts and drug-war victims. And the authorities don't just overlook or condone all this: They're the ones funneling vulnerable people into the scheme.
Last month, an investigation by the Center for Investigative Reporting found many similarly troubling tales about Christian Alcoholics & Addicts in Recovery, a program popular with courts in Oklahoma, Arkansas, Texas, and Missouri. That program advertises itself as a faith-tinged treatment facility with a work component. But the investigation suggested that participants were more like indentured servants, subject to grueling work, unsafe conditions, and mandatory church but little counseling or treatment.
"Alternatives to incarceration are an important component to battling our mass incarceration crisis," says ACLU of Oklahoma Legal Director Brady Henderson. "But profiteering schemes like D.A.R.P. are not the answer. Without proper oversight, medically qualified counselors and meaningful services, incarceration alternatives like this one are ripe for abuse."
According to the ACLU, DARP participants wind up there mostly through sentencing for criminal charges or as part of a plea deal, or in order to meet drug diversion program requirements. Some were sent there after requesting in-patient addiction treatment as part of their probation.
Of those bringing the federal complaint, some "desperately needed drug and/or alcohol treatment" and were sent to DARP "because they lacked health insurance or the financial resources to pay for in-patient drug treatment," the suit states. "Others did not need drug treatment at all, and instead were sent [there] by a court as an alternative sentencing mechanism as punishment for non-drug related activity."
Around 80 men at a time can be housed at the DARP's men's camps in Tahlequah, Oklahoma, and Decatur, Arkansas. DARP operates an additional camp in Tahlequah for women.
Participants work at nearby for-profit companies or for DARP itself (one plaintiff says he was forced to wash Jones' cars and mow his lawns) for a minimum of 40 hours per week. Upon completion of a six-month or one-year sting at DARP, participants were sometimes given a $500 or $1,000 "gratuity check" for their time, at Jones' discretion.
The complaint was filed under a statute allowing civil charges against suspected violators of laws against peonage, slavery, and trafficking in persons; and under the Fair Labor Standards Act.