Ed Gillespie's Scaremongering On Felon Voting Rights Is a Sloppy Return to Crime Hysteria
In the final days of the Virginia governor's race, the Republican campaign lashes out with Trumpian crime rhetoric.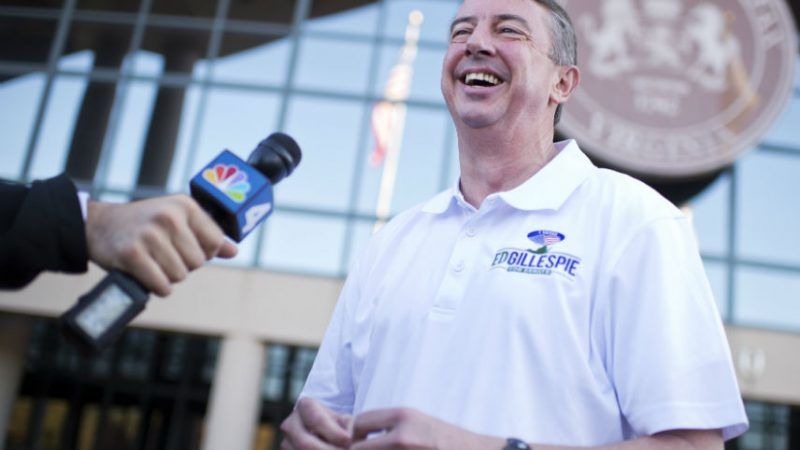 (Tom Williams/CQ Roll Call/Newscom)
Anyone within range of a Virginia media market has been inundated with ads lately for the state's gubernatorial election, pitting Republican Ed Gillespie against the Democrat, Lt. Gov. Ralph Northam.
As the race draws to a close, Gillespie unleashed a series of Trumpian attack ads against Northam. One of those ads hits Northam for his role last year in Gov. Terry McAuliffe's ambitious, unprecedented action to restore voting rights to Virginia felons:
Last year, Terry McAuliffe and Ralph Northam instituted the automatic restoration of rights for violent felons and sex offenders, making it easier for them to obtain firearms and allowing them to serve on juries. One of these felons, John Bowen, had his rights restored two months after being found with one of the largest child-pornography collections in Virginia's history. Forty-three prosecutors—Republicans, Democrats, and Independents—opposed Ralph Northam's reckless policy. Now, Virginia law enforcement has endorsed Ed Gillespie for governor.
Virginia is one of only four states where a felony conviction bars one from voting for life. Last year, McAuliffe announced with great fanfare that he was issuing an order to automatically restore the voting rights or more than 200,000 Virginians who had completed their prison sentences, including violent felons. The order also allowed ex-offenders to petition a judge for the restoration of their Second Amendment rights.
Gillespie's ad is an unsubtle nod to the tough-on-crime campaign spots that got Republicans and Democrats alike elected to office in the 1980s and 1990s. The most infamous of these was the George H.W. Bush campaign's 1988 Willie Horton ad.
The Gillespie campaign has also released ads trumpeting the dangers of MS-13, a Latin street gang that has been the bête noire of the Trump administration, and Gillespie's opposition to removing Confederate monuments. The Washington Post editorial board declared Gillespie's last-minute populist turn "a poisonous strategy for the nation and for Virginia."
And like those old crime ads, the Gillespie campaign plays fast and loose with the facts in the case of John Bowen. Bowen had been arrested in December—but not yet convicted—for child pornography when his voting rights were restored. Bowen had voting rights for a total of 41 days.
McAuliffe's administration made a mess of the restoration order, leaving it open to attacks like those on the Bowen case. The order accidentally restored voting rights to some felons who were still in prison, as well as 132 sex offenders held in civil commitment—a process where a judge can continue to indefinitely detain sex criminals in a state treatment facility after the completion of their prison sentence, if their mental illness or disorder is deemed likely they will offend again.
Furious Republicans sued to block the order, and the state supreme court ruled that McAuliffe didn't have the authority to grant such an en masse restoration without signing off on each individual case. Since then, he has signed off on roughly 168,000 offenders.
One major twist in this story is Gillespie's campaign website saying, overall, he supports restoring voting rights for felons. Like many Republicans these days, Gillespie's views on criminal justice are moderate and not unlike mainstream Democrats like Northam.
Gillespie supports keeping questions about prior felonies off of state government job applications. He'd like to end the suspension of drivers' licenses for unpaid court fines, something Reason reported last year resulted in hundreds of thousands of Virginia residents losing their licenses every year, even if they had no means to pay the fines.
After putting the fear of enfranchised sex offenders in the heart of the audience (they might vote and serve on juries!), the second half of Gillespie's TV spot tries to return to moderate support for the policy:
Virginians who have paid their debt to society and are living an honest life should have their rights restored. But Ralph Northam's policy of automatic restoration of rights for unrepentant, unreformed, violent criminals is wrong. As governor, I'll be both compassionate and protecting of Virginia families. I'm Ed Gillespie, candidate for governor, and I sponsored this ad.
The feel-good half of the ad isn't what Gillespie's campaign would like voters to remember. The real message—that Northam wants to make sex offenders full and free members of society after their release—is loud and clear.
While Republican governors and lawmakers are coming around to criminal justice reform, the Trump administration has shown scaremongering still works on a significant number of voters. Gillespie is trying to have it both ways. Whether he succeeds will be an interesting test of the durability of Trumpian rhetoric in the GOP.
Either way, it comes at the cost of millions of ex-offenders in this country continuing to struggle to lead productive, meaningful lives because of the stigma of their encounter with the criminal justice system.
Among the most ambitious and talented, like Shon Hopwood, success is rare and hard-fought. While serving time in federal prison for bank robbery, Hopwood became arguably the most successful jailhouse lawyer of all time, as shown in a recent 60 Minutes profile. He had not one, but two successful petitions to the Supreme Court, something most professional appellate attorneys only dream of. But after his release, he was warned that, even if he got accepted to and graduated from law school, it was highly unlikely because of his felony record any state bar association would admit him.
Hopwood beat the odds and is now a licensed attorney and Georgetown law professor. For most other ex-offenders, though, even the most modest dreams of holding down a job are stymied by legal roadblocks and the fear of unredeemable criminality.
Whether he believes in it or not, Gillespie hopes invoking that fear will put him in office.