Why Are Local Officials Shutting Down Needle Exchange Programs During a Crisis?
Moral judgment of drug users overrules solutions that fight overdoses and halt the spread of disease.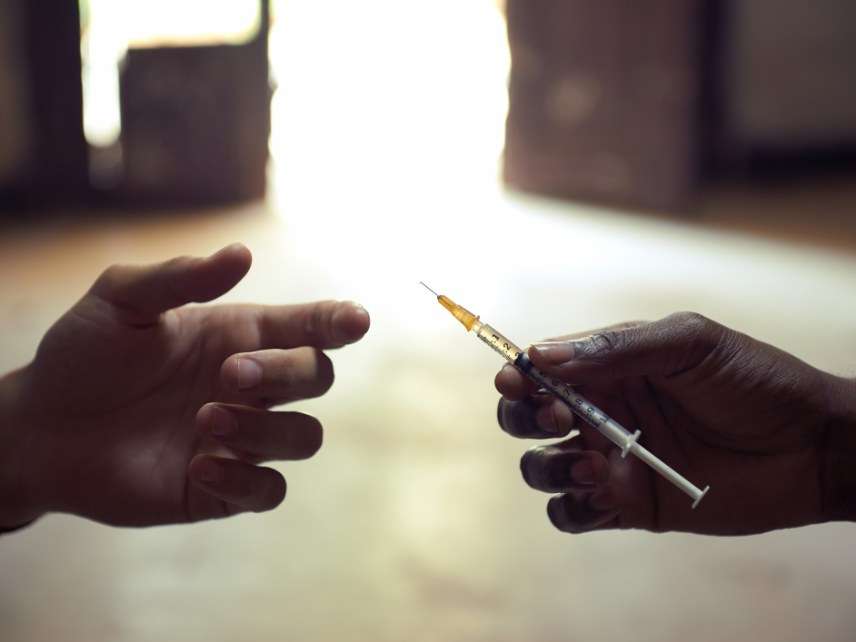 Back when he was governor of Indiana, Mike Pence, after much praying and pressure, relented and signed legislation that permitted counties to establish needle exchange programs if they could show they were having an HIV or hepatitis C epidemic.
Rural Indiana was indeed having such an epidemic at the time, and even the sheriff of Scott County, where the number of new HIV cases had seen a dramatic increase, determined that a needle exchange program was needed. He told Pence as much.
After the needle exchange program began, Scott County saw a notable drop in new HIV cases. It has been a small but important success as America figures out how to deal with an increase in heroin use.
But those efforts are potentially at risk now. Two counties in Indiana have shut down their relatively new needle exchange programs, expert advice and actual outcomes be damned.
Lawrence County, Indiana, saw its Hepatitis C infection rate more than double in the early part of the decade, thanks to intravenous drug use; it's tough to determine trends on the basis of just two years of data, but numbers from the state indicate that there will be fewer infections in 2017 than in 2016. But the county council voted last week not to continue the program. One council member, Rodney Fish, told NBC that he voted against it for "moral reasons":
I did not approach this decision lightly. I gave it a great deal of thought and prayer. My conclusion was that I could not support this program and be true to my principles and my beliefs.
He claims that he spoke to several health professionals before his vote, and he said he would possibly support a hospital-based program.
In August, the council for Madison County, in northern Indiana, also voted to end its needle exchange program over the objections of local health officials.
In both counties, opponents of the program argued that operationally it was less about needle "exchange" than needle "distribution." Critics were concerned that they were facilitating drug abuse rather than decreasing the health risks of drug abuse.
Indiana's not the only place where local leaders are turning their backs on a needle-exchange-based solution to reduce the spread of HIV and Hepatitis C. In Camden, New Jersey, bureaucratic maneuvers appear to have shut down a needle exchange van that was serving hundreds of drug-users a week.
Journalist April Saul reports that property development in Camden forced the van off a vacant lot last year. The program organizers worked with the city to come up with a new location, and in April they identified one. But the mayor of Camden has not signed off on the new agreement, so the program has had to return tens of thousands of dollars in state funding and lay off an employee.
So to summarize the state of affairs: Government officials at various levels (including the Department of Justice) want to make it harder for doctors to prescribe opioids as a long-term pain-fighting solution. The result is that people are turning to heroin on the black market. This heroin is often adulterated with other drugs like fentanyl and opioids, causing an increased risk of overdoses and an increased risk of transmitting HIV and Hepatitis C. And government officials are standing in the way of medical solutions to those problems because of moral judgment about people with addictions and a public distaste for funding a solution that makes it seem like we're subsidizing self-harm.
If government officials don't like handing out needles to heroin users, they could let nonprofits take the whole thing over, including the funding. Or maybe they could think a little more carefully about how they approach opioid addiction in the first place.