Politicians—Unsurprisingly—Want to Regulate Political Ads on Facebook
Russian panic is the excuse to try to control online speech.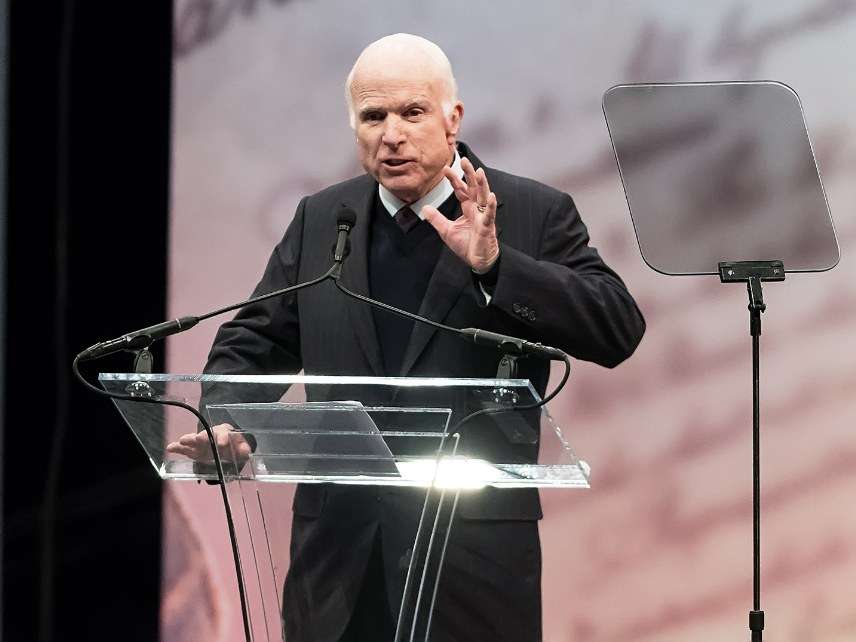 The obsession with the idea that the Russians are responsible for President Donald Trump's election is now being used to push for more regulation of social media.
Sens. Mark Warner (D-Va.) and Amy Klobuchar (D-Minn.) are being joined by Sen. John McCain (R-Ariz.) to make their effort to regulate online political advertising a bipartisan affair.
Today they plan to introduce what they're calling the Honest Ads Act, which aims to introduce ad disclosure regulations similar to those for television. The text of the bill is not yet available, but here's a summary of the contents via Quartz:
Make public digital copies of any advertisement these groups purchase, including the dates and times published.
Include a description of the audience and political ad target, and the number of times it was viewed.
Disclose contact information for the ads' purchaser, and how much they paid for the ad.
Make "reasonable efforts" to ensure that any political ads or messaging isn't purchased by a foreign national, directly or indirectly.
The justification for the bill is the discovery that a Russian company linked to the Kremlin spent $100,000 on Facebook ads, which is chump change when compared to domestic campaign advertising spending.
But let's be clear here: Russian meddling is just being used as an excuse to do what politicians and federal agencies have wanted for a long time—to regulate how people campaign online. As The New York Times notes, the Federal Election Commission has been attempting to regulate online political advertising for years, and tech companies have been resisting.
As is often the case when lawmakers attempt to regulate campaign advertising, there's very little thought about how these lawmakers are not exactly disinterested parties. I mean, it's not terribly surprising that McCain, in a permanent feud with Trump, might want to find ways to work with the Democrats to control online political ads.
Restrictions on campaign advertising pretty much always benefit incumbents and powerful parties, because they already have a significant amount of money, influence, and media access. Challengers have an uphill climb, and anything that controls campaign expenditures and advertising methods makes that climb steeper.
And in the end, all that Russian advertising "meddling" was about taking advantage of Americans' dissatisfaction with choices made by established political interests.
It's telling how much of the coverage of Russian interference is unwilling to look at the reasons it may have worked, and instead revolves around how to stop it. When the discussion does explore the meaning of the meddling, the coverage almost always announces that Russia is "taking advantage" of cultural divisions. At The Washington Post, Casey Michel breathlessly declares that a Russian-run group on Facebook encouraged Texas to secede from the union, and that Facebook allowing that to happen represents "one of the greatest frauds in recent American history." But the Texas secession movement is absolutely not new, and that fact that this particular effort wasn't a real thing means nothing in terms about how many Texans feel about their relationship to the federal government.
Remember, the official report from our national intelligence agencies on Russia's involvement on the presidential election, a summary of which was released back in January, focused heavily on how the country, via RT, was giving voice to Americans who were dissatisfied with the government. One of its examples was that RT brought in third-party political candidates and pointed out that many Americans were unhappy with the two parties.
As I noted then:
I don't dispute the findings here about RT, but look at those examples and they could apply not just to Reason but to media outlets of varying ideological positions within America. Americans are abandoning the two political parties. People are genuinely upset about surveillance and police brutality. If this is an attempt to sway the public to be concerned about RT, it's not terribly persuasive.
The problem isn't that the Russians attempted to influence the election. The problem was that many Americans found this "fraud" to be compelling. Michel suggests that Americans who fall for these frauds are "gullible." But that, again, is a way of just dismissing the political fractures themselves.