Cop Fires Gun Randomly, Suffers Panic Attack, Is Disarmed by Paramedics, Still Has Job
The unarmed man he shot at is being charged with assault.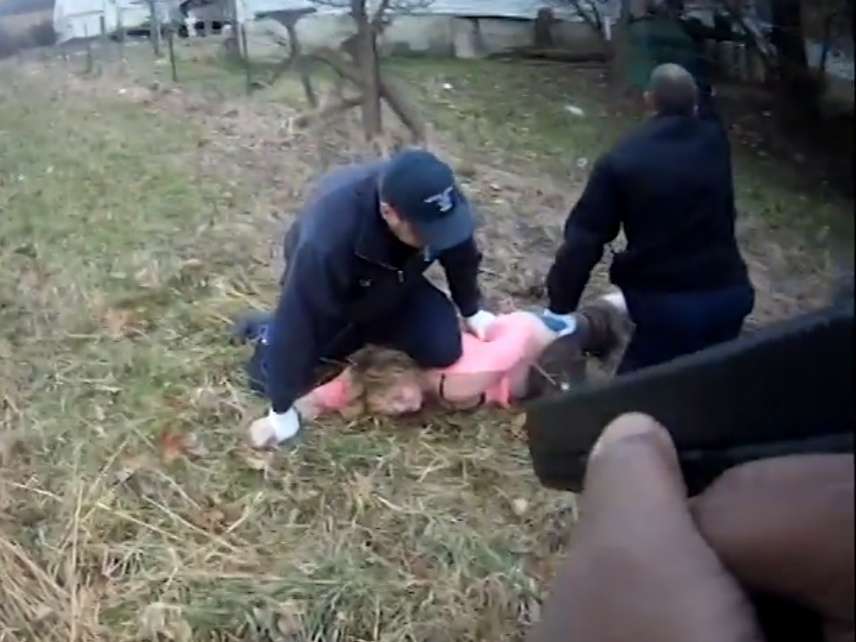 For those of you who haven't seen the body cam video and are planning to travel through Sevier County, Tennessee anytime soon, a warning: Sheriff's Deputy Justin Johnson is still on active duty.
The video, obtained by Knoxville News-Sentinel, shows Johnson chasing down and tackling a woman, suddenly and apparently without provocation firing seven rounds from his service weapon at an unarmed man outside of a trailer home and hyperventilating and waving his gun for several minutes before paramedics disarmed him.
And while the body cam footage makes it clear that Johnson suffered a full blown panic attack, something he didn't report at the time of the incident in December of 2016, he is the only one involved whose actions have so far not been investigated.
Sevier County Sheriff Roland "Hoss" Seals told local reporters he could not comment on any ongoing criminal matter. But in a Facebook post Monday he insisted "Deputy Johnson responded to a situation that in an instant called for a split-second response" and that every deputy under his employ "does the best that he or she can given the dynamic, complicated, stressful, dangerous, and fluid situations that we are called to mediate every time a call for help is dispatched."
Johnson had responded to a request for assistance from paramedics who were tending to a "disoriented" woman who claimed a woman, later identified as Tina Carrie Jo Cody, had stolen her purse at a mobile home in Sevierville.
When Johnson arrived, Cody fled on foot. Footage from Johnson's body camera shows Johnson chasing Cody down with his gun drawn and tackling her to the ground. Johnson and a paramedic are seen in the video attempting to restrain Cody.
Johnson abruptly begins firing at Brian Keith Mullinax, who shares the mobile home with Cody and was filming Johnson arresting her. The video shows what appears to be a disoriented Johnson breathing fiercely and waving his gun until the paramedic takes it away from him.
Johnson, the newspaper reported, made no mention of the panic attack in his initial report, claiming instead that Mullinax shouted that he had a gun and appeared to be aiming an object at him. The body cam footage supports none of it and fails to show Mullinax anywhere near Johnson during the entire episode. The video, however, shows other officers who arrived at the scene restraining Mullinax.
Initially, Mullinax and Cody were hit with felony assault charges. In March of this year, those charges were dismissed by a judge and the case was sent back for review by a Sevier County grand jury. The grand jury indicted Cody for resisting arrest and Mullinax for misdemeanor assault of Johnson.
Mullinax's trial was scheduled to begin Tuesday. Johnson remains, with no explanation, on active duty.
If the video, as the sheriff has contended, depicts Johnson doing his best to respond to stress, this alone would be cause for an investigation of his actions. The deputy's video cam footage calls into question the charges against Cody and Mullinax.
Sevier County taxpayers most assuredly deserve better from their sheriff's department. There is, so far, no accounting for at least one of their deputies.