Salt Lake Police Fire Cop Who Arrested Nurse Over Blood Draw
Body camera footage has consequences.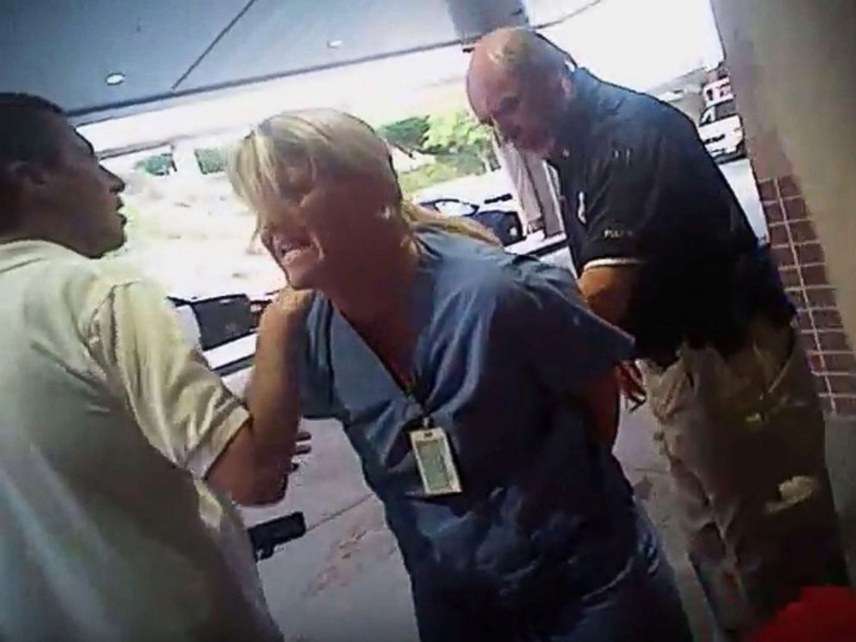 Remember the Salt Lake City cop caught on body camera footage roughly arresting a nurse for refusing to draw blood from an unconscious patient? He's been fired. His shift commander, who oversaw the encounter and ordered her arrest, has been demoted.
The July confrontation between Detective Jeff Payne and University Hospital nurse Alex Wubbels was captured by police body cameras. A month later, Wubbels received a copy of the footage from the city and publicly released it to highlight what she believed to be a serious problem of police attempting to intimidate nurses.
The video went viral over Labor Day weekend, and the public was outraged. Payne had demanded that Wubbels bring him to a patient to draw blood, but he did not have a warrant and the patient was unconscious and could not consent. The man wasn't even a suspect in a crime: He had been critically injured when his truck was struck head-on by a car fleeing police in a high-speed chase. (He later died.)
Another police department, in Logan, had requested Payne collect the blood as part of the investigatory process. But Payne was not willing to accept Wubbels' explanation that the hospital itself would not allow her to cooperate, and he arrested her on the orders of his watch commander, Lt. James Tracy.
After the fact, it became increasingly clear that Payne's and Tracy's behaviors were a result of frustration that they faced any sort of resistance and that they were not responding to any actual "exigent circumstances." During the internal review, investigators discovered that the Logan Police had been informed about hospital policies, were fine with it, had told Payne they were fine with it, and were arranging to request the man's blood through appropriate channels. Oh, and apparently the hospital had already drawn the man's blood and would have been able to provide it after police went through the proper process of requesting it. Not only was Payne's treatment of Wubbels nasty and unprofessional, it was completely unnecessary.
The Salt Lake Tribune has posted the police department's notices to Payne and Tracy in a heavily redacted format. Even with all the redactions, it is abundantly clear how much the officers messed up the case. It's actually worse than the body camera footage suggests, because the context makes it clear that Wubbels isn't just being stubborn and mindlessly following orders.
Based on the report, it appears that Payne did not adequately explain to Tracy what was actually happening on the scene (including the fact that the Logan Police department did not need Payne to follow through with the blood draw). Nevertheless, the department determined that the facts of the case that were available to Tracy did not justify him ordering Wubbels' arrest before arriving on the scene to see what was happening.
Call this a big win for police body cameras. At least one Salt Lake City councilmember agrees, according to the Tribune:
"I've been hoping this termination would come for some time, but I also think the process matters here, and I'm glad in following a process we got the result that the community was expecting, demanding," Councilman Derek Kitchen told The Tribune. He added that without the release of the body camera footage, "we never would have known" about the encounter. He called such a prospect "terrifying."

"If there was ever a question in my mind if we should have body cameras or not, it was completely eliminated with this case," Kitchen said.
Wubbels herself also said that she believes the case would not have received the coverage it received were it not for the footage.
The police themselves also understand the important role the footage played in holding Payne accountable. That's why the police union is upset that the footage got released in the first place.
It may be too soon to celebrate, though. Payne's lawyer says he's going to appeal to try to get his job back. This happens all too frequently. Even when officers are bumped off the force for misconduct they often find ways to get rehired, or simply go work for a different law enforcement agency. So this story is not over.