Do Abortion Rules Violate Satanists' Religious Freedom? Missouri Supreme Court to Decide
The rules' purpose is to "indoctrinate pregnant women into the belief held by some...Christians that a separate and unique human being begins at conception" said appeals court.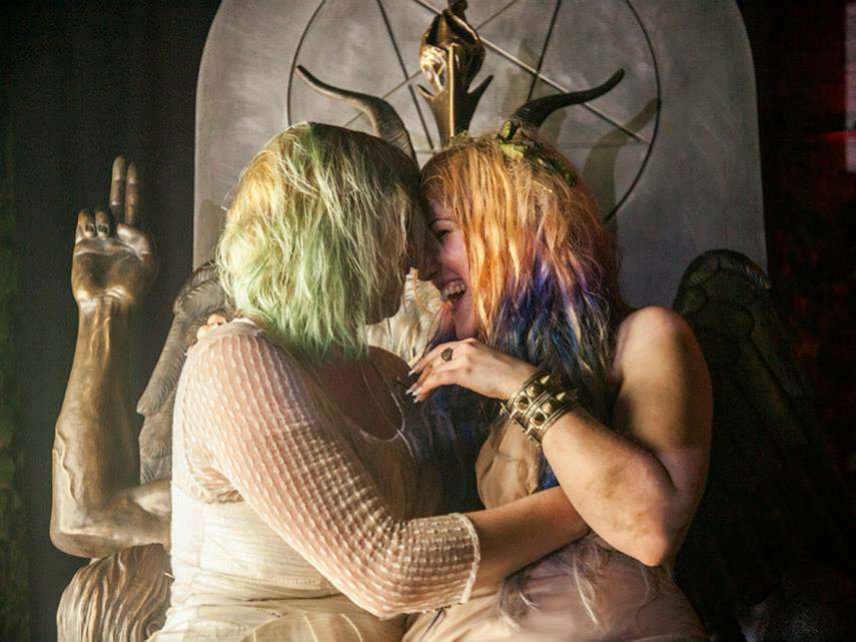 The Supreme Court of Missouri has agreed to hear an interesting religious and reproductive liberty case. Brought by "Mary Doe," a member of the Satanic Temple, the case challenges an "informed consent" law requiring a 72-hour waiting period, an ultrasound, and support for statements like "life…begins at conception" before a woman can get an abortion.
"The case would be the first of its kind to be heard by either the Missouri Supreme Court or U.S. Supreme Court," notes the Kansas City Star.
Doe claims the requirements violate her right to religious freedom, as Satanists do not believe that life begins at conception. The first court to hear the case rejected Doe's constitutional claims, but an appeals court last week decided Doe's claims might have merit.
It presents "a contested matter of right that involves fair doubt and reasonable room for disagreement," the Western District Court of Appeals ruled unanimously, ordering the case be transferred to the jurisdiction of the Missouri Supreme Court.
Missouri regulations require that any woman seeking an abortion must first view an active ultrasound, wait 72 hours after an initial doctor's visit, and sign papers declaring that they have read and understand state-mandated statements that personhood begins at conception and that abortion at any stage terminates "the life of a separate, unique, living human being."
"The sole purpose of the law is to indoctrinate pregnant women into the belief held by some, but not all, Christians that a separate and unique human being begins at conception," wrote the appeals court. "Because the law does not recognize or include other beliefs, [Doe] contends that it establishes an official religion and makes clear that the state disapproves of her beliefs."
Despite its provocative name, the Satanic Temple doesn't actually worship Satan. There's no ritual sacrifice or other trappings of Satanic lore. It's more of a mischievous and high-concept anti-religion, opposed to the tenets of organized Christianity and their infiltration of American laws. Its description of its mission actually sounds mighty libertarian, as well as steeped in traditional morality: to "encourage benevolence and empathy among all people, reject tyrannical authority, advocate practical common sense and justice, and be directed by the human conscience to undertake noble pursuits guided by the individual will."
"The first conception was in response to George W. Bush's creation of the White House Office of Faith-Based and Community Initiatives," one of the Satanic Temple's founders told The New York Times in 2015:
"I thought, 'There should be some kind of counter.'" He hit on the idea of starting a faith-based organization that met all the Bush administration's criteria for receiving funds, but was repugnant to them. "Imagine if a Satanic organization applied for funds," he remembered thinking. "It would sink the whole program."
Both founders consider themselves "atheistic Satanists," with no more literal belief in Satan than they do in a literal God. To them, Satanism represents "the solidarity of outsiders, those judged and excluded by the mainstream," explains the Times.
In addition to challenging religiously motivated abortion regulations, the Satanic Temple has also been active in fighting things like prayer in public schools, prayer at City Council meetings, a biblical statute on Oklahoma statehouse grounds, courthouse Nativity Scenes, and public schools distributing the Bible to their students.