U.S. Steel Manufacturers Eager for Trump to Impose Long-Promised Tariffs
Trump, tariffs and the art of the deal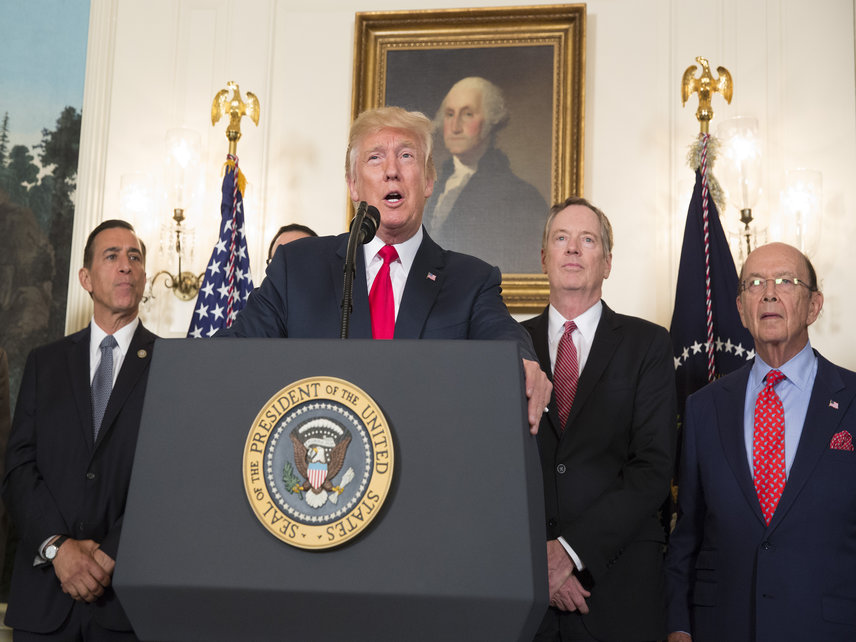 American steel manufacturers are eager for President Donald Trump to follow through on his campaign trail bluster and slap high protective tariffs on steel imports.
Bloomberg recently interviewed John Ferriola, CEO of Nucor, an American steel company, who said after speaking with administration officials, he felt reassured that the tariffs are coming.
"Last week someone in the administration told me they meet with the president every day, and at least two to three times a week Trump asks, 'Where are my tariffs? What are we doing?,'" Ferriola said. The steel company CEO remains confident that President Trump will deliver the goods, Bloomberg reported.
The administration has, so far, been all talk and no action. The White House missed a self-imposed deadline in June to release a Department of Commerce investigation on the impact of imported steel on national security. The report, which could be used to support slapping protectionist levies on imported steel, hasn't materialized.
On the campaign trail, Trump's free-wheeling speeches would typically include shots at China and promises to stop the flow of cheaper steel from across the Pacific. His promise to "put American steel and aluminum back into the backbone of our country," as Trump put it at one rally in western Pennsylvania during the campaign, seemed to resonate with voters in the Rust Belt and helped push him to an electoral victory.
In office, Trump has continued his blunt statements about protecting the American steel manufacturing industry.
"Steel is a big problem," Trump told reporters traveling aboard Air Force One in July. "We're like a dumping ground, OK? [Other countries are] dumping steel and destroying our steel industry. They've been doing it for decades and I'm stopping it. There are two ways, quotas and tariffs. Maybe I'll do both."
Trump's tariffs, however, are a solution to a problem that might not exist. Cheap Chinese steel isn't threatening the American domestic economy, according to Scott Lincicome, a trade attorney and an adjunct scholar at the Cato Institute. The last thing this country needs is more tariffs.
"It's a myth that we don't have steel tariffs already in place," Lincicome tells Reason. "Most of the steel we import is not from supposedly nefarious places like China or Russia; it instead comes from close allies like Canada."
According to Lincicome, between the years of 1990 to 2013, America was one of the most protectionist countries in the world. Of the 373 different trade barriers in place in late 2016, 191 of them were trade restrictions placed on foreign steel. Steel consuming industries, which outnumber steel manufacturing industries 50-to-1, pay the price.
Whatever American jobs are saved in the very concentrated manufacturing sector will come at the cost of jobs involving steel imports. Ultimately, people who work in construction will suffer because higher steel costs will mean fewer construction projects, according to research from Daniel R. Pearson, Lincicome's colleague at Cato.
With the urging of the president, Republicans in Congress spent months unsuccessfully attempting to repeal Obamacare. Now with tax reform on the horizon, the administration's intent to impose tariffs seems to have been put on the backburner.
Commerce Secretary Wilbur Ross is adamant the administration will deal with the question of steel tariffs after dealing with tax reform. Ross, a billionaire, made a fortune in 2002 buying bankrupt steel companies on the same day the Bush administration imposed tariffs on foreign steel imports. He, like U.S. Trade Representative Robert Lighthizer, is one of several strong supporters of tariffs in the Trump administration.
"My best guess is that Trump will impose some sort of steel import restriction at some point. He likes the idea too much to abandon it." Pearson tells Reason. "Both Ross and Lighthizer are quite committed protectionists and are unlikely to try to talk him out of it."