Trump Nominates Libertarian-Minded Texas Justice Don Willett to U.S. Appellate Court
Willett picked to fill vacancy on U.S. Court of Appeals for the 5th Circuit.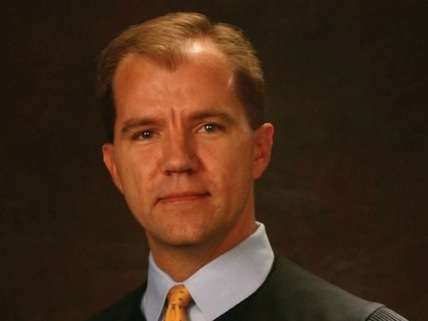 Texas Supreme Court Justice Don Willett has just been called up to the big leagues.
As Peggy Fikac of Express News reports, President Donald Trump will nominate Willett to fill one of two vacancies on the U.S. Court of Appeals for the 5th Circuit, the federal appellate court whose jurisdiction covers federal districts in Louisiana, Mississippi, and Texas.
Willett, who appeared on Trump's 2016 list of potential U.S. Supreme Court candidates, is a rising star in conservative and libertarian legal circles and a popular presence on Twitter. If he is successfully confirmed to the 5th Circuit, Willett would immediately rank as one of the most libertarian federal judges in the country.
Willett is best-known for his aggressive judicial stance in favor of individual rights and economic liberty. In the 2015 case of Patel v. Texas Department of Licensing and Regulation, for example, Willett lambasted state officials for requiring eyebrow threaders to obtain a costly government license before engaging in the harmless act of threading cotton string through customers' eyebrows in order to remove old hair and skin.
"This case is fundamentally about the American Dream and the unalienable human right to pursue happiness without curtsying to government on bended knee," he wrote. "It is about whether government can connive with rent-seeking factions to ration liberty unrestrained, and whether judges must submissively uphold even the most risible encroachments."
In Willett's view, both the U.S. Constitution and its Texas counterpart contain judicially enforceable protections for "the right to earn a living free from unreasonable government intrusion." In the interests of full disclosure, I should also note that Willett's Patel opinion favorably cites my 2014 book Overruled: The Long War for Control of the U.S. Supreme Court.
Willett has been equally outspoken when it comes to government malfeasance in the criminal justice realm. When the Texas Supreme Court refused to hear the 2014 asset forfeiture case Zaher El-Ali v. Texas, for instance, Willett filed a sharp and memorable dissent. "Does our Constitution have anything to say about a 'presumed guilty' proceeding in which citizens are not arrested or tried, much less convicted, but are nonetheless punished, losing everything they've worked for?" he complained.
The Trump administration deserves credit for this pick. Willett is a superb jurist and he will make an excellent addition to the 5th Circuit.