Violent Crime Rose in 2016 for the Second Year in a Row
Criminal justice experts say the rise is worrying, but still far below the crime rates of the '80s and '90s.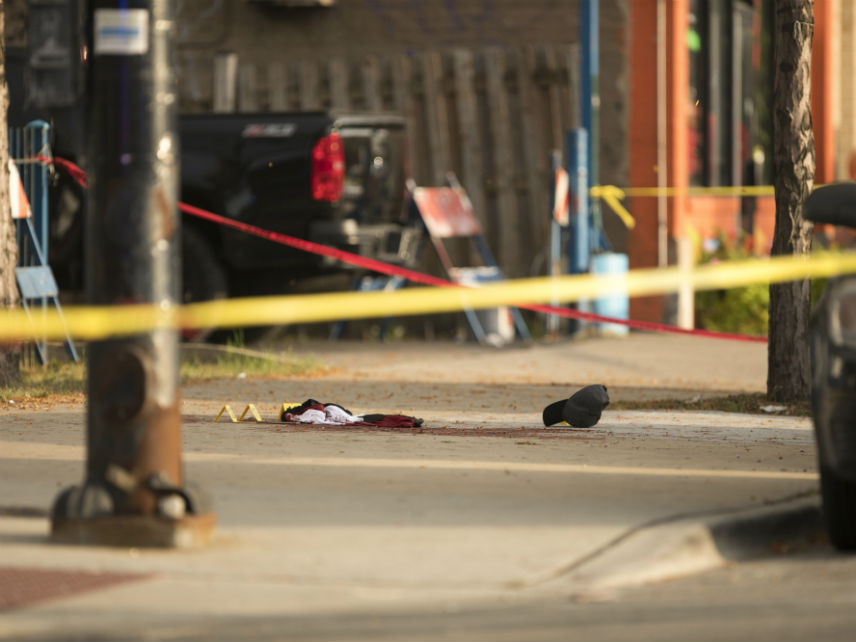 Violent crime in the U.S. rose again in 2016 for the second year in a row, according to national crime statistics released by the FBI today.
The FBI's Uniform Crime Report program, which collects crime data from police departments across the country, found that violent crime increased by 4.1 percent in 2016, along with an 8.6 percent increase in homicides. Those numbers come after a 3.9 percent and 10.8 percent rise in violent crime and homicides in 2015, respectively. Property crime, meanwhile, fell for the 14th year in a row, dropping by 1.4 percent.
Violent crime, like crime in general, had been steadily trending downward since the early 1990s, but Monday's report marks the first time since 2005 and 2006 that the U.S. has experienced a consecutive year-to-year rise in violent crime.
Warnings of out-of-control crime and violent criminals roaming the streets were a staple of Donald Trump's populist campaign rhetoric last year, and Attorney General Jeff Sessions has warned of rising crime in many of his public speeches. The Trump administration has pushed back against a growing bipartisan consensus that disfavors the so-called "tough-on-crime" policies that dominated the 1980s and '90s, instead vowing to give police and prosecutors the maximum possible leeway to fight crime.
"For the sake of all Americans, we must confront and turn back the rising tide of violent crime. And we must do it together," Sessions said in a statement on the new crime numbers. "The Department of Justice is committed to working with our state, local, and tribal partners across the country to deter violent crime, dismantle criminal organizations and gangs, stop the scourge of drug trafficking, and send a strong message to criminals that we will not surrender our communities to lawlessness and violence."
On a conference call with reporters Monday, several criminal experts said that, while the continued increase in violent crime was significant and worrisome, current violent crime rates are still below those of 2008 and far below the peak rate of 1991.
Adam Gelb, director of the Public Safety Performance Project at the Pew Charitable Trusts, pointed out that only five years since 1971 have had lower violent crime rates than 2016. In 2005 and 2006, the U.S. also experienced a similar two-year rise in violent crime. "There were dire warnings from police, only to have crime then continue to drop," Gelb said.
The Brennan Center for Justice released a report this month predicting that, if current preliminary numbers hold steady, 2017 will indeed see a decrease in both overall and violent crime.
John Pfaff, a professor at Fordham University Law School, cautioned that crime is a complex, geographically concentrated phenomena, and that it can't simply be attributed to how many people are or aren't being sent to prison.
He noted that Chicago, which has been experiencing an unprecedented spike in murders over the past several years, was responsible for about 20 percent of the national net increase in homicides. However, half of Chicago's rise in murders were confined to five neighborhoods with 9 percent of the city's population. "So in other words," Pfaff said, "five neighborhoods in Chicago explain 10 percent of the national increase in homicide rates."
"Crime is not just a function of policing and prisons," Pfaff continued. "Over half of the drop in prison populations nationwide since 2010 has just happened in California, and in California, while they're home to 12 percent of the population, they only contributed to 5 percent of the increase in murders this year."
Likewise, New York City's violent crime rate has continued to hold steady or drop, even though it has overhauled many of its more aggressive policing practices in recent years, leading Sessions to call the city "soft on crime." In a statement, New York City Police Commissioner James P. O'Neill credited the NYPD's tactics with the crime drop: "Today's new data confirms what we in New York City have known for years now: Enhanced training, improved tactics, and constructive engagement with the public we serve all lead to long-term reductions in crime."
While the top line numbers of the FBI report will give pundits and public officials plenty to debate, the details will resist any sweeping explanations.
"Our broad, grand theories to explain what happened this year will almost inevitably be wrong," Pfaff said, "because they won't be looking nearly as granular as they should."
Bonus Reason link: Read my colleague Elizabeth Nolan Brown on how the UCR data shows human trafficking arrests are almost nonexistent in most states.