Hours After Hurricane Irma, Miami-Dade County Tickets Residents for Code Violations [Updated]
Thanks, government!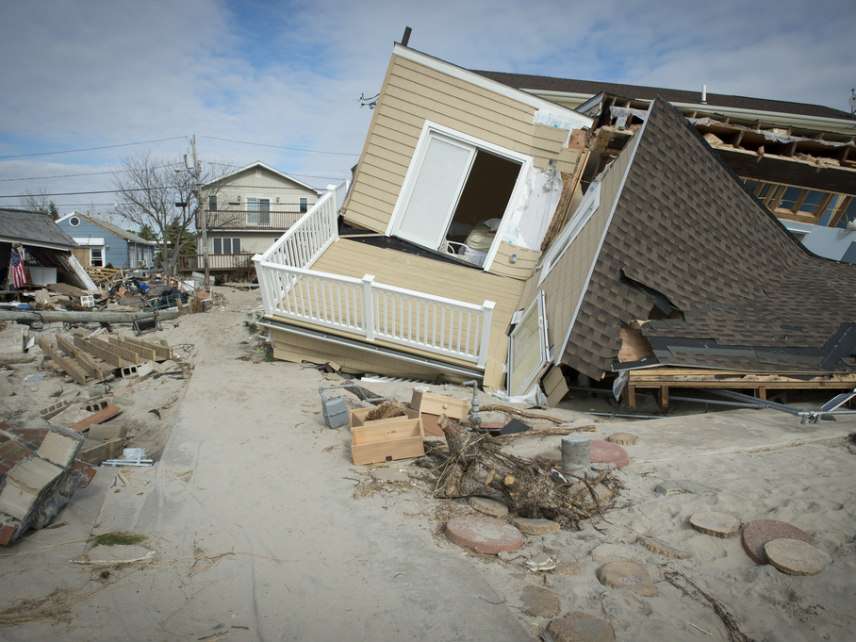 Mere hours after Hurricane Irma, Miami-Dade County was ticketing residents for building code violations on their wrecked properties.
Celso Perez was helping his neighbors remove some fallen trees blocking their street when a county code enforcer rolled up and issued him a safety notice for having a downed fence. "I laughed," Perez tells WSVN-TV. "I thought he was kidding. 'You are kidding right? We just had a hurricane six hours ago.'"
It wasn't a joke. The official told Perez that the downed fence—which encloses a pool—was a safety hazard, and that if it wasn't fixed by the time he returned, Perez would be hit with a fine. The official then hung the safety citation on the portion of Perez's fence that remained standing, leaving him and his neighbors to finish clearing the debris from their street.
According to WSVN, the county has handed out 680 safety notices for downed pool barriers, and another 177 electrical hazard safety notices. Reason reached out to the county to confirm those numbers, but has not received a reply.
From what can be gleaned from the WSVN story and from county code enforcement procedures, these safety notices appear to be just warnings, meaning no fines have been handed out as of yet. Reason tried to confirm this with the county as well, but was again rebuffed.
Still, these warnings carry with them a duty to correct the violation within a specific window of time. That might not even be possible for some residents, given how many businesses are still out of operation.
As Perez said of the day he got his ticket, "All the stores were closed. It's not like I can go to Home Depot and find some temporary barrier."
Even if he could, it's quite possible that Perez and the other people handed citations might have more pressing things to do right after a hurricane than bring their homes back up to code. You know: clearing the streets, seeking medical attention, checking in on family members, trying to find food. You might think the county would have higher priorities too, like getting the lights back on for Miami-Dade's 16,510 homes and businesses still without power.
County officials don't see it that way. "It is important that we reach residents in the immediate aftermath of the storm," one tells WSVN, "because that is when conditions are most dangerous, and taking steps to protect life is a critical part of the recovery process."
Update: After publication Reason received comment from Miami-Dade county, with the following explanation:
We were looking to advise residents of the following hazards on their properties that they may not have been aware of, but that pose a life safety threat: damaged structures that rendered them unsafe, unsecured pools with no barriers, electrical hazards (down lines, damaged meters) and gas hazards (damaged meters). If any of these hazards were found, our inspectors gave out a safety notice, which is neither a notice of violation warning nor a citation. That means there is no fine attached. The safety notices given to property owners identify the hazard, steps that should be taken to correct the hazard, and who to contact for additional information.