Disjointed Coughs Out Some Tired Dope Humor
Cheech and Chong were decades ago, but Netflix show leans on the same old pot jokes.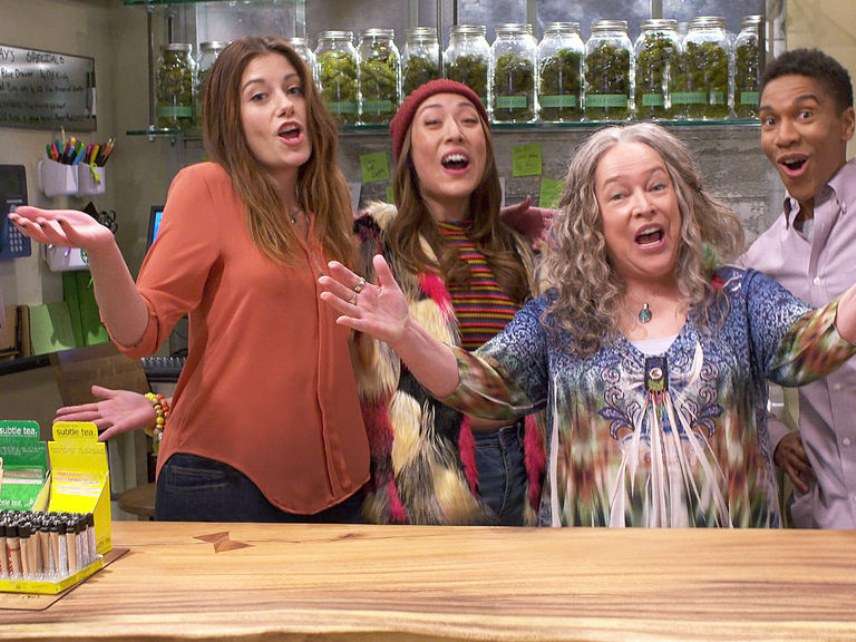 Disjointed. Available now on Netflix.
Way back when, my college newspaper ran a review of a Cheech and Chong show under a headline that qualified as remarkably confessional for the time: "Dope Humor Has Its Limits." I don't know if we've got to make royalty payments to whatever youthful copy editor wrote that headline, but I can't think of a single other thing to say about Netflix's new sitcom Disjointed.
Dopers so wrecked they can't talk. Dopers so wrecked they can't move. Dopers so wrecked they use the Heimlich maneuver to make each other exhale dope smoke rings. (Okay, that one's new, at least for the first five seconds.) Basically, there's not a gag in Disjointed that wouldn't have fit into—or worn itself out as quickly as—a Cheech and Chong sketch or an early 1970s give-me-another-brownie flick like The Groove Tube.
But even back then, the driving force of cannabis comedy—hey, man, they're smoking weed right there on the screen, my parents would be so freaked—lasted about as long as the pizza you ordered to counter the munchies. These days, with reefer madness reduced to reefer eccentricity (one in five Americans lives in states where it's pretty easy to find a legal joint), the potency is even slighter. If Disjointed were actually dope, it would be growing-along-the-river skankweed.
The wispy premise of Disjointed is that its dope-addled characters get wasted under the pretense of working in a Southern California medical-marijuana dispensary. Kathy Bates plays Ruth Whitefeather Feldman, the senescent hippie owner, who says she's preaching "the gospel of marijuana: the miraculous plant that has the power to heal the sick, calm the afflicted, and usher in a golden age of people of people not being such dicks all the time."
Mostly, she's just oversampling her own product, with occasional timeouts to bicker with her son Travis (Aaron Moten, The Night Of), an MBA with more secular motives: "Petty soon, somebody is going to become the Walmart of cannabis. Why not us?"
Then there are employees: Jenny (Elizabeth Ho, Melissa & Joey), who introduces herself in one of the clinic's Internet ads as "your tokin' Asian," whose tiger mom thinks she's a surgeon; Olivia (Elizabeth Alderfer, Game Day), a refugee from a meth-blighted midwestern town who harbors secret doubts about the benignity of drugs; and Carter (Tone Bell, Truth Be Told), who has a secret of his own, one not usually associated with comedy.
If the substance of Disjointed seems straight out of 1972, so does its structure. It's less a sitcom than a muddled series of stream-of-semi-consciousness sketches, punctuated by cut-ins of the clinic's commercials, kind of a stoner version of Laugh-In. Though for you 1980s connoisseurs, there's a running gag in which Jennie speaks Chinese to her mother—that's it, no jokes, no punch lines, just the sound of Chinese—to the uproarious delight of the canned laugh track that's been appended to the show. Not since John Hughes foreshadowed every appearance of a Chinese character named Long Duck Dong with the crashing sound of a gong in 1984's Sixteen Candles has a producer or director deemed Asian ethnicity so innately amusing.
The producer in question is Chuck Lorre, the mastermind of The Big Bang Theory, Mom, and Two and a Half Men, whose association with Disjointed is as inexplicable as quantum physics after a bong full of Maui Wowie. "Back in the day, marijuana was a cause," says Ruth. "Now it's just a commodity." Marijuana humor, too.