Putin Warns: Don't Push North Korea Into 'Dead End'
He's right. But he shouldn't leave diplomatic efforts to the U.S.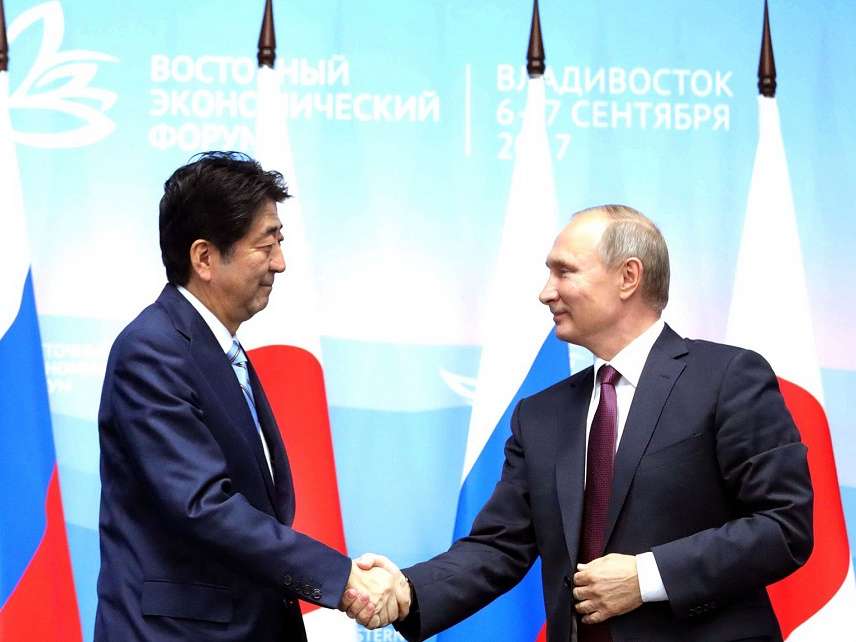 Russian President Vladimir Putin has rejected a proposal by South Korea's president, Moon Jae In, to deal with North Korea's latest missile tests by cutting off the country's oil supplies.
"We should not act out of emotions and push North Korea into a dead end," Putin told reporters at a joint press conference with Moon. "We must act with calm and avoid steps that could raise tensions."
He is not wrong. But Moscow's inability or unwillingness to pursue its own diplomatic efforts with Pyongyang have rendered Putin's calls for a political solution toothless.
Putin also met with Japan Prime Minister Shinzo Abe yesterday, and he declared afterward that Abe and he "decisively condemned" North Korea's missile tests.
Russia and Japan have been engaged in a different diplomatic effort, aiming to end their World War 2 hostilities. (The fighting stopped in 1945, but the two nations never formally reached a peace.) In addition to discussing a peace treaty, Putin and Abe talked about joint economic activities in the disputed Northern Territories, Japanese islands captured by Soviet forces at the end of World War 2.
Meanwhile, Admiral Scott Swift, the commander of the U.S. Pacific Fleet, claimed this week that America's North Korean strategy of sanctions and diplomacy has worked so far.
"I say it has worked because we are not at war," he told The Washington Post, insisting the U.S. had not foreclosed on diplomacy even as "all options are on the table."
That's all well and good, but the U.S.'s best move may be not to play. Every other country in the six-party talks with North Korea that collapsed in 2009—South Korea, Russia, Japan, and China—should have more incentive to pursue a diplomatic solution than the United States does. Their stake in regional security and stability is much bigger than America's.
But the U.S. made itself a guarantor of global security after World War 2, effectively taking responsibility for those regional stakes. Were North Korea to launch a nuclear warhead at an American ally or outpost, the U.S. is still capable of the "assured destruction" portion of the "mutually assured destruction" policy that kept the Cold War free of nuclear strikes. That's not so for the countries in the region.
Returning the responsibility for regional security to regional actors would be a much more powerful alternative to sanctions, military exercises, and other sorts of pressure that can only make armed conflict more likely.