Vaccines, Peter Thiel and the Fine Art of the Journalistic Hatchet Job
Never let the facts get in the way of a good agenda-driven story.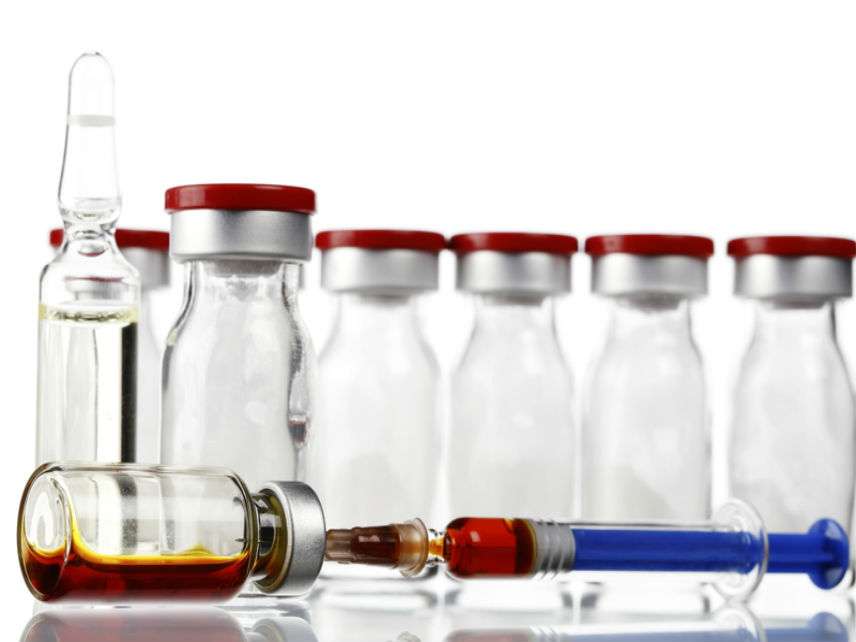 "Peter Thiel Funds 'Unethical' Offshore Herpes Vaccine Trial," blared a headline over at the DailyBeast. The single problem is that it's false.
The story is illustrated with a photoshop of venture capitalist Peter Thiel holding a menacing syringe. Even more damning, the editors added, "The Trump adviser is part of a group of wealthy businessmen spending millions to test the vaccine on people—while evading Food and Drug Administration regulations." Which is also false.
The DailyBeast article was published on August 27. The headline for the biotech news site genomeweb's summary of the story reads, "A Libertarian Vaccine?"
The headline and the story appear to be an instance of never letting facts get in the way. Unwary readers encountering the artfully constructed article would likely be led to conclude that a cabal of greedy libertarian venture capitalists had experimented on desperate people without their consent.
The problem that the startup in the story, Rational Vaccines, is taking on is huge. In the United States, more than 23 million people—about one in seven people ages 14 to 49 —have genital herpes. As many as three million suffer herpes outbreaks four to 24 times per year. Those who suffer frequent outbreaks experience open sores, considerable pain, frequent headaches, and the infection sometimes results in blindness and life-threatening bouts of meningitis. Chronic sufferers experience stigma and social isolation.
The vaccine trial referred to in the story took place more than a year ago. Thiel Capital actually invested on August 23. So what gives?
What actually happened is that in 2015 and 2016 Southern Illinois University viral immunologist William Halford set up a trial of his attenuated herpes simplex 2 (HSV-2) vaccine. He inoculated 20 volunteers from the U.S. and U.K. at a site on the Caribbean island country of Nevis and St. Kitts.
Rational Vaccines reported in an October, 2016 press release participants had, on average, experienced a 3-fold reduction in their herpes symptom-days per month relative to their experience taking standard treatment antiviral drugs.
Halford submitted his results to a peer-reviewed journal that initially rejected his paper and asked for further data. Halford had years earlier contracted a rare form of cancer and died in June at age 48.
Halford had been researching herpes viruses for more than two decades. Eventually he came to question the medical consensus that vaccines should be developed using viral protein subunits. Previous virus vaccines including polio, measles, rubella, and chickenpox had been created using live-attenuated viruses. Such vaccines used weakened versions of viruses that could not cause disease to prime the immune system protect against natural strains. By the 1980s, many vaccine researchers concluded that using proteins derived from disease-causing viruses was safer.
However, Halford's research convinced him an HSV subunit vaccine would be relatively ineffective because HSV genomes are much more complicated than simpler human papillomavirus and hepatitis B viruses. Attempts to develop HSV subunit vaccines have so far not borne fruit.
In lab mice his live-attenuated vaccine elicited 10 to 100 times greater protection against genital herpes than a subunit vaccine did, Halford reported. To check its safety, Halford injected himself with his own vaccine. Rational Vaccines is developing both a therapeutic vaccine for people who are already infected and a prophylactic vaccine to protect the rest of from becoming infected.
Halford and Augustin Fernandez III, CEO investor in Rational Vaccines approached Thiel Capital and other possible venture investors in April 2017, after the preliminary results of the initial trial were in. Fernandez says he never spoke with Thiel, but met with Jason Camm, chief medical officer of Thiel Capital. In an interview, Fernandez confirmed that Thiel Capital did not formally invest in the current $7 million round of financing until August 23.
Then all hell broke loose.
As usual with clinical trials, Rational Vaccines paid the travel expenses for the 20 trial participants who were already infected with the virus. I talked with trial participant Richard Mancuso, a 48-year-old New Jersey truck driver, about his experience. Mancuso told me he suffered painful herpes outbreaks two to three times per month since he had been infected 25 years ago. After the course of three inoculations during the trial, his outbreaks declined until he no longer had any.
When I asked about his informed consent, Mancuso said, "Halford sat me down for a three hour interview to see if I qualified. He explained to me that the vaccine was experimental, that it might not work, and that there were some risks involved."
Mancuso was interviewed for the DailyBeast article and he was shocked by the story's conclusions. Incensed by what he regards as the bias and unfairness, Mancuso has posted a heartfelt YouTube video aimed directly at the reporter. "You didn't even mention the fact that I gave informed consent and so did everyone else who signed off on the trial. They all gave signed consent," he says. "They were informed of the risks; they are informed of everything. You didn't put that into the article." Mancuso adds, "All you did was just attack and make it sound like it was just a money-grab between Trump and Thiel."
In fact, the article does not put too fine a point on its real motivations:
Defying U.S. safety protections for human trials, an American university and a group of wealthy libertarians, including a prominent Donald Trump supporter, are backing the offshore testing of an experimental herpes vaccine. …

The push behind the vaccine is as much political as medical. President Trump has vowed to speed up the FDA's approval of some medicines. FDA Commissioner Scott Gottlieb, who had deep financial ties to the pharmaceutical industry, slammed the FDA before his confirmation for over-prioritizing consumer protection to the detriment of medical innovations.
Sounds like a money-grab conspiracy, doesn't it?
In an October 2016 article in the local newspaper, the State Journal-Register, Halford made it clear he was anxious to jumpstart his vaccine with a trial abroad to avoid excessive regulation. Avoiding excessive bureaucracy to some is endangering patients to others. The DailyBeast article quotes Jonathan Zenilman, the chief of the Infectious Diseases Division at Johns Hopkins Bayview Medical Center, who said, "What they're doing is patently unethical. There's a reason why researchers rely on these protections. People can die."
The DailyBeast also notes that Zenilman cited research in the late 1940s in which the U.S. government deliberately infected study participants in Guatemala with sexually transmitted diseases without their consent. I am no bioethicist, but trying to cure people of sexually transmitted diseases with their informed consent somehow seems like a different case.
Of course, there are medical charlatans who do take advantage of desperate people, but the DailyBeast failed to make the case that Halford and Rational Vaccines are engaged in any such thing. The main complaint is that Halford did not submit his vaccine trial to an institutional review board (IRB) for review. Although he thinks Halford was wrong to conduct his trial without IRB supervision, former Obama administration FDA commissioner Robert Califf does in the article concede, "It may be legal to be doing it without oversight."
What happens now? CEO Fernandez vows to go forward. Halford's SIU colleague immunologist Edward Gershburg has agreed to work as the company's chief technology officer. Fernandez says that aim of the company has always been to eventually obtain FDA approval of the vaccines. Now backed with $7 million in seed capital, Fernandez says that the company intends to launch new trials that will adhere to all of the bureaucratic niceties.
Halford and Rational Vaccines were open and transparent about what they were doing and all of this information was available year ago. So why the hullabaloo now? Agenda-driven politics. Let's hope that the DailyBeast article does not end up delaying the badly needed FDA drug approval reforms and the development of effective treatments that could prevent and alleviate the suffering of millions.