When Government Can't Take 'Not Guilty' For an Answer
The feds are engaged in an extended grudge match against western dissidents, without regard for the cost to justice or the taxpayers.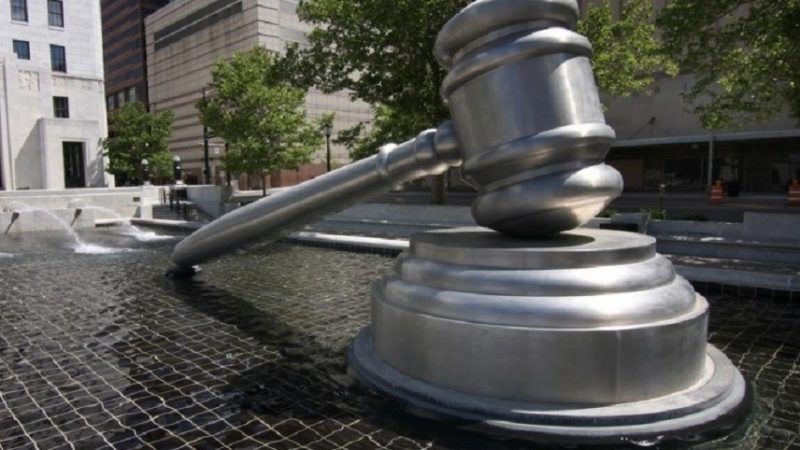 "The federal government is all about keeping the status quo," attorney Jess Marchese tells me. "They're not going to cede power."
I had asked Marchese, who represents Eric Parker in legal proceedings resulting from the 2014 Bundy ranch standoff over control of western lands, why he thought the federal government was taking yet another crack at his client who, along with codefendant O. Scott Drexler, will face the third trial in a row on a diminishing set of charges. The Las Vegas lawyer's take was that this had become a matter of pride for both the federal government and for Acting U.S. Attorney Steven W. Myhre after juries repeatedly frustrated federal prosecutors.
A mistrial was declared in April by U.S. District Court Judge Gloria Navarro after two of the six defendants in that trial were convicted on lesser charges, while jurors voted 10-2 in favor of acquitting two and split on the others, according to news reports. Just last week, jurors returned not a single "guilty" verdict in the retrial of the four remaining defendants. Found "not guilty" on all charges, Richard Lovelien of Oklahoma and Steven Stewart of Idaho were released after the federal government failed twice in its efforts to send them to prison. That left two defendants in limbo after the charges against them resulted in hung juries. Again.
With regard to Parker and Drexler, "how close was the jury to reaching verdicts on the unresolved charges?" I asked Marchese.
"There was one holdout," he told me, obviously frustrated. That is, the jury voted 11-1 to acquit across the board. That one holdout allows the federal government to muster the resources of the federal government to try yet again in hopes that a third set of jurors will finally believe the government and convict Parker and Drexler of assaulting a federal officer and carrying a firearm in the commission of a crime and (in the case of Parker) two additional counts of using a firearm to threaten a federal officer.
The pending third trial is scheduled for September, though an appeal by Marchese may delay matters (and will likely nudge the pending trial of Cliven, Ammon, and Ryan Bundy even further into the future). That penciled-in date is remarkable when you consider that federal juries are traditionally almost rubber stamps for prosecutors.
"The rate of conviction remained over 90 percent, as it has since Fiscal Year 2001," the United States Attorneys' Statistical Report boasted in 2012. A year later, the report noted that conviction rates had crept over 92 percent since 2010.
So it has to be frustrating both institutionally, for the federal government, and on an individual level for prosecutors to be turned away, again and again, by jurors unimpressed by the government's case, or sympathetic to defendants.
Jurors did much the same in a related case last year when they acquitted Ammon Bundy, Ryan Bundy, and five codefendants of charges resulting from the takeover of the Malheur National Wildlife Refuge. That unexpected verdict was attributed by some to jury nullification and by many others to juror reaction to overreaching federal prosecution.
"It should be known that all 12 jurors felt that this verdict was a statement regarding the various failures of the prosecution to prove 'conspiracy' in the count itself—and not any form of affirmation of the defense's various beliefs, actions or aspirations," one of the actual jurors told The Oregonian.
Ironically, the Malheur takeover started as a protest against an earlier exercise in prosecutorial excess in another case involving dispute over control of western lands.
Overreaching by the government may have played a similar role in the latest trial. Judge Navarro threw Parker off the stand—ironically, right after he mentioned the First Amendment—cutting short his testimony in his own defense and even striking it from the record. Even before that point, the judge "barred the defense from referencing constitutional rights to freely assemble and to bear arms. She also prohibited mention of alleged misconduct or excessive force by law enforcement," reported the Las Vegas Review-Journal.
According to Marchese, who spoke to jurors after the trial, Judge Navarro's heavy-handed courtroom management played a major role in the jury's refusal to bring a single "guilty" verdict. Defending the status quo, refusing to cede power, the feds pushed too hard and had their anticipated victory stripped from them by offended representatives of the people in the courtroom.
And as with federal conduct of these trials overall, so it is with the behavior of Acting U.S. Attorney Steven W. Myhre.
"He's taking it personally," Marchese says of his federal counterpart's performance in the courtroom. "He started name-calling against my client in court."
"There's nothing more dangerous than a coward with a weapon," Myhre said of Parker in an argument that drew gasps in the courtroom and that may have helped to convince 11 members of the jury to favor acquittal. (The Justice Department did not respond to a request for comment.)
In fact, it's hard to escape the conclusion that these trials have become extended grudge matches by the federal government and its employees against people challenging their authority in general, and westerners pushing back over control of public lands in particular. Independent of these armed protests, Utah and other states are increasingly pushing Washington, D.C. to surrender control over the vast reaches of land that are often arbitrarily managed and regulated to the detriment of local residents. "The armed occupation of federal buildings is inexcusable, but so are federal land-management abuses and prosecutorial overreach, the Wall Street Journal editorialized last year.
That has federal employees' panties in a bunch.
"Parts of the Sagebrush West are beginning to resemble Eastern Ukraine," complained Jeff Ruch, Executive Director of Public Employees for Environmental Responsibility, in a press release regarding the Bundy ranch conflict.
Well, that's… ridiculous.
But if you're accustomed to always getting your way, and you suddenly discover that you're resented and resisted by many of the people around you, even a little pushback can drive you into a panic.
Marchese tells me that, if this was a civil trial and Myhre faced the prospect of paying defendants' legal fees after yet another loss, he might act more reasonably. But I don't know. Grudge matches are, by definition, unreasonable. And no matter what the ultimate cost, the feds can't seem to bring themselves to take "not guilty" for an answer.