FDA Deems MDMA, Banned Since 1985, a 'Breakthrough Therapy'
The designation should speed the drug's approval as a prescription medicine, which could happen as soon as 2021.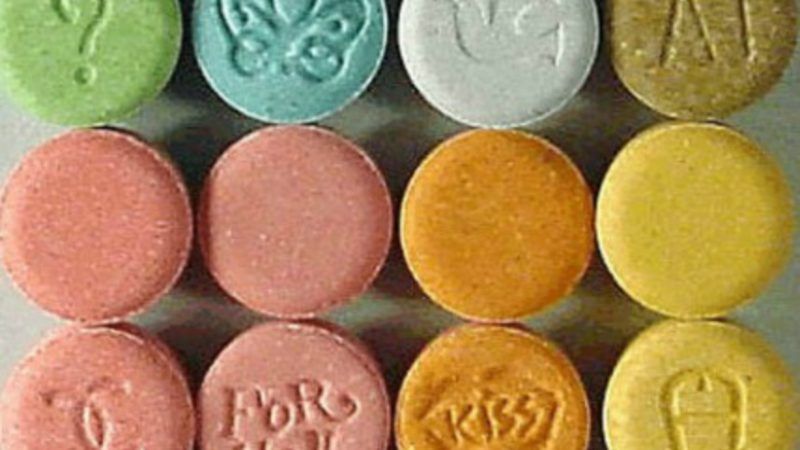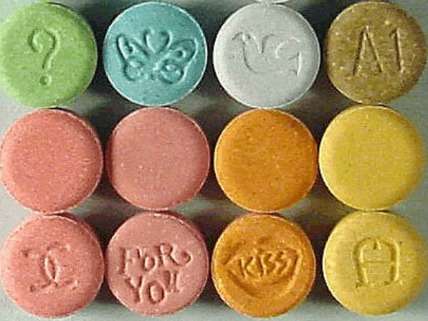 Two decades after the Drug Enforcement Administration banned MDMA, classifying it as a dangerous intoxicant with no accepted medical use, the Food and Drug Administration has deemed the same substance a "breakthrough therapy." The designation should speed MDMA's approval as a prescription medicine, which could happen as soon as 2021.
That remarkable turnaround is thanks to the hard work of a plucky and persistent organization known as the Multidisciplinary Association for Psychedelic Studies (MAPS), founded the year after the DEA banned MDMA. Last fall the FDA gave MAPS a green light for Phase III studies of MDMA as a treatment for posttraumatic stress disorder (PTSD), the last stage before approval of a new medicine. MAPS, which plans to start enrolling subjects for its first Phase III study this spring, announced on Saturday that MDMA had qualified as a breakthrough therapy.
The designation, created by the Food and Drug Administration Safety and Innovation Act of 2012, means the FDA thinks MDMA "may demonstrate substantial improvement over existing therapies on one or more clinically significant endpoints, such as substantial treatment effects observed early in clinical development." It is not hard to see why the FDA reached that conclusion, given the very promising results of the MAPS-sponsored Phase II studies conducted by Charleston, South Carolina, psychiatrist Michael Mithoefer and his wife, Annie, a psychiatric nurse.
The subjects in the first study were crime victims, mainly women who had been raped or sexually abused. More than four-fifths of the subjects who received MDMA in conjunction with psychotherapy showed a clinical response, meaning they saw reductions greater than 30 percent in the severity of their PTSD, as measured by the Clinician-Administered PTSD Scale (CAPS). The mean CAPS score in this group fell from about 80 to less than 30. Ten of the 12 subjects, all of whom began with CAPS scores indicating severe PTSD, no longer qualified for the diagnosis. By comparison, 25 percent of the subjects who received placebos saw improvements of more than 30 percent. Seven of the eight subjects in the control group subsequently chose to take MDMA, and all of them showed a clinical response.
That study, published by the Journal of Psychopharmacology in 2011, had a small sample, and blinding probably was less than fully effective, since subjects may have surmised they were getting the real thing based on the effects they perceived. But follow-up evaluations conducted 17 to 74 months after the last treatment found that the improvements experienced by the subjects who received MDMA generally persisted. While two of the 16 subjects who completed all of the evaluations relapsed, the average CAPS score was essentially unchanged.
A subsequent MAPS-sponsored study involved 21 Iraq and Afghanistan veterans, plus three firefighters and one police officer. The results, which have been shared with the FDA but have not been published yet, were similarly impressive.
Instead of using an inactive placebo, as the earlier study did, this one randomly assigned subjects to receive either 30 milligrams, 75 milligrams, or 125 milligrams of MDMA, followed by supplementary doses equal to half the original upon request. Summarizing the results at a MAPS conference last April, Mithoefer said there was "not much improvement" in the 30-milligram group but "quite a lot of improvement with the other doses." Mean CAPS scores, which ranged from 80 to 90 at the beginning, fell to between 70 and 80 in the low-dose group, less than 50 in the high-dose group, and less than 30 in the medium-dose group.
In addition to the breakthrough-therapy designation, the FDA has reached an agreement with MAPS on the design for the Phase III studies. Among other things, the FDA agreed with Rick Doblin, founder and executive director of MAPS, that an inactive placebo, as in the first Phase II study, was more appropriate than the active one used in the veteran study.
MDMA seems to facilitate psychotherapy for PTSD by promoting trust and enabling people to confront traumatic memories without the overwhelming fear they would ordinarily experience. The idea of using a low dose as placebo was that subjects would not get those benefits but would feel some of the stimulating effects associated with MDMA (a relative of methamphetamine), making it harder for them to figure out which group they were in. But it turned out that the low dose actually had a negative effect for many subjects.
"What we discovered," Doblin says, "was that the low-dose MDMA did increase the blinding, which is what I knew would happen, but what I didn't anticipate happening was that the low-dose MDMA between 25 and 40 milligrams actually had an anti-therapeutic effect. It made people agitated. It was uncomfortable. They were activated, but they didn't have the fear reduction, so people in those low-dose groups, in some of the studies they got a little bit worse. In other studies, they still got better, but not as much as they would have [if they'd] had the therapy without any MDMA at all."
Nigel McCourry, a former U.S. Marine who served in Iraq, was part of the medium-dose group in the veteran study, which saw the most improvement. He was amazed at the dramatic effects of MDMA-assisted psychotherapy. After years of insomnia and nightmares, he was suddenly able to sleep through the night, and within two years he felt like this "huge healing event had taken place" because he finally "had this sense of separation from the experiences of Marine combat." McCourry is eager to share his "story of healing" with fellow veterans. Every day in America, he says, "veterans are committing suicide because they can't stand living with PTSD, and I think we could save a lot of these people if we just got this medicine available."