North Carolina's Ridiculous Cosmetology Rules Prevent Makeup Artist From Opening Her Own School
She can't teach makeup artistry unless she teaches a whole bunch of unrelated classes too.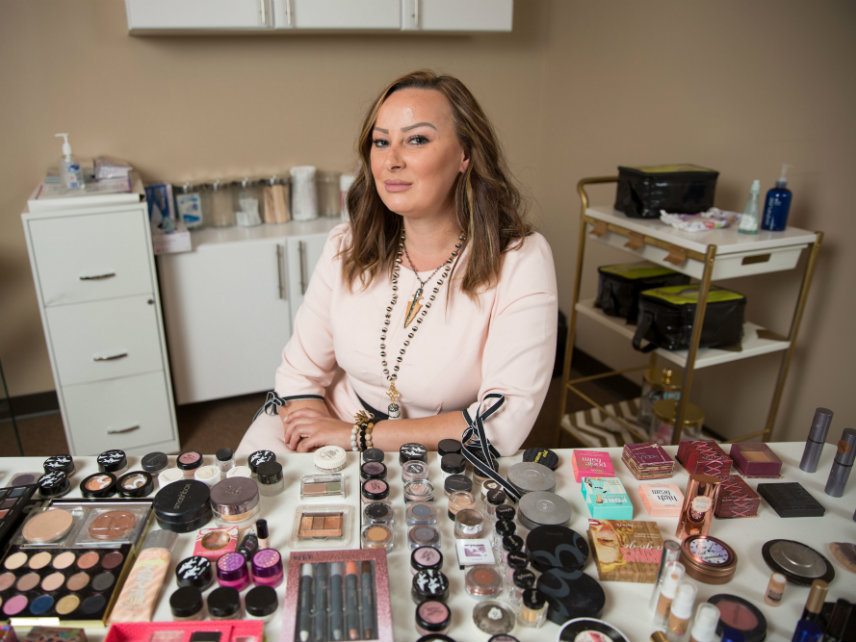 North Carolina, like many states, requires makeup artists to obtain a government-issued license before they can ply their trade. Getting that license, in North Carolina, requires a year of training at a cosmetology school. That year of schooling, which includes training in a wide range of skills not necessarily related to what an individual makeup artist wants to do professionally, costs around $8,000.
It's a great deal for the cosmetology schools, but would-be makeup artists could benefit from having more options for completing the training requirements.
That's what Jasna Bukvic-Bhayani was thinking when she decided to open a school to teach makeup skills—not how to remove hair, how to shampoo scalps, or how to give a manicure or pedicure. Her proposed school could be an alternative for some students who want narrowly focused training.
The North Carolina Board of Cosmetic Art Examiners says she's not allowed to do that. Under state law, Bukvic-Bhayani can only get a license to open her school if she spends five hours teaching other skills for every hour she spends teaching makeup.
That's like being told you can't teach elementary school unless you also learn how to teach college. Sure, it's all teaching, but there's a huge difference in how you teach a 5-year-old versus how you would teach a 20-year-old, and it would be foolish to require would-be teachers to spend the time and money to learn skills they will never use.
But the North Carolina Board of Cosmetic Art Examiners refuses to make this distinction. So Bukvic-Bhayani is suing the board with the help of the Institute for Justice, a Virginia-based libertarian law firm. The institute filed the suit today in federal court.
"North Carolina's law is unconstitutional," says Justin Pearson, a senior attorney at the institute. "The U.S. Constitution protects the right to speak for a living—whether the speakers are authors, journalists or makeup artists like Jasna—and it protects the rights of listeners to hear from those speakers."
Bukvic-Bhayani's situation reveals how licensing laws limit economic opportunities by requiring one-size-fits-all training requirements for professions full of people with a diverse sets of skills. Some states have enacted small changes to exempt hairbraiders or makeup artists from cosmetology licensing rules, but this lawsuit is a reminder of how much these laws still restrict competition.