After Ending Obama-era Commission, Justice Department Announces New Forensic Science Review
Some criminal justice groups worry the group will not be independent.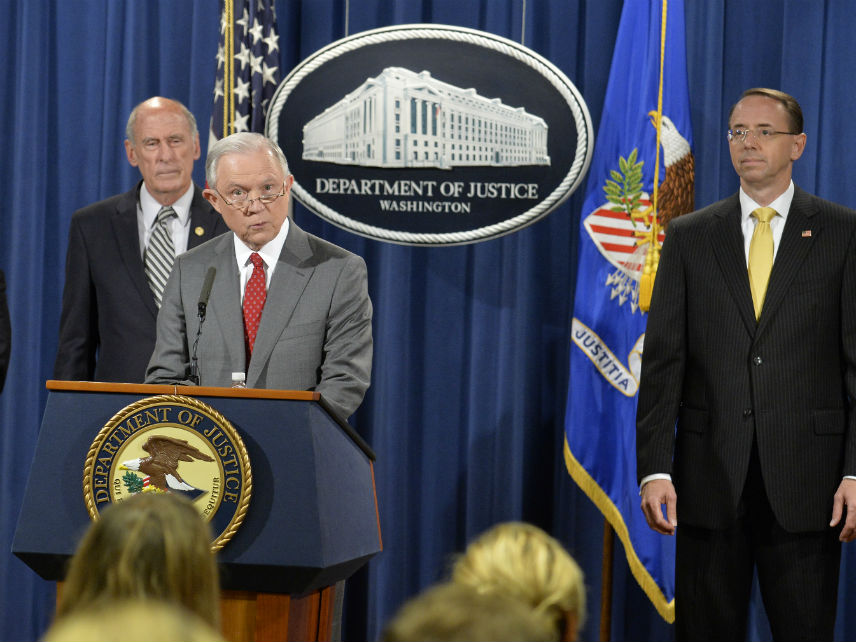 The Justice Department is forming a new working group to create uniform standards for forensic science evidence used in trials, but criminal defense organizations worry the new in-house group will lack independence.
"The Department of Justice believes that when the adversarial American legal system functions as intended—including through the support of trained forensic examiners and legal practitioners educated on best forensics practices—justice is advanced," Deputy Attorney General Rod Rosenstein said in a statement last Monday. "The Department is fully committed to examining and strengthening forensic science despite efforts in the courtroom and elsewhere to reject reliable and admissible forensic evidence."
In April, the Justice Department chose not to renew the charter of the National Commission on Forensic Science (NCFS), an independent review group formed by the Obama administration. The commission grew out of the challenge nationally to the validity of common forensic methods such as bite-mark and hair analysis used to convict defendants. The FBI revealed in 2015 that two dozen investigators in its hair analysis unit had given flawed testimony in hundreds of cases.
The NCFS—made up of career prosecutors, forensics experts, and criminal defense groups—made recommendations on discovery practices and professional conduct codes that were later adopted by local, state, and federal crime labs. After the NCFS ended, the Justice Department solicited public comment on how to continue advancing forensic science. The department received more than 250 comments from academics, scientists, and forensic groups, many of them urging the department to continue the NCFS' work.
Rosenstein has tapped Ted Hunt, a former state prosecutor and member of the NCFS, to head the new working group. Hunt is expected to consult outside experts for the group's work.
Some criminal justice organizations are concerned the new working group will be totally under the umbrella of the Justice Department. Glinda Cooper, director of science and research at the Innocence Project, an organization that works to exonerate the wrongly convicted, says "it's disappointing that it's going to be such an insular effort as opposed to the broader and more diverse number of stakeholders.
"It's good that they are moving ahead on something that's truly important, but it's worrisome that the effort might not be as fruitful as it could be."
Vanessa Antoun, senior resource counsel at the National Association of Criminal Defense Lawyers, says the NACDL is encouraged to see the review continuing, but hopes that the working group will involve independent scientists.
"The point is lawyers on both sides are not the appropriate individuals to determine what is valid scientific evidence," Antoun says. "Thus the importance of an independent group with open scientific debate."
Last September under the Obama administration, the President's Council of Advisors on Science report found that reviews of several commonly used forensic methods such as analysis of hair, bitemarks, and shoe-prints "have revealed a dismaying frequency of instances of use of forensic evidence that do not pass an objective test of scientific validity."
In the case of bite mark evidence, the report stated that "available scientific evidence strongly suggests that examiners not only cannot identify the source of bite mark with reasonable accuracy, they cannot even consistently agree on whether an injury is a human bite mark."
The Justice Department, however, has been resistant to calls for much stricter evidence standards and independent crime labs. Former Attorney General Loretta Lynch's department rejected recommendations by the White House science council to require expert witnesses to disclose error rates in their testimony and, where methods haven't been scientifically verified, disqualify them.
Bite mark evidence has yet to barred from any court in the U.S. and continues to be used to convict criminal defendants. At least 25 people convicted based on bite-mark evidence were later exonerated, according to The Innocence Project.
One of those exonerees, John Harward, testified at the NCFS's last meeting in April.
"It's not right. Why's it still around?" Harward said of bite mark evidence. "Just this year there's been two people, like me, who've gotten out. Explain to me, what does it take to admit that this stuff's all crap?"