Shake Your Head at Italy's Crappy New Food Laws
Bans on drinking and eating in public and a host of other lousy rules could jeopardize Italy's culinary future.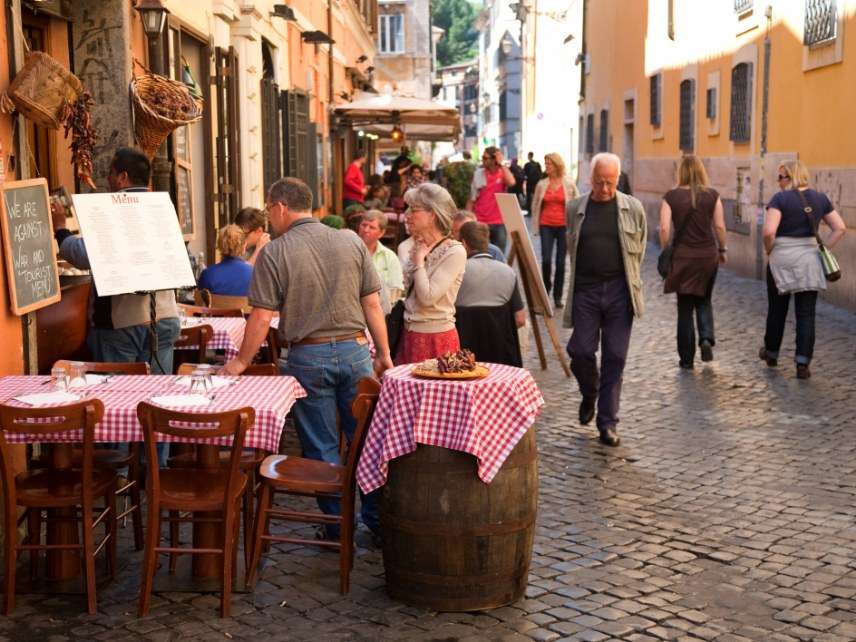 Italy is home to some of the best and most memorable meals I've ever eaten. I first visited in 1994, after graduating from college, and have returned on several occasions.
Some of my fondest memories are of sampling wonderful street food in Milan, drinking and dining al fresco amid the lights at night in Rome, and enjoying the amazing aromas of wonderful cooking foods that practically permeate the country.
That's why I'm disheartened to learn that Italy is increasingly cracking down on its food culture—including, specifically, the aforementioned Milanese street food, drinking and dining outdoors in Rome, and the grand aromas of the country's food.
Earlier this month, Milan banned food trucks from the city. Also in July, reports The Local, Rome imposed a series of bans on food and alcohol.
The Roman law prohibits grocers and other stores from selling alcohol after 10 p.m. and bars people from drinking alcohol from a glass in public at that same time. It also prohibits all alcohol consumption outdoors after midnight, and cuts off all alcohol sales after 2 a.m. Rome has also joined other Italian cities—notably Florence—in prohibiting picnicking at popular historic sites.
The first Saturday the alcohol ban was in place, Roman police issued more than three dozen tickets, which cost about $200 a pop. Many Romans are aghast.
"It limits our freedom as a business, and our free choice as responsible adults to be able to drink after 2 a.m.," the owners of Redrum, a restaurant and bar, told The Local. "[It is] a curfew which recalls decidedly sad periods of our history."
At least one U.S. publication doesn't see the big deal. Food & Wine—a magazine devoted to celebrating some of the specific things Rome has banned: food and wine—apparently doesn't see the big deal with the Roman law.
"Truthfully, it doesn't sound like the law should be difficult to abide," writes F&W's Elisabeth Sherman. "You'll still be able to enjoy Rome with respect, and a glass of wine in your hand, at least until two in the morning. By then, you should be in bed anyway."
This isn't all Italy's getting wrong. This month, the country's highest court ruled that restaurants that serve frozen food to customers without declaring so on their menus are guilty of civil fraud. A restaurateur who'd disputed the charges was fined more than $2,000.
"Even the mere availability of frozen food, if not identified as such on the menu, constitutes attempted commercial fraud," said the ruling. (Canned tomatoes are apparently still acceptable.)
In April, the same court ruled, the New York Post reports, that "cooking stinky food—like rich pasta sauces and fish—too close to neighbors" constitutes a crime. The court, in upholding a couple's fine of more than $2,000, declared cooking food that produces aromas which are subjectively "beyond the limits of tolerability" amounts to "olfactory molestation."
A creeping food xenophobia also appears to be taking hold in the country. Last year, Florence imposed restrictions on so-called "foreign" food from being sold in the historic city center. Fair Verona barred "ethnic" foods. This year, Venice banned new fast food outlets, focusing in part on kebab shops, in order to preserve Italian "decorum and traditions."
Add to these recent crackdowns the country's ban on cultivating GMO crops and the creeping takeover of the food sector by the mafia, and Italy's future as a culinary titan would seem to be in jeopardy.
It was only last summer that I wrote here about a new food law Italy had gotten right. In that case, Italy took action to combat food waste by rolling back complex government recordkeeping requirements and rules barring food from being shared. But one good law can't stand up to heaps of awful ones, which seems to be about all that's cooking in Italy these days.